Force RFC '15 Vehicle Preview
Modified On Sep 08, 2015 02:11 PM By Arun
The Rainforest Challenge is an international off-roading challenge that debuted in India a couple of years back. Force were the title sponsors for two years in a row and decided to participate in the event themselves.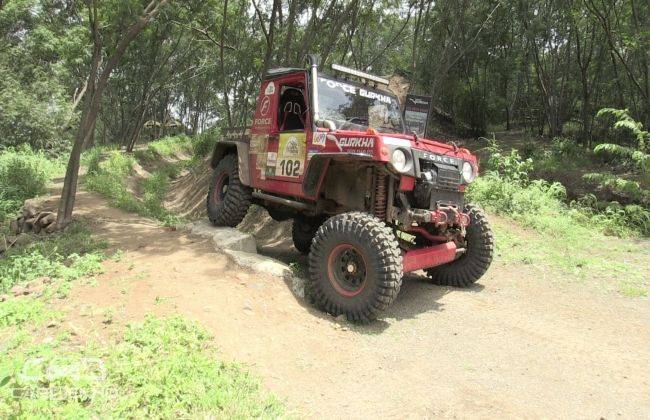 An off-road spec Gurkha was developed by Force specially to participate in the event. If you are wondering what the RFC is, let me put it this way - it is an SUV versus mother nature and more often than not it's the SUVs that come out on top.

Force won the event two years in a row. The R&D department inculcated learning from the winning 2014 vehicle into the new 2015 vehicle - which happened to bag the top two spots again. The good folks at Force were kind enough to invite us to preview the vehicles that won the RFC and share their learnings with us. The RFC vehicle has the same engine and gearbox from the Force One. It develops the same 140BHP and 320Nm. Not even the ECU has been remapped for a different power delivery. While the technicalities will satisfy the spec nerds amongst us, one really has to experience the sheer monstrosity of the vehicle on the move.

I got the opportunity to ride shotgun as the vehicle went about Force's off-road test facility at their factory . The course include some steep inclines and some tricky terrains as well. The course was cakewalk for the RFC-spec vehicle, there's no other way to put it.

We thank the folks at Force for letting us experience what truly is one of the best exercises in engineering in the country. Everything that went on to the RFC vehicle was developed inhouse at Force, save for the suspension and the tyres.

Here are some key differences between the 2014 and the 2015 vehicle:
Particulars

RFC

2014

RFC

2015

Tyres
33 X 10.50 X 16 Silverstone extreme
37 X 12.50 X 16 Maxxis Trepador Bias
Front Axle
Dana 44 Front ( custom made by FML for RFC application with 30 splines shafts from Talbros)
Dana 60 Front (custom made by FML for RFC application with 35 splines shafts from RCV Axles USA)
Rear Axle
Dana 44 (from force one) custom altered by FML for RFC application
Dana 60 Rear custom made by FML for RFC application with 35 splines shafts
Diff Lockers
Selectable (open / locked)Eaton E Lockers ( for 30 Splines Shafts)
Selectable (open / locked) Eaton E Lockers (for 35 Splines Shafts)
Front Suspension
SOA (Spring over Axles) Leaf Spring setup with missing link shackles with 12 inch travel Gas shocks
3 Link front with Pan hard and 2.5 inch Dia Dual coil over shocks with reservoir of 14 inch travel (36 inch Extended Length&22 inch Collapsed Length)
Rear Suspension
SOA (Spring over Axles) Leaf Spring setup with 12 inch travel Gas shocks
4 Link double triangulated with 2.5 inch Dia Dual coil over shocks with reservoir of 14 inch travel (36 inch Extended Length&22 inch Collapsed Length)
Max Gradeability
Max 45 deg
60 deg

Ground Clearance

Max side Gradient /Roll over angle

240mm

30 Deg

290mm

30 Deg

Approach Angle
50 deg
88 deg
Departure Angle
44 deg
58 deg
Water Wading capability
1000 mm
1100 mm
Articulation capability
12 inch suspension Travel , 19 inch wheel travel and 36 inch ramp travel index (RTI)
14 inch suspension travel 24 inch wheel travel and 42 inch Ramp travel index (RTI)