Best Modified Mahindra Thars in India
Modified On Oct 30, 2015 08:10 PM By Manish for Mahindra Thar 2015-2019
16993 Views

Write a comment
When one thinks about an Indian automaker who is held synonymous to domestically bred SUVs, then one can't help but think of Mahindra and Mahindra. The most iconic offering of which, is the highly revered Mahindra Thar. Modification of this car is embedded in this particular car's DNA. Be its previous generation, which found application in Indian military after necessitated modifications (MM540) or the current generation, incarnations of which help one show off in the urban jungle before taking off to the one with savage animals. So, we have compile a list of top 10 modified Mahindra Thars, which are definitely striking if not pretty.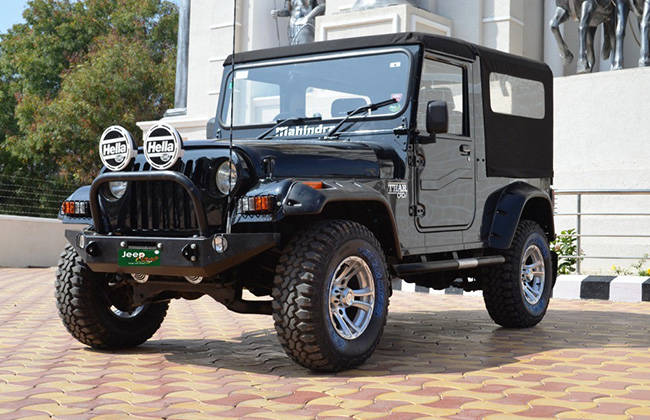 This particular beast flaunts a contrasting shades of it's all black color scheme, which helps bestow it with a stealthy yet mean persona. The car also features bumpers with integrated Fog lamps and an antenna which is longer than the monuments this off-roader will climb.

This particular Thar features a flush fitting hard top, which also features warning lamps on the roof that are reminiscent of the, now out-of-production Hummer. The car features a glass hatch that flips open upwards. The flared wheel arches also help the car put down the fear-of-God on roads.

Don't be fooled by the blood red color scheme, this particular Thar is not meant to go like an Italian sports car but on the contrary is designed to flaunt those extra wheels to be the talk of the town, which in this case happens to be Punjab. The modification is clearly inspired by Mercedes AMG 6X6.

You don't have to have a contact book full of Thar specialists to get your hands on one of these beauties. Mahindra and Mahindra's customization division, which is aptly named Mahindra customization is responsible for this beauty. The car features specially designed chrome bumpers that are definitely eye-catching and the highlight of the car.

If you are looking for a Thar modification specialist then look no further. Jeep clinic brings us this particular offering which has been completely redesigned to look like Wrangler Rubicon. So if you want a taste of off-roading while maintaining your premium car appeal, then you no longer have to wait for Jeep to officially bring their expensive offerings to India, anymore.

Sometimes one doesn't have to change a classic design but add on to it. This particular incarnation of our beloved off-roader definitely embodies lights, camera and action. The car features a redesigned bumper, a functional snorkel and an abundance of lights, which might even put a collapsed sun to shame.

Raj Kapoor, who is a Noida-based car modifier brings to us this function oriented off-roader. The car features a coil spring suspension, which has been upgraded to from the standard leaf spring suspension and a fully functional, external roll cage. Treading through the Thar desert in this Thar will be a piece of cake.

We can't talk about car modifications without pointing out one of the most prominent car modifiers of India, the one and only Dilip Chhabria. DC designs brings us this, (let's be nice) quirky looking Thar modification. The car's highlight is its premium interior and the vibrant color scheme. The car has been aesthetically modified, while its soul remains to be intact. This is to say the car still features its standard power-plant.
Check the details of existing Mahindra Thar
Was this article helpful ?
0 out of 0 found this helpful