Mercedes-AMG GT Family Gets Extensive Updates
Published On Jan 10, 2017 11:00 AM By Tushar for Mercedes-Benz AMG GT
Mercedes-AMG has introduced the AMG GT C Coupe, while the GT and GT S get visually and technically upgraded!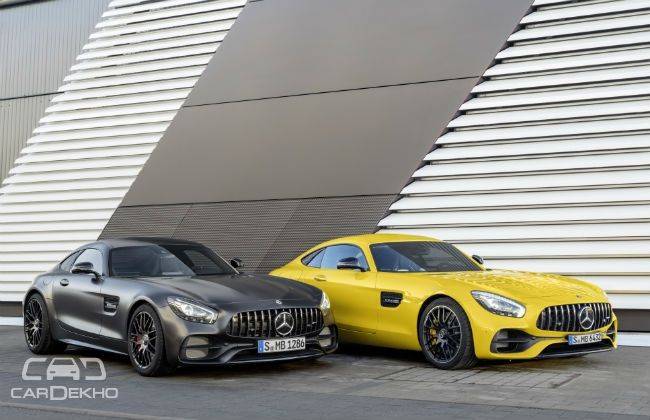 Mercedes-AMG introduced the AMG GT as a rival to the Porsche 911. It looks like the folks at Affalterbach are trying to make their supercar's range as confusing as the 911's, as we now have yet another addition to the AMG GT family – the AMG GT C Coupe.

If that name sounds familiar, it's because the GT C Roadster already exists and this is the hard-top version of the same car. Positioned between AMG GT S and AMG GT R, the GT C features a wider rear track and gets active rear axle steering too.

It will initially be available exclusively as a special Edition 50 model, to celebrate AMG's 50th anniversary. This special edition includes the option of two exclusive paint shades (designo graphite grey magno and designo cashmere white magno), black chrome highlights and some exclusive lettering and embossing on the inside.

The output figures are the exact same as the GT C Roadster, so the 4.0-litre twin-turbo V8 produces 557PS of power and 680Nm of torque. It also has the same 0-100kmph time of 3.7 seconds, though the top speed of 317kmph is 1kmph more than the Roadster.
Another big update comes in the form of uprated output figures for the AMG GT and GT S. At 476PS/630Nm, the AMG GT now makes 14PS of power and 30Nm of torque more than before. Similarly, the AMG GT S now makes 522PS and 670Nm – 12PS and 20Nm more than before. In both cases, the increased output doesn't seem to have affected the 0-100kmph times or top speeds.

Additionally, all AMG GT versions will now feature the AMG Panamericana grille which includes 15 vertical chrome slats and makes the range look similar to the AMG GT3 track car. What's more is that the AIRPANEL active air management system from the AMG GT R is now offered across the range.
Through the air management system, vertical louvres in the front apron can be opened and closed by an electric motor in around one second to manage the engine's cooling requirements better. During normal driving with no increased cooling demand, the louvres are closed for reduced drag and the air is directed at the underbody. Only when certain components reach predefined temperatures and the air demand is particularly high do the louvres open to allow the maximum amount of cool air to flow to the heat exchangers. This, now, standard feature has also entailed moving the engine oil cooler from the front to the wheel arches.

The AMG GT family now consists of six models – the AMG GT (476PS), GT S (522PS), GT C (557PS), GT R (585PS), GT Roadster (476PS) and GT C Roadster (557PS).
Read More on : Mercedes-Benz AMG GT
Was this article helpful ?
0 out of 0 found this helpful