Chevrolet Spark (Beat) EV to sizzle US roads in 2013, India launch still a mystery
Published On Oct 13, 2011 12:55 PM By Vidyadhar for Chevrolet Beat
On the occasion of 100th birthday of Chevrolet, General Motors gave a huge birthday surprise to the consumers. GM announced that Chevrolet Spark (Beat in India) electric will hit the US shores in the year 2013. In India, Chevrolet Beat was launched initially at an international level, but for the Chevrolet Beat electric version, Indian launch is still a mystery. General Motors feel that Indian car market is not yet prepared for the electric technology due to sky rocketing costs plus India is lagging behind in the support of electric cars. However, a couple of months ago, Chevrolet Beat electric was showcased in India.
See More Chevrolet Beat Pictures Read More on Chevrolet Beat
At that point of time, General Motors showed that there is a slight chance that Chevrolet Beat electric may reach the Indian car market very soon. But, what the latest announcement suggested is that the Indian roads will not get Chevrolet Beat electric version any time soon. No other details of Chevrolet Beat electric were discussed now, except for the fact that Chevrolet Spark will come with lithium ion batteries, which will power the electric motor inside the car. These lithium ion batteries will be supplied by well known Michigan based firm, A123 Systems. Chevrolet Beat electric has the same aim as other electric cars have, which is consumers would use this electric car for short journey dodging off the highways.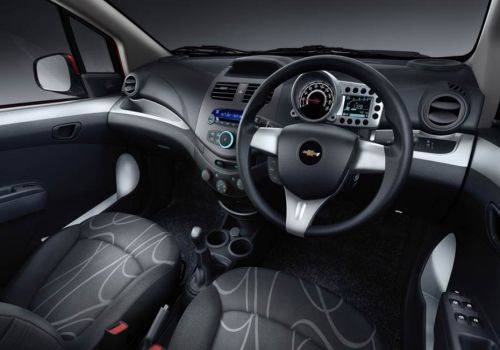 See More Chevrolet Beat Pictures Read More on Chevrolet Beat
Therefore, Chevrolet Beat electric will surely become a complete urban car. General Motors India displayed the Chevrolet Spark Electric at the 2010 Auto Expo held in Delhi. At that time, this car was supposed to initiate the production in the year 2011. The Chevrolet Spark electric was basically developed by GM India in association with Reva Electric, which is an Indian electric car manufacturer. Meanwhile, Reva Electric was taken over by Mahindra and Mahindra, which made the Chevrolet Spark electric venture to take a back seat for the time being.
Read More on : Chevrolet Beat price