BMW Might Launch The M2 And 330i In India
Modified On May 18, 2016 05:47 PM By Arun for BMW M Series
We know that the M range of BMWs is possibly among the best driver-oriented cars on the planet. A high revving motor up front, rear wheel drive, and near spot on weight distribution make the Ms potent track tools.
Now, BMW sells its entire range of M cars in the country, except for the M2. Seems like that gap will be plugged as well; reports suggest that the German automaker is considering bringing the most affordable M car to India. It will slot in below the M3 and go head on against the Mercedes-Benz CLA45 AMG. We expect prices to start around the Rs 80 lakh mark.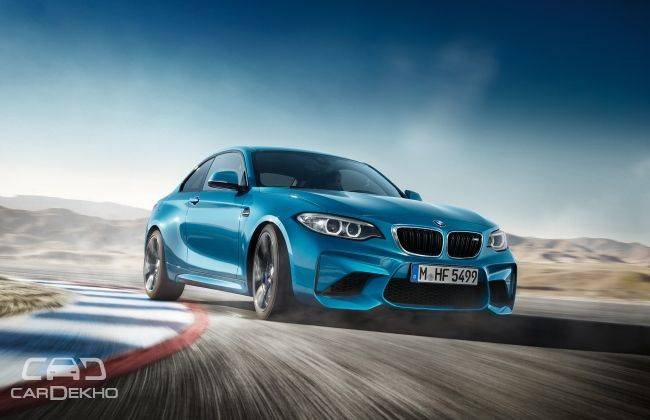 Let's run through the basics, shall we? The M2 is powered by a 3.0-litre, turbocharged petrol engine that develops a delectable 370PS of power and 465Nm of torque. It gets an over boost function as well that bumps up the torque to 500Nm. However, it isn't just these numbers alone that make the M2 special. The two-door coupe is based on the 2-Series which is the smallest sedan BMW makes. Dial in the compact proportions, short overhangs, and the low weight, the baby M is a pocket rocket in the truest sense of the word. Speaking of which, 0-100kmph takes just 4.5 seconds. Keep the right foot down and the M2 will max out at 250kmph. We're drooling at the thought of belting one across a track, just like we did with the X5M and the X6M.
In a follow-up to the 320i launch, reports suggest that the German automaker is considering launching the more powerful 330i petrol variant as well. This will replace the discontinued 328i and house the same engine with identical specs (245PS/350Nm). If launched, expect a sticker price that hovers around the Rs 40 lakh mark.

The luxury car market was largely diesel driven until the Delhi diesel ban came into effect. While automakers such as Mahindra downsized engines to meet regulations, others, such as Mercedes-Benz and Toyota, have been openly critical. Launching petrol variants is the easy way out for manufacturers and the market is more than willing to lap them up as well.
We think both the Bimmers fit well in the automaker's Indian line-up and both cater to the enthusiast. We couldn't be happier! What do you think? Let us know!
Source: Team-BHP
Read More on : M Series 2016
Was this article helpful ?
0 out of 0 found this helpful