Aston Martin Unveils 60th Anniversary Limited Edition Vanquish
Modified On Dec 15, 2014 12:55 PM By Sourabh for Aston Martin Vanquish
Aston Martin Works is celebrating the completion of 60 glorious years at Newport Pagnell by manufacturing six limited edition sports cars. At Buckinghamshire-based firm's Customer Christmas Celebration, Aston Martin Works revealed its first car. All the six versions are based on the current Vanquish Super GT in either Coupe or Volante form.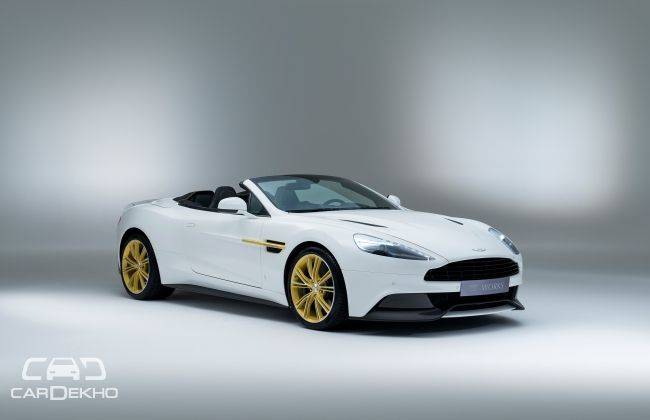 All the six cars are slightly different from each other which represent the company's glorified sixty years. The company uses six pistons which have been drawn from the engines in the following Newport Pagnell-built sports cars:
1955-1965: DB 2/4 Mk II saloon
1965-1975: DB5
1975-1985: V8 Coupe
1985-1995: V8 Vantage X-pack
1995-2005: V8 Vantage supercharged
2005-2015: Original Vanquish
In each case, the relevant piston has been sourced from an engine that has been rebuilt or reworked at some point in its life. Aston Martin Works Commercial Director, Paul Spires, explained: "This project has been a harmonious co-operation across the whole business, developed uniquely to celebrate 60 years of Aston Martin Works at Newport Pagnell. I'm thrilled to be unveiling the first of these cars at our Christmas celebration, and look forward to seeing the remaining models being built and delivered to customers throughout the course of our anniversary year in 2015."

Other Unique features in the Anniversary cars include:
Rotaries made from worked metal of a heritage model piston from the relevant era
Distinctive Anniversary Yellow accents
White/black Duotone seat centre panels
Unique sill plaques
Distinctive colour and trim treatments
New heavy weave carbon fibre.
Since all the 6 cars are based on Vanquish super GT thus mechanically they carry 6.0-litre V12 petrol engine coupled to latest generation Touchtronic III eight-speed automatic gearbox. The car accelerates from 0-100kmph in mere 3.6 seconds with maximum speed of 200mph.

Was this article helpful ?
0 out of 0 found this helpful