Toyota Land Cruiser 200 - Exploring the known and unknown
Modified On Sep 12, 2013 12:24 PM By Prithvi for Toyota Land Cruiser 2009-2020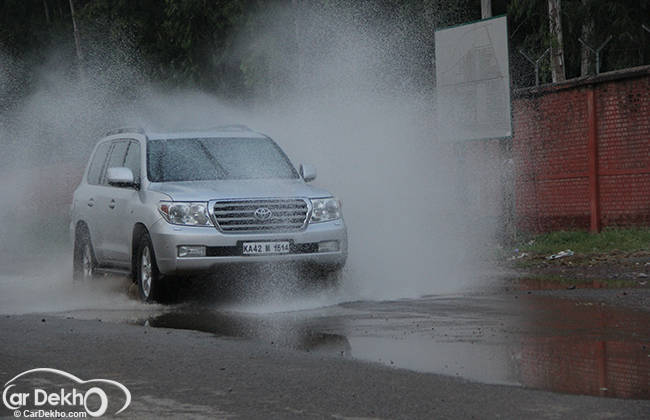 It's massive and has brand recognition like none other, yes Toyota Land Cruiser is something of a nostalgic value to hardcore SUV enthusiasts. With this intend in mind, we set out on the highway to the State of Rajasthan to capture its moments against the back drop of our historical forts.

Introduced back in the year 1951 by Toyota Motor Corporation; Land Cruiser has significantly made an impact world over for its ruggedness, practicality and reliability in the way it can handle any sort of a terrain. From an Indian perspective, SUVs are an emerging trend and when its bigger things get even better, mind you this one is at a massively steep price though. So what is it that makes Toyota Land Cruiser different from say an Audi Q7, Range Rover, Mercedes Benz GL and the rest? Well to begin, its sheer humongous stance says it all as it measures 4950mm in length, 1970 in width and 1865 mm in height. For a midget like myself, it is huge leave alone those who are either crossing the road or driving past within the city as well as on the highway. Its long snout (bonnet) bearing a chrome highlighted grille is the focal point of the front fascia, which includes elements such has a pair of squared pulled back headlamps along with fog lights. A sculpted bumper further brings out its ruggid appeal.

Moving away from the front to its sides, significantly large wheel arches are the highlight with its 18 inch wheels, body coloured door handles and side view mirrors. The availability foot steppers and roof rails further enhance the side profile of the Land Cruiser. While the rear provides a slanting tailgate which features a spoiler on the top followed by a single brake light, pair of LED tail lamps with a Toyota emblem placed right in the centre below which is a chrome strip bearing the 'Land Cruiser' initials. In addition to these, the rear bumper is carved in the shape of a serving tray, which bears a pair of small lights on each side. VX and V8 badging give out its credentials in regards to variant and specification.

With looks out of the way, we shall just take a minute to reflect on what is to come our way on this trip as the distance to be covered was 270 odd kilometres from Delhi to Jaipur comprising of highway driving part from city commuting, which is different part all together. What we were also going to encounter where some of the heritage sites such as the Amber Fort, which is one of the famous hot spots for foreign tourists followed by monuments such Jal Mahal and the Hawa Mahal. Majority of us would be knowing these monuments/forts at the back of our head, thus to have something else to talk about, we also visited the Samod Fort which is now a heritage hotel and a place called Mahar which was the hunting loudge for the Samod King back in the good old days and now is in the ruins.

Excited? well it's time that we drove on. From the driver's seat, everything looks big from the hood to its cabin surroundings. In fact, the first thing that one sees is a telescopic steering wheel with its steering mounted controls, an instrument cluster with its silver surround dials and a digital information display, which look quite elegant. Moving slightly towards the left is a centre console comprising of a TFT screen on top, which serves as a navigation cum audio display for the both radio and CD player on board. Speaking of the navigation system, the feature is there but without any maps and another aspect that we really missed was the availability of a USB port, which is non existent in an SUV like this one. Right below the screen are buttons for climate control which can utilized to maintain the cabin temperature. Besides these, there are a couple of other features on board that enable the user to indulge him or herself in comfort comprising of a cool box, which came handy on our excursion especially since the outside temperature was around the mid thirties.

A decent size glove box, a number of cup holders and a top opening din located above the centre console all serve as facilities for storage. Other tit bits like 14 JBL speakers for the entertainment system, a start stop function, and key less entry further enhance cabin experience. As expected, the fit, finish and quality of plastics used throughout the cabin is top notch. Since it was a long distance trip, the level of comfort especially in the front and middle row was excellent due to ample of leg, shoulder and headroom. In fact, not for a single moment did I feel any kind of a fatigue. However, the third row like majority of the big SUVs within its segment falls a bit short on leg room, which indicates that this particular type of seating is well suited for children. Since it was only me for the majority part of the drive storage of luggage wasn't really an issue but the Land Cruiser provides the option of folding the middle and last row seats to make space for 1267 litres of storage. For safety of passengers on board, Land Cruiser offers features such as 10 air bags, Multi-Terrain ABS with EBD, Vehicle and Stability Control to mention a few.

Before we talk of the drive, let me provide an insight into the powerplant that propels this demon. The Toyota Land Cruiser 200 features a 4.5 litre diesel V8 under its hood, which churns out maximum power output of 261bhp with 650Nm of torque. It has a six-speed automatic transmission on board that works well to provide smooth shifts both within the city as well as the highway. However, there is the option of going into manual wherein the engine plays out to be more happy revving. Having spent a decent amount of time behind the wheel, one can say that driving the Toyota Land Cruiser is like being the 'king the road'.

This is true due to its road presence and engine performance. Ideal for cruising, the Land Cruiser is fairly comfortable to drive once you get accustomed to its dimension and power beneath the hood. I enjoyed driving it on National Highway No. 8 which to frankly tell you is under a disarray due to expansion, repair work and construction of flyovers. Therefore, diversions and broken roads are a common phenomenon which for this SUV was piece of cake, courtesy its ground clearance of 225mm which keeps it clear from most objects coming its way. In particular,the 4461cc diesel unit is a gem of an engine especially since there is no turbo lag courtesy the twin turbos on board; however, when revved hard, the engine noise does tend to creep into the cabin.

Its handling is pretty decent considering that we drove it on a hilly area in one of our outings to 'Nargarh' which is a part of the Amber Fort. No doubt that this SUV was big for the narrow climb but the manner in which it turned into corners does surprise one considering its overall dimensions. With Toyota's Electronic Modulated Suspension on board, the Land Cruiser can sail over almost anything, thereby keeping its occupants comfortable at all times.

Now to the most interesting part of our mission, its 4 wheel drive capability. Toyota Land Cruiser ain't new, it has a long standing history of being one of the most robust and versatile machines made to date. Well we had ample of opportunities to test this machine, as we took it over mud, water and slush which was a piece of cake for this 4.5 litre V8. In fact in Mahar, we drove it over a dry river bed and were impressed with its Crawl Control System. What the system does is that manages both engine and brakes, maintaining a constant low speed, which makes it easier for the driver to focus on what's ahead. From a functionality point of view,it minimises wheel-lock and spin, thereby making the vehicle more stable and capable to move ahead with out getting stuck. It also features hill decent which came in really handy, while we were at Mahar as well as on our halt at the Neemrana Fort while coming back from Jaipur.

On the whole, I would say that a trip of this nature was worth the initiative. It brought together a whole of aspects which were to test an SUV like the Toyota Land Cruiser along side the opportunity to visit some our good old heritage sites such as forts, monuments and historical remains. At each and every step, the Land Cruiser proved itself to be a leader, be it on the road or off the road there is no match for it.

Now we know, why it is regarded as one of the most rugged and reliable machines of all times and its popularity amongst hardcore SUV enthusiasts. However, its really steep price of Rs. 1.15 crore (ex-showroom Delhi) makes it out of reach for most us, but those who have the financial resources and are keen on owning one hardcore SUV, then we would suggest that this is one for you.
Read More on : Toyota Land Cruiser
Was this article helpful ?
0 out of 0 found this helpful