Toyota Behind The Scenes: It's More Than What Meets The Eye
Modified On Jun 17, 2019 03:20 PM By Dinesh
What goes behind a well serviced Toyota car? We find out
Have you ever wondered how a manufacturer manages to deliver a well-serviced car every time you go to a service centre? Well, your wait for the answers ends now. Toyota was kind enough to fly us down to Bengaluru to give us a first-hand experience of what all goes behind delivering a well-serviced car to its customers every single time.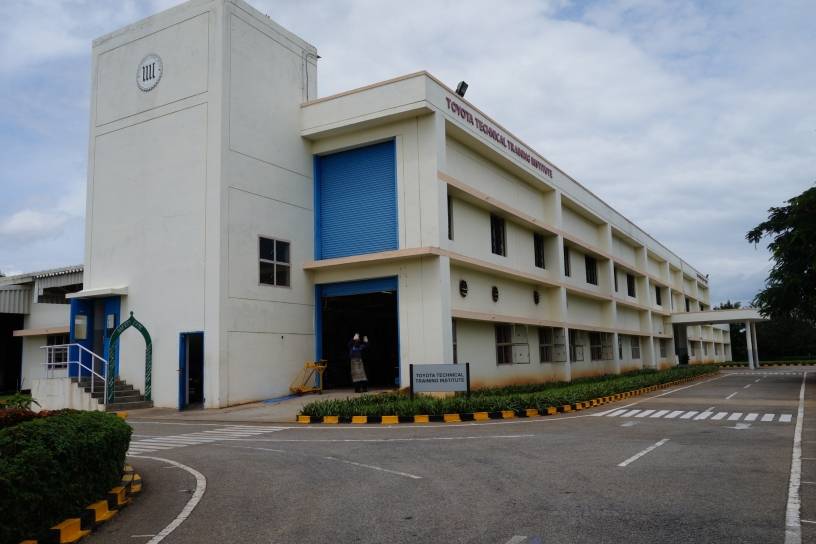 Our day in Bengaluru started with a trip to Toyota Technical Training Institute. As the name suggests, it is a training institute established by Toyota back in 2007 with the aim of providing free training and education to intelligent but financially challenged students from the rural areas of Karnataka and make them employable. The institute offers a three-year course which focuses on the overall development of the student right from communication skills to the technical know how to operate in the industry. A total of 64 students are selected for this course every year. However, the carmaker plans to bump this number to 120 in the year 2019. After graduating from the institute, the students are either employed by Toyota itself (in the production line or service centres) or by other automotive companies.

After the enriching experience at the TTTI, we were taken to the Toyota National Manpower Excellence Centre. This is a service training institute where all the mechanics that work at Toyota service centres across the country are trained. Here we were informed about the initiatives taken by Toyota to improve the customer life cycle, which basically consists of three parts: Sales, Service and Repurchase.
Starting with sales, at the time of purchasing the new vehicle, Toyota offers a variety of services to choose from (Freedom Of Choice) under the Toyota Edge program. Customers can opt for additional accessories (Toyota Accessories), extended warranty, insurance (Toyota Protect) and annual maintenance package (Toyota Smiles). Toyota even offers finance service with Toyota Finance. Unlike conventional finance companies that offer a loan on the ex-showroom price of a car, Toyota Finance offers a loan on complete ownership, which includes prices of accessories, extended warranty and AMC as well.

Coming to the second part, the service. This is where Toyota focuses a lot and has developed various methods to provide a good experience to its customers. The most popular of them is the EM60, EM90 and EM120. The EM here stands for express maintenance. Under EM60, cars coming in for periodic maintenance are serviced and returned to customers within 60 minutes. However, if there is additional work that needs to be done to the car, they are taken under EM90 and EM120 depending on the work that is required to be done.
Another initiative taken by Toyota is Service Express. Aimed at providing service in remote areas, the carmaker has launched a mobile service van which can offer services like EM60, minor, major and general repair jobs, among others. Currently in its pilot phase, Toyota plans to expand this service across the country soon.

But all this timely service won't be possible if parts are not available in time. For this, Toyota has established a robust network to supply parts from part centres to the service centres. To keep the stocks in check across its centres, Toyota follows a pull system. In this, as soon as a part is sold to a dealership or a customer, an order is placed for the same to the supply centre or the vendor. Also, to make sure parts are not damaged when they reach the service centre, the trucks used for transport have to go through a four-point check before being cleared for use. We got to check out one of Toyota's four supply centres in India in Bengaluru.

Toyota is not all about selling cars, the carmaker is also working towards making the earth a better place. Under its Challenge 2050 initiative, Toyota plans to reduce CO2 emissions from not only its plant but also its cars to zero. It also aims at reducing water consumption and establishing a recycling-based society.

For this, Toyota has already initiated Eco wash at its dealerships, reducing water consumption from 95 litres to 55 litres. To reduce emissions from its plant, the carmaker has established an Eco Zone which includes a solar power plant, rainwater harvesting system along with various biological parks in its factory premises in Bidadi, Karnataka. Toyota has also set up a recycling plant where damaged vehicles are recycled for metals and other usable items.

Our trip came to an end at a Toyota dealership in Bengaluru where we got to see what we learnt in action - from selling a vehicle to servicing it. All in all, it was quite the educational experience where we got to know what exactly goes behind delivering a quality product to the customer.
Also Read: Toyota, Suzuki, Daihatsu Join Hands To Develop Compact EVs
Was this article helpful ?
0 out of 0 found this helpful