Terrific Terrano
Published On Apr 08, 2014 12:33 PM By Sundeep for Nissan Terrano
29503 Views

Write a comment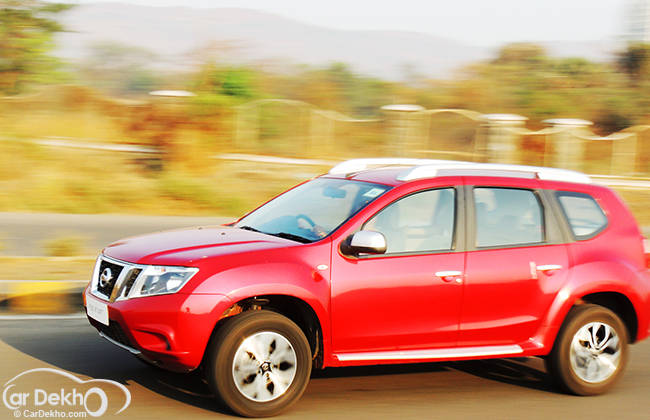 End of Xth Board Exam is certainly a reason for some celebration and a short holiday. Anyone whose child has written the Xth Board Exam will understand the logic. So that is how it came to be – a family holiday to enjoy the cool climate at Ooty with hope of wildlife sightings thrown in on the way back.
Mysore was falling on the way so a visit to Mysore and Srirangapatna was an added attraction.


The estimated distance (to and fro) being in the vicinity of 2500km, a diesel powered, reasonably fast and spacious vehicle with relatively high seating was all that was required. Nissan Terrano fitted the bill perfectly and we started a day after Holi. Terrano covered some serious distance and we made it to Mysore by late evening but with time to spare for a leisurely dinner. And then it dawned that Terrano is a quite a competent highway tool. Without even putting any effort at driving particularly fast, we had covered more than a thousand kilometers, 1007 km to be precise in less than thirteen and half hours of driving time. This was seriously fast when reckoning the fact that we had driven almost two hundred kilometers off the NH 4 / AH47 after turning towards Mysore. I had not used the GPS tracker and made a mental note to use it on the return drive to find out the mile munching capacity of this nifty little SUV with some added precision.

Although Ooty is just about 135km-140km from Mysore, it entails driving through the densely forested Bandipur and Mudumalai Wild Life Sanctuaries where there are numerous speed-breakers to ensure that vehicles do not speed and endanger the original inhabitants – wild animals in their natural environment. These two Wild Life Sanctuaries are parts of a continuous forest but are on either sides of Karnataka and Tamil Nadu State boundary. This jungle appears to be quite rich in flora and fauna and we could spot some deer and monkeys from the road itself.


We also witnessed huge swathes of forest damaged due to wild fire and the thought that it may have also played havoc with the lives of wild animals was certainly a mood dampener. In fact, at one place we did see a monkey lying dead on the scorched earth. Whether this particular specimen had died as a result of burn injuries or inhalation of toxic fumes due to the forest fire or some other reason will remain a mystery but the sight did evoke sadness.

After crossing into Tamil Nadu and reaching Mudumalai WLS, there are two routes to approach Ooty. One is the longer route through Gudalur and the other is the shorter (by about 30 KM) route through Masinagudi and Kalhatty.

The shorter route goes through a series of hairpin bends and is quite steep but the good thing is that it is in excellent shape. Large convex mirrors installed at the apex of the acute curves aid the driver in spotting any vehicle coming from the opposite direction. Another thoughtful feature is speed-breakers built in such a manner that the vehicles coming down the gradient are forced to slow down without impeding the momentum of vehicles climbing up.



Ootacamund also known as Udhagamandalam has been bestowed with the honour of being called the "Queen of Nilgiris". This popular hill station has a moniker – Ooty, and the fact is that the nickname is more famous than the real name.

I have always wondered – how is it that most of the hill stations in India were discovered and developed by the British rulers. Perhaps the spirit of enquiry and discovery was much more in Europeans than the natives, especially in the post renaissance era. Why hill stations, even a large part of Indian history that we studied during school days had the imprint of remarkable Englishmen viz. James Princep who was instrumental in deciphering the Brahmi and Pali scripts – resulting in correct association of Emperor Ashok to the various rock edicts of Ashokan era. In fact it was Sir William Jones who initiated the archaeological and historical studies in India and then a series of Englishmen, including James Prinsep attempted and succeeded in deciphering ancient scripts to put some much needed light on ancient Indian history. No doubt, narration of Indian history by the British was not a plain and simple academic exercise but had an undertone of politics and condescension woven into it, but still the sheer scale of discoveries and studies made during the Raj era speaks volumes about the skill and perseverance of erstwhile ruling class. With this background knowledge, it simply failed to evoke even an iota of surprise when the person managing the reception at Taj Savoy informed that Ootacamund was discovered by the English in early nineteenth century. Sensing a complete lack of surprise and interest in this piece of trivia, he went ahead and handed me the leather bound copy of "Ootacamund: A History". This majestic volume was compiled by Sir Frederick Price for the Government of Madras. It was published by the Madras Government Press in 1908. I asked the heavy volume to be placed in the room and promptly forgot about it. It was pure serendipity that next morning, feeling lazy to venture out of the cozy confines of the grand suite to the forebodingly chilly morning, I happened to absent mindedly turn the pages of the compilation. The tome happens to be a veritable storehouse of information about the early formative days of Ooty, peppered liberally with quotations and references from the original work of various people who had been tasked by the British rulers of that era with surveying and developing this beautiful hill station. Paucity of time meant that I couldn't gain as much from it as I wanted but then "something is better than nothing" is a popular English proverb and I do believe it to be true.


Coming back to the present object of my adoration, Ooty is beautiful and somehow it has still remained relatively free of dirt and filth which has come to define and defile many other hitherto pristine tourist locations. Almost complete absence of stray dogs is a very good indicator of excellent solid waste management and this fact was so conspicuous at Ooty that it did not escape our notice. Polythene bags, another major persistent pollutant seems to have remained banned in Ooty for quite some time and this may have also played a big role in preserving the clean look.

Situated at an elevation of about 2200 metre, Ooty is nestled in the Nilgiri Hills and enjoys a highland kind of climate while being geographically located in tropical area. Climate is quite equable, pleasantly cold during most part of the year except the three winter months when the minimum temperature has the tendency to plunge towards zero and there have been instances when it has gone below zero.
Overall Ooty seems to be fixed in a spring like pleasant weather. The combination of climatic condition and elevation means that there is an abundance of flowering plants and trees which appear to be flowering year round. Although a wide variety of flowers can be seen all over the area, the Government Botanical Garden is the place to see all of it blooming at one place.


Originally conceived in 1845 as a source of vegetable and flowers for the European community, this beautifully landscaped garden spread out in a sloping plot was constructed with subscription from interested Englishmen. Monthly subscription of Rs.3/= entitled free supply of vegetables and flowers. The development gathered pace in 1847 with financial support from the Marquis of Tweddale who was the Governor of Madras. Presently, the beautiful and well maintained Botanical Garden is spread in a sprawling area and is a major tourist attraction.



Doddabetta Peak has its claim to fame on account of being situated at the highest elevation of Nilgiri Hills - 2637 metre. Surrounded by reserve forest, the road to access Doddabetta peak is under the watch of forest guards and is open during day time. A sizeable area near the peak is controlled by the Defence Establishment but the peak is accessible through a well maintained walkway. Effort made to reach the peak is rewarded by a panoramic view of the lower areas including Ooty town.


Nilgiri Hills is famous for its distinctive tea so a visit to tea-garden and tea factory was on the must do list. The tea gardens look very attractive due to the lush green foliage and the most memorable part of the visit to the tea factory is the complimentary cup of tea which is offered to all visitors and the part pleasant and part pungent aroma of tea which is all pervasive.

Ooty Lake is another popular haunt for tourists visiting Ooty. This artificial lake was constructed in 1824 - under instructions of John Sullivan who was the Collector of Coimbatore and is credited as the person who developed Ooty as a hill station. There is nothing much about the lake except for the fact that boating facility is available. Boats of various designs and size are available for hire and tourists throng the place.

Our stay at the Savoy Hotel which is a Taj property was the highlight of the Ooty interlude. This was so because the property is steeped in history. Originally built in 1829 as a school for European children, this property has been functioning as a hotel since 1841. The original part which happens to be the main building is one of the oldest structures of Ooty. We resided in the main part which was built in 1829. The large suite which comprised of a spacious living room, a huge master bedroom and a decently sized second bedroom is exceptionally well preserved despite the age.


It goes to the credit of Taj Group that it has managed to retain the exclusivity and originality of the hoary structure while providing all kind of modern amenities that could be expected by discerning tourists.


Manicured lawns and beautiful gardens make the property look welcoming and the classy high ceilinged living spaces endowed with colonial hardwood furniture usher the tourists to the Raj era. As expected, service and attention to details is exemplary – a hallmark of the Taj brand.

After enjoying the salubrious climate of Ooty for a couple of days it was time to leave and the forests beckoned us. We would have loved to spend at least one full day in one of the various forest lodges available in the vicinity of Mudumalai WLS and Bandipur WLS but lack of time meant that only half a day was available. As luck would have it, despite being on a very tight schedule, we were rewarded with numerous sightings of wild animals and birds.








At Bandipur forest, we were privileged enough to see one of the big predators - a leopard in all its glory. Although we were not in the best location to have a full view of the magnificent animal, to our delight it chose to turn its head to gaze towards the encroachers that we were at that moment, and then it was for the camera to do the rest.

Mysore being less than a hundred kilometers we were back at Mysore within two hours and checked in at one of the serviced apartments – Urban Oasis. It may be a personal preference but I feel that a serviced apartment is usually a more convenient option when travelling with the entire family; and this is in addition to being cost effective when compared to a full-fledged hotel. The biggest convenience factor is extra living space in the shape of living / drawing room which is in addition to the bedrooms. Being professionally managed, Urban Oasis proved to be a very good choice and our stay at Mysore was absolutely hassle free and we did not miss the facilities of a full service hotel.
Mysore has its own charms and the first half of the day that we had on our hand was spent paying obeisance to the Goddess Ma Chamundeshwari at the eponymous hill (Chamundi Hill) where the temple is located. The hill offers a panoramic view of the city.


Later in the day we visited the handicraft outlets which showcase handcrafted wooden furniture, show- pieces and wall hangings. The quality of workmanship is really astounding and so is the pricing. Still we could not stop ourselves from picking up a wooden wall hanging depicting a rustic scene. The beauty lies in the fact that without using colours or pigments, wood slivers of different shades and grains are utilized and combined / layered with commendable finesse to create the beautiful artworks.

Mysore Palace was closed for public so we had to be satisfied with the customary horse-cart ride around the palace. The other major tourist attraction happens to be Brindavan Garden which is situated outside the city but draws a sizeable crowd during evening hours when the fantastic light and music show takes place at the musical fountain. This garden lies adjacent to Krishnarajasagara Dam which is built across the river Kaveri (Cauveri).

The historical city of Srirangapatna – seat of Tipu Sultan is located about ten kilometers downstream on an island in Kaveri River to the east of Brindavan Garden. Being surrounded by Kaveri on all sides was a notable natural feature of its defenses. The final storming of Srirangapatna in 1799 was scheduled to take place in late April and beginning of May to take advantage of low water level which prevailed during that period. It is said that fighting at Water Gate - leading out of the fortified area towards the river - which happened to be the point of engagement of Tipu Sultan with British troops, the Tiger of Mysore was mortally wounded by gun shots. Tipu Sultan's body was found at a spot which is at a short distance from Water Gate and it was identified by one his faithful servants. With the death of Tipu Sultan and fall of Srirangapatna the Fourth and the Final Mysore War ended and resulted in the removal of one of the biggest impediments to British rule in the southern part of Indian territories.

Although Tipu Sultan could rule for barely seventeen years, out of which during the seven years between the Third Anglo-Mysore war and the final Forth Anglo-Mysore war his power had been reduced considerably, he still left an indelible mark on the polity of that era.


Treatment of non-Muslim and European prisoners during his reign is definitely a controversial subject but his outward looking foreign policy was certainly way ahead of the time. He did patronize art and the Daria Daulat Bagh, his summer palace is a beautiful evidence of that.

From the outside, the famed Daria Daulat Bagh doesn't present an imposing impression. It is a quadrilateral - rectangular structure built on a moderately high plinth with corridor / verandah running on all sides. Presently it remains draped by green coloured wooden / bamboo curtains and unless the visitor steps into the verandah, the fabulously crafted and painted interiors remain out of sight.

Almost the entire interior surface – walls and ceiling – barring the floor is either carved or painted. The paintings depict scenes of war and peace and the contemporary politico-military scenario related to Tipu Sultan's reign. The structure which is primarily built of teak-wood also houses some memorabilia connected with Tipu Sultan – his weapons, garments etc.
The return drive from Mysore was uneventful and as expected Nissan Terrano performed flawlessly to cover the distance (1009 Km) in less than thirteen hours (actual driving time and distance as tracked by GPS).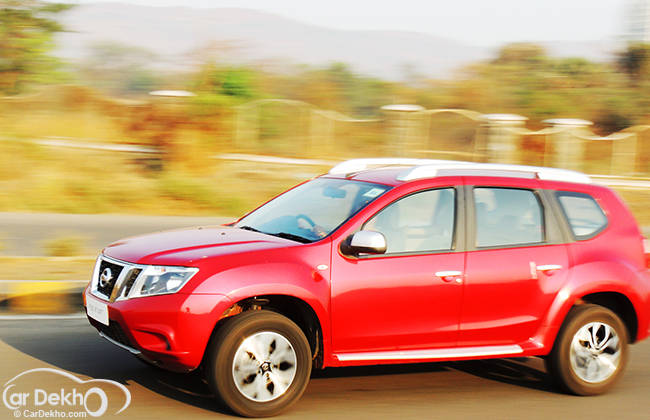 The higher power version of Terrano is a very effective mile munching tool. Combination of an exceptionally light body with a strong engine gives it a very good power to weight ratio. The six speed transmission is well suited to exploit the prodigious power and torque generated by the dCi K9K oil burner and it eats up the highway quite effortlessly.

The best part of the package is good dynamic ability of the body / chassis which is aided by appropriately large tyres. It is not that Terrano is an absolutely perfect product with no scope for improvement. There are some chinks in its armour - in addition to some quirky ergonomics there are a couple of minor vices which it does display. First and foremost is the disconcerting amount of steering kickback when power is fed while negotiating fast sweeping bends with less than perfect surface condition. Most probably this is due to huge amount of torque flowing to the front axle and could be sorted out with all-wheel drive configuration which would distribute some of the copious torque to the rear wheels. The other point is the effectiveness of the air-conditioning system. This can be a source of consternation when faced with full passenger complement in hot summer months.

To sum up, Nissan Terrano is a terrific product for the evolved car buyer who looks for something more exciting and reassuring than a sedan but is either intimidated by the size of a full grown SUV or is intelligent enough to shun such an oversized vehicle if the predominant usage is intra-city. Nissan Terrano is a robust vehicle with the potential to become an all-conquering rally car in Indian Rally Circuit provided the manufacturer decides to come up with the all-wheel drive version and necessary support for rallying.

Was this article helpful ?
0 out of 0 found this helpful