Quest for Tigers with Ford EcoSport
Modified On Apr 22, 2015 03:46 PM By Prithvi for Ecosport 2015-2021
6743 Views

Write a comment
'Nature', well this is a very relative term especially when it comes to our eco system wherein greener pastures determine the overall sustainability of a system as a whole. In order to understand the theory in question, we the 'Team of CarDekho' embarked on a unique 3300 km long drive covering 4 important wildlife sanctuaries located in Central India in search of "Tigers". 'Quest for Tigers' an initiative under taken to highlight the depleting tiger population in our country and therefore see for ourselves the ground reality we recently covered 3 states – National Capital followed by Rajasthan and Madhya Pradesh. For this purpose, we had the services of Ford's most sought after compact SUV – the EcoSport that helped us achieve our endeavour.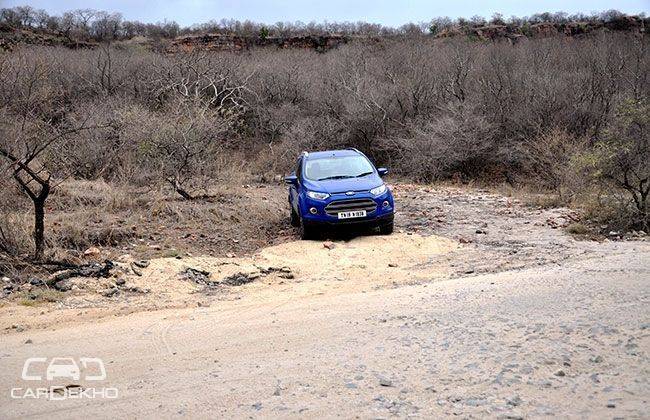 A grueling test for both man and machine as this was the month of May, our journey started out very early in the morning with us leaving for the 'Royal City of Jaipur'. 260 Kms of National Highway Number 8 lay ahead of us with the sun beginning to beat down upon us as we headed towards our first destination.

From congested city roads to the deserted highway, our four wheels were powered by a 1.5 litre petrol unit fitted onto the Titanium variant that produces a maximum power output of 110 hp with 140 Nm of torque. Taking these technical aspects into consideration, you might call it a saving grace or a hindrance; the availability of an automatic transmission on board is increasingly becoming a necessity rather than convenience. Which is why, we thought of using the EcoSport AT as our pilot machine.

Day 1

Coming back to our journey, the 6 lane highway leading to the pink city is a contrast of high speed open stretches and number of diversions that leave the overall experience as fairly satisfactory. En route our first pit stop came after crossing Neemrana in the form of 'Chatpata' – Halidrams that quenched the hungry of our bellies in the shape of Choley Bhature and Puri Aloo with a twist of nimbu pani to save ourselves from the all important heat. Returning to the road, we still had a little more than halfway to go.

The mid-point between Delhi and Jaipur is a place known by the name of Behror which back in the good old days had a very good eating joint being run by the Rajasthan government themselves. However, over the years the food quality and ambience of the place itself has deteriorated due to the construction of a flyover that hampers its accessibility from the opposite side of the road.

That is precisely why travelers like to stop at other locations such as Haldiram, Shiva Oasis Resort (which is on the outskirts of Behror) and Hotel Highway King (located more towards Jaipur about 80 Kms approximately). Outside the window, the topography changes from open fields to the Aravali ranges that are a fascinating backdrop for the magnificent & historical 'Amer Fort'.

A quick halt within the city and we were back onto highway in order to make out first official stop at the city of Sawai Madhopur that houses the famous Ranthambore National Park. An extended distance of 150 kms, we were now driving into the sunset with only one thing in mind - would we be able to sight a tiger within the first instance or not? Ranthambore is an ancient town situated in the state of Rajasthan and was the capital during King Hameer's reign – whose fort can still be found within the vicinity of the park.

Its boundary walls also houses the Trinetra Ganesh temple which has religious importance going by Hindu traditions. In this case, the story goes like this that the property and land around the area got declared as a wildlife sanctuary back in the 1955 going on to become an important destination for tiger breeding and saving them from being extinct. Speaking of the area, the Tiger Reserve area is spread over 1334 square kilometres with 275 square kilometres being the core National Park area and an additional 392 square kilometre that fall into the buffer zone.

To point out, this sanctuary comprises of Tiger's off course which we could not sight but were able to lay our eyes on Sambar Deer, Nilgai, Striped Hyenas, Jackals as the sunset upon with the close of day. Our overnight stay was at Ankur Resort. For reference, the reserve has a total strength of 40 tigers with Safari beginning at 6:30 A.M and 2:30 P.M. Generic cost per person is Rs 1250 along with a Maruti Gypsy and guides which are an additional cost.

Day 2

This was perhaps the longest part of our drive from Ranthambore (Sawai Madhopur) to Bandhavgarh (Umaria) about 675 kms from our current location. So the morning departure was pretty early as the team took to the open highway initially which later transformed into a double lane state highway going through some of the most scenic parts of natural country side with winding roads. In order to avoid further delays, we chose to stay with a single hault that came at the City of Jhansi wherein we treated ourselves to some authentic vegetarian thali at Restaurant Haveli (eat as much as you can for just Rs180, isn't that really awesome).

Having eaten to our hearts' content, we then proceeded not expecting what lay ahead which were some really narrow roads with even narrower bridges that certainly need some attention of the Madhya Pradesh government. Is anyone listening? Then followed Katni where we stopped over for tea and a 20 minute rest before carrying on further into the sunset. Little did we know that this last leg was going to be a hell of a ride not from a negative perspective but in true sense despite it being dark the ghat section gave us plenty to cheer!

The compact SUV did well to tackle the twisty roads especially due to its brilliant suspension that makes on board experience a memorable one. In fact the EcoSport that we were using had Ford's DCT transmission, which means the engine has to work just a bit more on these long straight highways. In its S mode, the DCT holds the gears for you for maximum performance and even downshifts at apt moments.

The engine has to work harder, which makes the job of the engine oil even more crucial. Shell Ultra 5W - 30 that our vehicle is equipped with is ensured that we got maximum performance from the engine, and that too with the sun sky high and raining embers. The temperature outside was a scorching 47 degree Celsius, and we were sitting in our cooled EcoSport cabin at 21 degree Celsius, with the automatic transmission taking away the tedious gear shifting.

This indeed made our journey a lot easier. This SUV has proved its worth by doing everything we threw at it, in the safekeeping of that Shell running in its system. We thought that with such extreme driving in this weather the engine might overheat, but it just kept on going. Shell has really bought there expertise from the racetrack to the road if were to speak. For the night we stayed at Hotel Goyal's Inn that provided us the much needed recovery time to get ready for next days adventure that lay ahead of us.

Day 3

Late to sleep and early to rise, our quest for the tiger began with an early morning safari that commenced at 5:30 in the morning which came at Rs 1250 per person excluding a guide and Maruti Gypsy. In brief, Bandhavgarh National Park is one of the first few parks to be included within the 'Tiger Project', that was established back in 1968. It's divided into four different sections namely Tala, Magdhi, Khitauli, and Panpatta.

With a tiger population of 80, Tala is one zone where the maximum biodiversity of animals can be found especially the sighting of 'King of the Jungle'. However having mentioned this, our dream to capture the predator went in vein as the temperature was soaring towards the higher side restricting this particular animal to the low lying areas where the vegetation was really dense. Other animals to be seen were Spotted Dear, Cheetal, Langurs and Wild Bore.

Completing the safari without much of an achievement, it was time to get back to the steering wheel and make our way to Pench National Park. A distance of 450 kms, this particular park is known to have been inspired from 'The Jungle Book'.

Best known as Indira Priyadarshini Pench National Park, it is situated on the Southern slopes of Satpura Ranges that falls in the central part of our country. It is no wonder that we were treated to some of the best driving roads that one can ever come across.

From plateaus to low rising hills, the overall experience in reference to natural surrounding and drive itself was just mind blowing. Ford Ecosport did not disappoint us at any given point in fact its precise steering input enabled us to maneuver our way as we desired. Breaking for lunch in the city of Jabalpur, we still looked forward to more of such roads that would enable us to put our skills to test as well as push the machine to its limits. The dusk saw us arrive at Pench where we spend the night at United 21 Resort.

Day 4 & 5

Attributed as the 19th Tiger Reserve of the country, Pench is home to a wide range of animals, from Jackals to Wild Dogs, Barking Deer, Chital but still no signs of a tiger which left us wondering whether we would actually be able to see one or not on this entire trip as our safari came to a close. Mid day and it was time to set off once again to one of the most famous and most talked about Statuary's in the country – Kanha National Park. Located 200 kms from our current location, Kahna is regarded as one of the oldest sanctuary existing from the time of British Raaj.

The drive once again upto the reserve was a mix of open state highway clubbed with twisty roads and a minimal ghat section. In patches we also encountered broken roads that really tested out the ride quality of Ecosport which to point out was fairly satisfactory, given the road conditions (a specific 70 km stretch which had no tarmac but just stones with a lot of dust). Out of all the days of traveling, one thing was clear that this stop over was going to be saving grace as we intended to stick on in Kanha for precisely one and a half days.

Our lodging was at Kanha Village Eco Resort, which as the name suggests is an eco friendly property built within the vicinity of the statuary. Next morning was somewhat gloomy due to the fatigue which was setting in but nevertheless our spirits were high thinking of the possibilities of sighting a tiger at our last and only change.

At last our prayers were finally heard after much anticipation and waiting for one long hour where in we sat in our Gypsy besides a pond waiting to see a tiger.

It wasn't actually then but on our way back that we finally got a glimpse of the animal crossing the road walking towards the water body. Along the way we also saw Langur, Chital, Barasingha, Black Buck amongst others. Overall this one was worth all the effort considering that the last visit actually fulfilled our dream of sighting a 'Tiger', which is a rare sight nowadays.

Day 6

This was the end of our expedition as we set out very early in the morning to embark on the longest stretch of our journey that was off 750 kms to the city Kota in Rajasthan. However, if you are from Delhi, then there is a shorter and a more convenient route via Gwalior and then onto the Yamuna Expressway that's close 950 kms as compared to this one which set us back by 1300 kms. Driving through state highway, we made our way to the stone city (famous for its Kota stone) to halt over the night at Leisure Inn.

Day 7

With just a couple of hours of sleep, it was time that we took our last day in all pride and honour as we set out for Delhi via city of Jaipur. From Kota, we were treated to some extravagant roads mostly six lane open highway which made travel time easier and more convenient with us covering a distance of 230 kms in four and half hours.

Once we reached Jaipur, a quick stop was made to the nearest McDonalds for breakfast before setting out yet again.

Driving was a swift affair once we got out of the city and made our way towards the national capital soaking in the kilometres, in fact till Manesar we covered the distance in an impressive time of two hours and 15 minutes (from the outskirts of Jaipur) after which it was brake and accelerator all way leading to an additional travel time of three and a half hours to get to our end destination – place of residence.

On the whole, these 7 days were a bliss given that we got to see the magnificent 'King of the Jungle' after a lot of hard work on the 5th day of our excursion. Despite having driven 3000 odd kilometers, the entire journey seems to play over and over again in the mind especially in regards to some of the most amazing driving roads that we had encountered during this trip of ours.

Ford EcoSport with its automated gear box has in fact won our hearts standing tall on most of its attributes of being a good performance oriented machine with Shell Ultra 5W - 30 doing a fantastic job of keeping the power plant running and up to speed considering severe heat conditions.

Was this article helpful ?
0 out of 0 found this helpful