Of Drags and Departure Angles - 2016 Audi Weekender Mumbai
Modified On Nov 10, 2016 11:51 AM By Tushar
We take Audi India's range of cars and SUVs on a little breakfast date!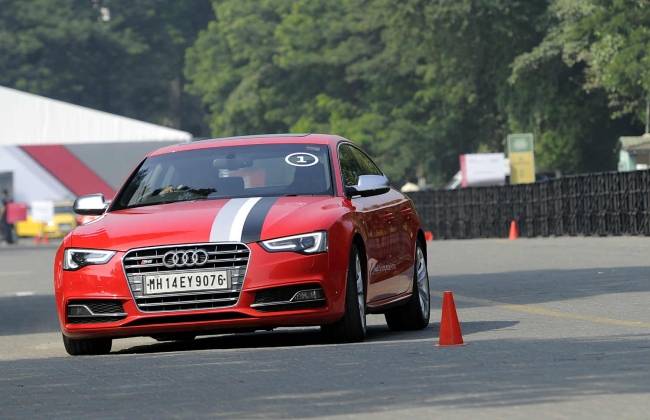 Weekends – a time for late sleep-ins and the slight sense of regret after waking up at 1 in the afternoon. While laziness is a virtue for many of us on a Saturday morning, Audi India decided to offer a little incentive to make me resist the urge to cuddle up in my blanket – the Audi Weekender.
Held in Mumbai on a not-so-cold winter morning, the event was orchestrated to give the brand's prospective and existing customers a little taste of the unexplored capabilities of the brand's range. The venue was Mumbai's famed Mahalaxmi racecourse, traditionally the playground for horses and not horsepower.

Extensive this experience was not, but it was divided into two phases – one for the performance cars and sedans, while the other was for Audi's 'Q' range of SUVs. Before we got behind the wheel, there was a safety briefing along with an introduction to the professional drivers who would be guiding us. Handling the performance car section were Rayomand Banajee (8 time national karting champion) and Karthik Tharanisingh (MRF 1600 championship and Volkswagen Polo Cup winner). QNA done with, I quickly found myself at the helm of the Audi S5.
I'll be honest, there was an RS5 at the venue and not getting to drive it was a bit of a letdown. However, firing up the S5 brought a little smile to my face, which turned into a big grin once we lined up for the slalom course. Gear lever set to Sport and drive mode set to Dynamic, I took this 333PS sportback through the course that simulated hard lane changes, followed by some quick swerves through a line of cones. Throttle response is crisp and the car switches directions quite quickly for something that's nearly 5-metres long, but I wasn't in the car long enough to explore its handling capabilities further.

Jump forward a few minutes and I'm in the Audi TT, the better suited car for a slalom thanks to its short wheelbase and smaller engine. However, now it was time for the drag run. Bear in mind that this wasn't a race track. In fact, it was essentially a cordoned off section of a parking lot made of paver blocks – no question of land speed records then. The TT's 2.0-litre, 230PS engine though, is free-revving and got up to around 115kmph in well-under a kilometre. Enjoyable, yes, but it leaves you almost desperate for more; probably the aim of the whole exercise, it seems.

We then proceeded to the off-road course in the Q3 and Q7, with our guides Rohitaaz Kumar and Sunny Singh. The course included rumblers and chicken holes to test the ride quality, along with axle twisters and a trench to test everything from the approach and departure angles to the torque distribution of Audi's Quattro all-wheel drive system. It wasn't a hardcore course by any means and as long as you were gentle with the throttle, the SUVs could handle the job almost autonomously.

What impressed was the capability in diversity. I never expected the Q3 to handle ditches taller than the window-line and assumed the Q7 would be too big to handle a tight course like the one we were at, but was thankfully proven otherwise. It's good to know that these machines, which are often used as showpieces or chauffeur-driven barges, can handle the rough stuff should duty call.

The entire experience was over in just about two hours, so it wasn't enough to really test these machines properly. However, for an appetizer course on what Audi's range has to offer, this was pretty tasty. The weekender has multiple legs across the country and yes, select cities will experience the RS range along with the R8 as well, so here's hoping for another early weekend soon!
Was this article helpful ?
0 out of 0 found this helpful