An everyday sports car Audi TT
Modified On Nov 11, 2014 07:43 PM By Prithvi for Audi TT
Does a sports car really make sense in a country like ours? Could it suffice for daily use, let's find out.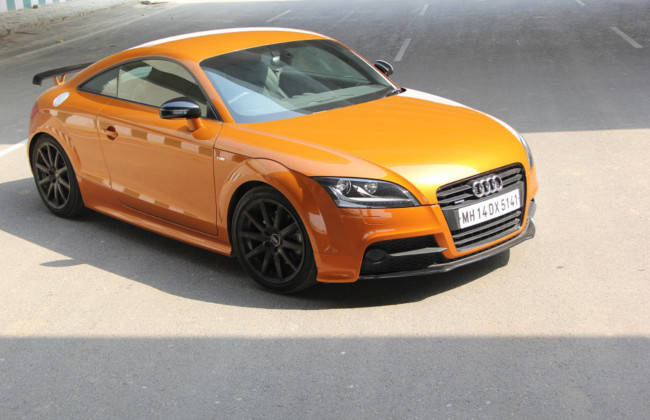 Until a decade ago, spotting a sports car on Indian roads was a rare sight, but now effects of globalisation, a growing economy and promotion of foreign trade has meant that big names have set their foot on Indian soil. Yes we are talking about none other than German automaker Audi who has gained immense popularity amongst consumers and has for a fact been growing double digits for the last year or so. Today, we shall be talking about their more affordable sports car, the TT, which was given a few minor upgrades last year to make it more appealing for the elite.

Come 2015, this Coupe would be replaced by the third generation which is highly futuristic and in line with the company's latest design philosophy. Until then, the 2014 TT offers a dynamic exterior design which when clubbed with its light weight body construction (aluminium to be precise) does provide a potent performance mix along with higher efficiency figures. So coming back to the question, does it make sense at all?

I remember my first driving experience of this machine which was last year wherein a couple of us auto journos were given the opportunity to drive the updated TT at India's one and only F1 track (Buddh International Circuit) during Audi's famous 'Driving Experience'. Set in a controlled environment it meant that we could actually put our heads down and put this sports coupe through it pace across the 5.3 km race track. Having done that then, we did come back very much impressed but today the scenario is very different as we would actually be driving it on our city roads and to top it all amongst the hustle bustle.

Like all sports cars, Audi TT in its coupe type body style is impressive to look at within the first glance. Not to forget the blend of black and brown which is a brilliant paint scheme provided to this coupe. A mere facelift, the updated TT is nearly 2 centimetres bigger than its predecessor as its new figures now stand at 4198mm in length while its width is 1842mm and height of 1353mm.

Upgrades towards the font include elements such as larger air inlets with three dimensional edges incorporated within the bumper, chrome surround fog lamps, high gloss black finish provided to its trademark single grille and redesigned Xenon headlamps. The side profile remains unchanged but the matt finished alloys do provide a sporty appeal. Meanwhile the rear caters to bigger dual exhaust pipes and a flat black diffuser accents that add substance to its overall stance.

Unlike the exterior design, the interiors of TT bear minimum changes. Basically what's been added is a bit more of gloss in order to make it more appealing to customers. Dashboard therefore, features chrome surrounds around A/C vents, presence of an aluminium strip available in a brushed grey finish further enhances the cabin. Rest there is a symphony audio system on board along with features like a driver information system and an automatic climate control.

However, the Bose Surround Sound System present in our test vehicle is optional and so is a wide selection of colour and trims to choose from. Fine Nappa leather upholstery comes as standard fitment on the TT. What one can do is choose from three different leather packages otherwise. Ideal only for two occupants, the TT does cater to 4 seats but the rear seats cannot be really utilised for anything rather than storing a couple of things due to lack of leg and headroom.

If you have small children aged 4 to 7 then one could perhaps have them accompany you but that is all. Its snug fit low lying front seats are a delight to be seated in as they offer ample head, shoulder and leg room. What Audi also claim to have worked upon is the leather fabric which has been treated to reduce thermal heating by as much as 20 degrees Celsius when the vehicle is parked in the sun.

Powering Audi TT is a 2.0 litre TFSI petrol engine that pumps out 211 bhp with 350 Nm of torque. For its dimension this particular power plant is more than capable of transforming a normal drive into a hair rising experience especially when put it into sports mode. To be able to do that, there Audi's six speed S-tronic transmission that hands out good shifts both within the city as well as the highway.

Since this was not a track test, we could not actually test its top speed which according to Audi stands at 243kmph but still on the Yamuna Expressway, we did manage a 205kmph. Weighing only 1260 kilograms, the TT can accelerate from 0 -100kmph in just 5.6 seconds for which the credit all goes to its light weight construction that is based on Audi Space Frame technology. What it basically translates into is that the front section of this coupe is made up of aluminium while the rear is a composition of steel.

With so much agility available on the tap of the foot, the TT handles well in any given situation be it at curves, corners or turns it would move exactly in the direction that you want it too. Since such kind of machines sit low on ground clearance getting to drive them on our city roads does seem to be an issue especially at the time when tackling those speed breakers. Made to perform, the ride quality is a bit stiff as one would have expected from a machine of its kind somehow within the city the harshness does pose to be threat to the overall experience. For specific needs and preferences Audi is currently offering magnetic ride adaptive damping as an option for enhanced ride quality.

Having spent almost an entire day behind the wheel, one can safely say that Audi TT with all its latest glitz and glamour does make for an ideal city sports car. It is a coupe which just does not cater to innovation and design but also to performance which can give many of its competitors a run for their money. Apart from the low ground clearance, better fuel efficiency figures (9.9 kmpl in highway, 5.7 on city) makes Audi TT a value proposition product when it comes to selecting an ideal sports coupe for daily use.

Was this article helpful ?
0 out of 0 found this helpful