Sponsored
Kia Sonet: The Next-Generation Compact SUV Is Here
Published On Dec 24, 2020 05:05 PM By Sponsored for Kia Sonet
The Sonet enters uncharted territory for compact SUVs in India by offering more in less, making it perfect for the next-gen car buyer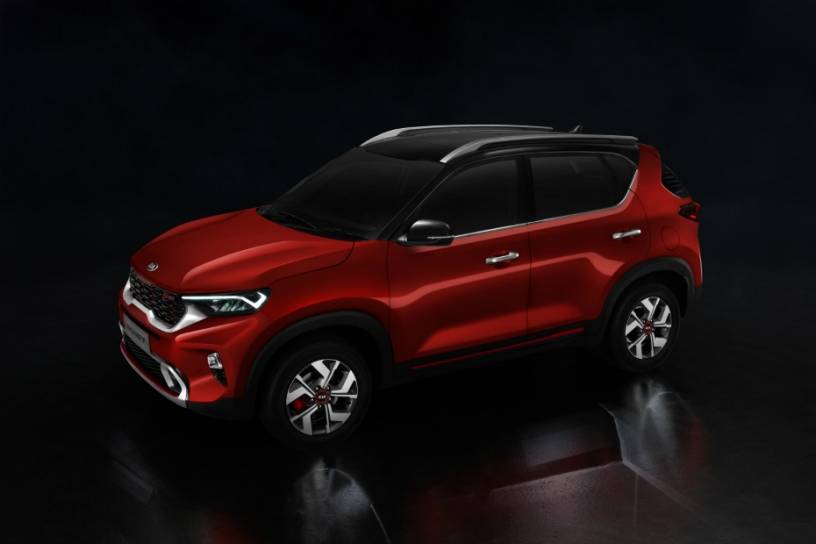 After a rather long gap of eight months, I was taking my first inter-city business trip from Chandigarh to Delhi. So, I finally got a chance to put my new Kia Sonet to the test, after around two months of purchase. I had driven the Sonet quite extensively in town and was quite amazed by its performance. However, I knew that driving it on a highway amidst crosswinds and higher speeds is a real test for a compact SUV. So, when I headed out to finalise a deal in Delhi, I decided to take the Sonet and find out whether it was as good on the highway as it was proving to be in the city. Here're my impressions:
Rear Seat Experience
I had to draft specific points of the business proposal, so I decided to sit at the back and let Sunil, my driver, take charge. Also, I sat diagonally opposite the driver to maintain the social distancing norms.
Once I settled down, I was surprised by the roominess of the rear seat. There was plenty of space at the back despite the SUV measuring under 4 meters in length. The legroom and knee room are fantastic and the reclining angle is absolutely spot on. I am 5.9" tall and faced no issue with the headroom either.
Refined Engine and Smooth Transmission
Feeling totally comfortable, I decided to roll down the window after a while. My Sonet is powered by a 1.5-litre diesel mill, and despite that, there was no engine noise from the bay. I could barely hear the motor and the only noise filtering inside was wind and road noise. I was really impressed by the refinement of the engine and augmenting its smooth nature was the 6-speed torque converter. Sunil was thoroughly enjoying the convenience of an automatic and the wide grin on his face was something I could easily relate to.
Impeccable Interiors

From the very first day that I test drove the Sonet and subsequently brought it home, I have been a huge fan of its cabin. It's crafted superbly with unparalleled attention to detail, and the overall quality can easily give cars a class higher a run for their money. When I took over the steering while coming back from Delhi, I couldn't resist prodding the Sonet's crisp touchscreen system which is very functional and intuitive to use. Further, the tactile feel of the controls and the heft of the AC vents are in a class of their own. One can't fault the cabin and full marks to Kia for coming up with one that is equally functional and funky at the same time.
Functionality and Safety Features

I am a huge fan of Sonet's design. Both the front and rear are tastefully styled and adding to the flavour are alloy wheels, roof rails, and a C-pillar. I was particularly impressed with the functionality of its halogen headlamps. The lights brilliantly illuminated the highway roads, not only proving useful but also adding to the safety factor. My GTX+ variant boasts a long list of safety features such as six airbags, electronic stability control, vehicle stability management, and hill assist control which add another layer of assurance. Coupled with connected technology, it made me feel confident while driving on the highway. I really like the cruise control feature as long, straight stretches of tarmac on the highway were perfect to use it. I wasn't aware of the full utility of cruise control before, but after a long highway drive, I think it's indeed a very convenient feature, especially for highways.
Driving Dynamics
Another area where the Kia has nailed it is the ride and handling department. I was quite aware of Sonet's dynamics in the city but after driving it on the highway, I cannot stop singing its praises. There is an amazing sense of stability in the way the Sonet drives. At low speeds, the ride is cushioning and absorbs almost everything that is thrown at it -- even large undulations and ruts don't seem to bother it. Once you pick up speed, the SUV offers excellent communication so you know what each wheel is up to. During our journey, the Sonet (it seemed) wafted over bad patches, and on both occasions -- while I was sitting at the rear and when I was driving -- I felt absolutely comfortable and poised. Kudos to Kia's engineers for striking such a perfect balance between the ride and handling department.
Final Verdict
In sum, Kia Sonet felt so good on my first highway trip that I have developed a new level of admiration for it. Its inexplicable appeal and intangible sense of luxury, style, and comfort are rare in this space. I always knew it was a competent city SUV but after my highway drive, I would definitely recommend the Sonet as an ideal highway cruiser.
Was this article helpful ?
1 out of 1 found this helpful