Evolution: Mahindra Scorpio
Modified On Aug 26, 2015 04:28 PM By Konark for Mahindra Scorpio
5268 Views

Write a comment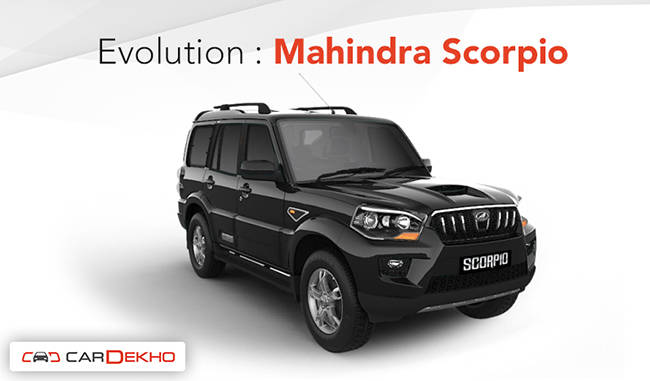 From Narendra Modi's landslide victory in Gujarat (2002) to his legendary win in the Centre (2014), Mahindra Scorpio has seen it all. Though Modi's Scorpio got replaced by an armored BMW 7 series later due to security reasons, his 'make in India' Ideology can be surely related with this SUV as the Scorpio was Mahindra's first self-developed design since the company's inception, which at that time assembled jeeps based on erstwhile willys chassis. The Scorpio was conceptualized and designed by the in-house integrated design and manufacturing (IDAM) team of Mahindra.

Mahindra's Scorpio has been around for more than 15 years which surely is a long time to survive in our competitive market. When the Scorpio was launched initially in 2002 no one would have thought that the SUV will be a success that it is today. Timely innovations have been the key to Scorpio's success. The rugged SUV over the years has seen changes in every front. From the engine to gearbox, the suspension, cabin interiors, sharper body design, hawk inspired headlights, micro-hybrid technology and the much famed mHawk engine the Scorpio has seen it all. So lets take a look in to the history of Mahindra Scorpio.


SCORPIO GENERATION 1 (2002)
The first Scorpio was launched in 2002 with a 2.6 litre turbocharged In-line 4 cylinder engine, diesel motor which produced 106 PS (105 bhp - 78 kW) at 3600 rpm and a maximum torque of 270.0 Nm (199 lb.ft) at 3600 rpm. It featured a Renault sourced petrol engine as well.
SCORPIO GENERATION 1 FACELIFT (2006)
This update made the Scorpio a bit more premium with the induction of new features like of 5-zone cushion suspension, tower tail lights, sliding middle seat row, sporty bonnet scoop, illuminating rear spoiler, follow me home head lights, theater style interior lighting, tiltable steering and sporty ski racks. The car underwent not just mechanical but major cosmetic changes too. Some of the changes the Scorpio saw in 2006 included an update that added body colored bumpers.
SCORPIO GENERATION 2 (2009)
The micro hybrid engine did not make the Scorpio a hybrid like the Toyota Prius or the Honda Civic Hybrid, but it surely did improve efficiency even though it is only marginal. The Micro Hybrid Start Stop system comes in both the 2.2-litre and also the 2.5-litre engine.
Although major changes were seen in 2009, Scorpio got an automatic variant in September 2008. The mHawk engine also came into light in November 2007 with a 2179cc engine that pushed significantly a high power output of 120 bhp.
SCORPIO GENERATION 3 (2014)
This is what can actually be termed as a genuine new generation. Features an all new chassis along with some major cosmetic changes and a tweaked engine, Mahindra's latest generation Scorpio has been an all-round success for the Indian passenger car manufacturer. Not only has the Scorpio gone a little upmarket with its current generation, it has also improved by a big margin as compared to its competition. Projector headlamps, cruise control, sharper body dynamics and more premium features have surely lifted this SUV's game.


Was this article helpful ?
0 out of 0 found this helpful