Stellantis Details Electrification Plans: Jeep, Citroen, And Other Brands
Published On Jul 09, 2021 12:36 PM By Sonny
Four new dedicated EV platforms to underpin everything from compact cars to body-on-frame pickups
Stellantis is the result of the merger between FCA and Groupe PSA to make an even larger automotive conglomerate.

Company has outlined its electrification roadmap till the end of the decade.

Four new modular EV platforms to be used by its 14 car brands.

These EVs promise to deliver 500km to 800km of range and the latest fast charging capabilities for its 400V to 800V electrical architecture.

Jeep, Citroen, and Maserati are the only Stellantis brands active in India but their electrified models are not expected to arrive anytime soon.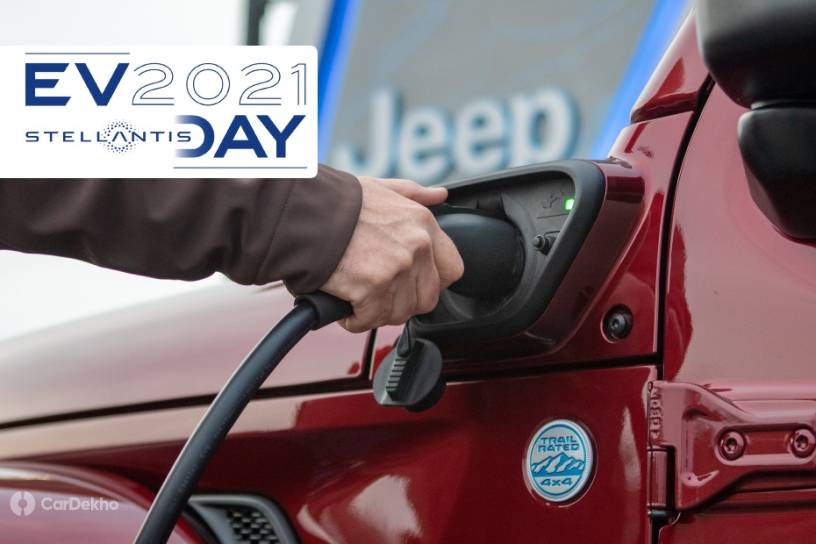 Automotive conglomerate Stellantis, comprising 14 American and European car brands, has detailed its electrification strategy for the decade. The company is investing in the development of four flexible, dedicated EV platforms and an ecosystem for all related components, such as battery manufacturing and software development.
The four new EV platforms have been categorised on the basis of vehicle type and the range they will offer:
| | | | |
| --- | --- | --- | --- |
| Platform Name | Vehicle Type | Range | Battery Capacity |
| STLA Small | Compact city cars | Up to 500km | 37kWh to 82kWh |
| STLA Medium | Premium cars | Up to 700km | 87kWh to 104kWh |
| STLA Large | Performance cars | Up to 800km | 101kWh to 118kWh |
| STLA Frame | Utility vehicles such as pickups | Up to 800km | 159kWh to over 200kWh |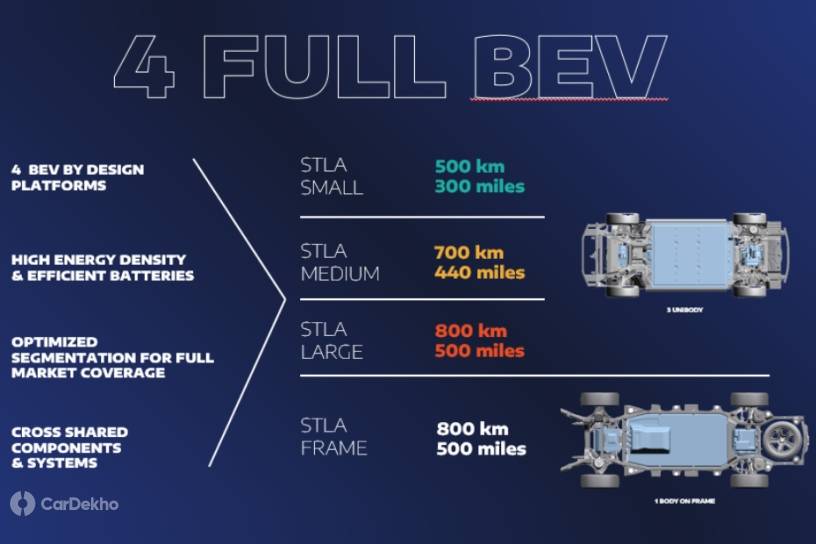 These four platforms will underpin several cars across Stellantis' various brands on both sides of the Atlantic. Cross-sharing components and systems will allow them to share the cost of the shift to EVs. Each platform is modular and flexible to accommodate the various types of models from different car brands.
The conglomerate has also been developing three electric drive modules that will be offered across these platforms with the choice of front-wheel drive, rear-wheel drive, all-wheel drive, and Jeep's 4xe (electric version of its traditional 4X4 system). These drive modules will be capable of power outputs ranging from 95PS to 449PS per motor.
Also read: Jeep Unveils Wrangler Magneto EV Concept Already Kitted Out For Off-Roading
Stellantis estimates the total cost of ownership of an electric vehicle will be the same as that of a regular combustion engine vehicle by 2026. This would be feasible with the decreasing cost of EV components, more efficient technologies, and increased energy density of battery packs.

The company plans to invest over 30 billion euros between 2021 and 2025 towards electrification and software development. Since all EVs will be connected to the internet, brands will offer over-the-air updates to enhance the ownership experience over time.
Related: Top EV-friendly States In India That Offer The Best Incentives To Electric Car Buyers
The exact electrification roadmap will vary for each of Stellantis' 14 automotive brands. The collective target for the conglomerate is 70 percent European sales and 40 percent of American sales from electrified models, or low emission vehicles (LEVs), as they call it, by 2030.
The only Stellantis brands currently operating in India are Jeep, Citroen, and Maserati. Electrified models from their lineups, both EVs and hybrids, are unlikely to arrive anytime soon as the infrastructure for such vehicles is still in its early stages. Even the hybrid versions of the Jeep Compass and Wrangler are unlikely to see demand here at the moment.
Was this article helpful ?
0 out of 0 found this helpful