Least Fuel Efficient Cars In Our Road Tests In 2017
Modified On Dec 31, 2017 04:51 PM By Dhruv Attri
Here's a roundup of cars that kept us making a dash to the fuel station frequently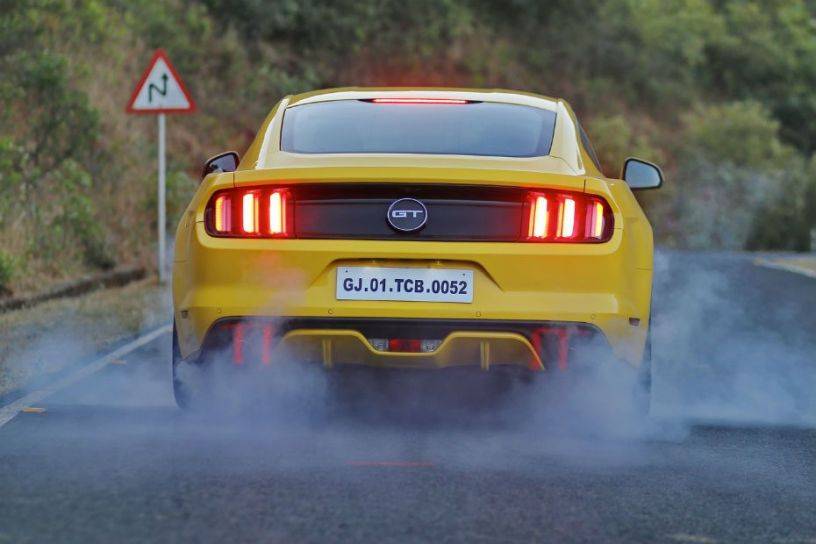 In a mileage-conscious country like India, most car buyers value fuel efficiency over other parameters such as driving dynamics, luxury and features, etc. While we've already taken a look at the top 5 most fuel-efficient cars in our road tests here, let's take a look at some of the least fuel-efficient cars that are currently on sale in the country. Before we start, though, we have to say that although these cars aren't frugal, some of them do offer a lot in other areas such as off-road capability, high-speed performance, and downright lunacy.

Ford Endeavour 3.2
The big Ford can climb boulders and wade through slush without breaking a sweat. And it even stands on its own against the Toyota Fortuner. But the bulky body, go-anywhere capability and all that luxury come at a cost. Fuel efficiency. The massive 3.2-litre diesel engine, the 6-speed automatic gearbox and the four-wheel drive system with different terrain modes make it quite the guzzler.
Highway: 14.64kmpl, City: 8.9kmpl, Overall: 10.2kmpl

BMW 740Li
The flagship BMW packs a plethora of technology and plenty of luxury features. You could spend hours inside one and you'd never get bored. If you do, however, there's a 3.0-litre V6 petrol engine mated to an 8-speed automatic transmission under the bonnet that delivers quite a punch - 333PS of max power and 480Nm of peak torque to be exact. Since it made it to our list of quickest cars we've driven this year, it's no surprise that its fuel efficiency figures took a hit as well.
Highway: 12.30kmpl, City: 7.33kmpl, Overall: 8.47kmpl

Isuzu mu-X AT
Isuzu replaced the archaic MU-7 with the MU-X earlier this year. The MU-X is the full-bodied SUV sibling to the D-Max V-Cross pick-up truck and is equipped with a 3.0-litre turbocharged diesel engine that churns out 177PS of power and 380Nm of torque. The MU-X, which is only available in one variant, gets a 5-speed automatic transmission along with a four-wheel drive system. While it's off-road capabilities are commendable, its guzzling nature might not catch the fancy of many buyers. FYI: Isuzu mu-X 4x4 AT: Detailed Review
Highway: 12.30kmpl, City: 7.2kmpl, Overall: 8.1kmpl

Jeep Compass Petrol AT
The Jeep Compass has proven to be a game changer for Fiat Chrysler Automobiles India (FCA India). However, the petrol version of the SUV has hardly found any takers since its launch. However, with the launch of the automatic variant, it becomes the de facto choice for buyers looking for petrol automatic SUV. (Jeep Compass Petrol Automatic: Review) In our tests, the petrol-powered Compass fared pretty poorly and we are sure it's going to burn a huge hole in the pocket of owners too. Under the hood, the Compass gets a 1.4-litre turbocharged petrol engine producing 163PS of power and 250Nm of torque. Mated to a 7-speed DCT gearbox, the Compass is no doubt quicker off the line than the diesel-powered variant. Also, we feel it is better suited for city conditions rather than out on the highways.
Highway: 8.5kmpl, City: 6.1kmpl, Overall: 6.6kmpl

Ford Mustang GT
Well, we saw this coming from a quarter-mile away. The American icon (2017 Ford Mustang GT: Review) has quite the reputation for its drinking habit. But fat fuel bills didn't hinder us from having fun one bit since the mighty 5.0-litre V8 packs 400 horses and also helped it take top honours in our list of quickest cars.
Highway: 7.46kmpl, City: 4.6kmpl, Overall: 5.2kmpl
Here are the top 20 cars that proved to be the gas guzzlers during our road tests this year.
| | |
| --- | --- |
| Cars | Fuel Efficiency (City, Highway) |
| Ford Mustang GT | 4.6kmpl, 7.46kmpl |
| Jeep Compass Petrol AT | 6.1kmpl, 8.5kmpl |
| Isuzu mu-X AT | 7.2kmpl, 10.95kmpl |
| BMW 740Li | 7.33kmpl, 12.30kmpl |
| Ford Endeavour 3.2 Titanium | 8.9kmpl, 14.64kmpl |
| BMW 330i GT | 9.64kmpl, 14.87kmpl |
| Land Rover Discovery Petrol | NA, 11.26kmpl |
| Tata Hexa XT 4X4 | 9.12kmpl, 14.65kmpl |
| Mercedes Benz E 220 d | 10.2kmpl, 16.1kmpl |
| Audi Q3 TFSI | 10.24kmpl, 14.56kmpl |
| Jaguar F-Pace 20d | 11.03kmpl, 16.81kmpl |
| Audi A3 Cabriolet | 11.42kmpl, 17.11kmpl |
| Jeep Compass Diesel | 11.07kmpl, 16.02kmpl |
| Audi A4 35 TDI | 12.53kmpl, 16.81kmpl |
| Toyota Fortuner 4X4 AT | 12.38kmpl, 15.04kmpl |
| Ford Figo AT | 12.14kmpl, 18.02kmpl |
| BMW 520d | 13.51kmpl, 19.28kmpl |
| Renault Duster AWD | 13.6kmpl, 17.54kmpl |
| Tata Nexon Petrol | 14.03kmpl, 17.89kmpl |
New Car Insurance - Save Upto 75%* - Simple. Instant. Hassle Free - (InsuranceDekho.com)
Sell Car - Free Home Inspection @ CarDekho Gaadi Store
Was this article helpful ?
0 out of 0 found this helpful