Clash of Segments: Renault Kwid 1.0L vs Tata Tiago - Which Car To Buy?
Modified On Feb 28, 2018 12:53 PM By Khan Mohd. for Tata Tiago 2016-2019
As the Kwid's higher variants overlap the Tiago's, we take a look at which of these two hatchbacks will make the most sense for buyers

Choosing a car in the Rs 3-5 lakh bracket can be a tricky affair as there are a plethora of options available in this price slab. The Renault Kwid and the Tata Tiago are two such cars. And even though, the Tiago falls in a higher segment, comparisons with the Kwid are inevitable due to the price overlap. So, which of the two is an ideal match for your budget? For ease of understanding, we're only considering closely priced variants of both the cars. We have also excluded the 0.8-litre Kwid and the Tiago diesel from this comparison.
| | | |
| --- | --- | --- |
| Dimensions | Renault Kwid 1.0 | Tata Tiago |
| Length | 3679mm | 3746mm |
| Width | 1579mm | 1647mm |
| Height | 1478mm | 1535mm |
| Wheelbase | 2422mm | 2400mm |
| Ground clearance | 180mm | 170mm |
| Boot space | 300 litres | 242 litres |
Though the Tata hatch is longer, taller and wider than its French counterpart, the Kwid gets 22mm longer wheelbase than the Tiago, which translated to good amount of space inside the cabin. At 300 litres, the Kwid also has the bigger boot. And the 10mm ground clearance definitely puts it in a better position to take on large speed bumps.
Engines
| | | |
| --- | --- | --- |
| Specifications | Renault Kwid 1.0 | Tata Tiago |
| Engines | 1.0-litre 3-cyl petrol | 1.2-litre 3-cyl petrol |
| Power | 68PS | 85PS |
| Torque | 91Nm | 114Nm |
| Transmission | 5MT/AMT | 5MT/AMT |
| Fuel efficiency | 23.01kmpl/24.04kmpl | 23.84kmpl |
| Fuel tank capacity | 28 litres | 35 litres |
The Tata Tiago has a clear advantage here: it gets a more powerful, higher capacity, 1.2-litre petrol engine which pumps out more power and torque than the Kwid's 1.0-litre motor. Despite the bigger engine, the Tiago's mileage figures aren't drastically different from the Kwid, which is impressive.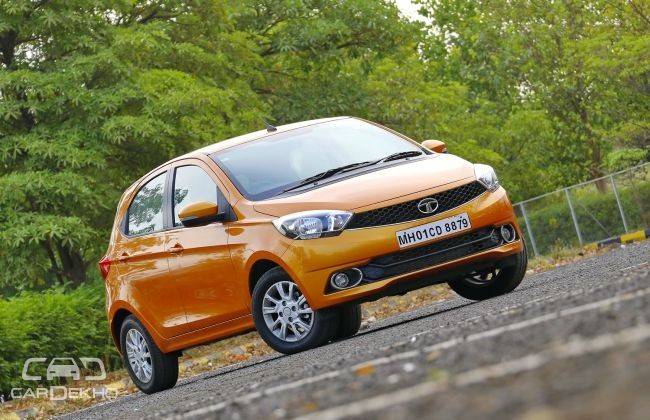 Renault Kwid RXT vs Tata Tiago XE
Features and Price
| | | |
| --- | --- | --- |
| Features | Renault Kwid 1.0 RXT | Tata Tiago XE |
| Price | Rs 3.92 lakh | Rs 3.88 lakh |
| Power Steering | Yes | Yes (with tilt adjustment) |
| Multi drive modes | No | Yes |
| Internally adjustable ORVM | No | Yes |
| Tachometer | No | Yes |
| Power windows | Front | No |
| Touchscreen infotainment unit | Yes | No |
| Keyless entry | Yes | No |
| Central locking | Yes | No |
| Dual front airbags | No | No |
| Fog lamps | Yes | No |

The difference in price between the Kwid 1.0 RXT and the Tiago XE is negligible (only Rs 4,000 in ex-showroom price) with the Kwid being the more expensive car here. But it also has a more extensive feature list compared to the Tiago XE. Important features that the Kwid gets and the Tiago doesn't are touchscreen infotainment system, central locking, keyless entry and front power windows. While a touchscreen infotainment system may not be a must-have feature in the entry-level hatchback space, an audio system certainly is and even that is missing in the Tiago XE. So, the Kwid RXT is loaded with enough features for buyers to not shell out any more on equipping it further post purchase. As a result, buying the Kwid RXT makes more sense than the Tiago XE. But both these cars are available with the option of airbag only from the next variant. Since safety should not be compromised, we recommend to opt for the next more-equipped variants with airbags in them.
Car To Buy: Consider buying higher variants for better safety or else Kwid RXT

Renault Kwid RXT (O) vs Tata Tiago XE (O)
Features and Price
| | | |
| --- | --- | --- |
| Features | Renault Kwid 1.0 RXT(O) | Tata Tiago XE(O) |
| Price | Rs 4.04 lakh | Rs 4.10 lakh |
| Dual front airbags | Only driver-side | Yes |
| Height adjustable driver seat | No | Yes |
| Steering wheel with leather wrap insert | Yes | No |
| Seatbelt with pretensioner and load limiter | Yes | Yes |
In their optional variants, both the Tiago and Kwid gain three features. With a driver-side airbag and leather wrap on the steering wheel, the Kwid RXT (O) can be a good option as a car for personal use, mainly within the city. The Tiago XE (O) with dual airbags, height adjustable driver's seat and tilt-adjustable steering is not only the safer car but also more driver-focused. The Tiago's bigger and more powerful engine should also make it less sluggish with a full house compared to the Kwid. On the flip side, the Tiago continues to miss out on features like an audio system and power windows which buyers will have to get fitted post purchase.
Car To Buy: Tiago XE

Beyond Rs 4.1 lakh
The Kwid RXT (O) is the most feature-loaded variant of the entry-level Renault hatchback. There's also the Kwid Climber and Superhero Editions, which are more expensive than the Kwid RXT (O), but feature only cosmetic enhancements and don't get any additional equipment. You can check out which variants of the Kwid you should buy here.
If your budget is higher still, there are more variants of the Tiago to opt from above the XE (O). These variants are loaded with more features, some of which are not there on the top-end variant of the Kwid as well. Some of the features on offer on the top XZ variant of the Tiago are touchscreen infotainment system with steering mounted control, alloy wheels, day/night IRVM, ABS, EBD and Corner Stability Control, rear defogger, rear wiper and washer, cooled glovebox, and electrically adjustable ORVMs. Know more about all variants of the Tiago here.
Prices (ex-showroom New Delhi):
| | |
| --- | --- |
| Renault Kwid 1.0-litre | Tata Tiago petrol |
| 1.0 RXL – Rs 3.58 lakh | XE – Rs 3.88 lakh |
| 1.0 RXL AMT – Rs 3.88 lakh | XE(O) – Rs 4.10 lakh |
| 1.0 RXT – Rs 3.92 lakh | XM – Rs 4.19 lakh |
| 1.0 RXT(O) – Rs 4.04 lakh | XM(O) – Rs 4.41 lakh |
| Climber – Rs 4.29 lakh | XT – Rs 4.50 lakh |
| RXT(O) AMT – Rs 4.34 lakh | XT AMT – Rs 4.86 lakh |
| Climber AMT – Rs 4.59 lakh | XT(O) – Rs 4.72 lakh |
| | XZ – Rs 5.06 lakh |
| | XZ AMT - Rs 5.44 lakh |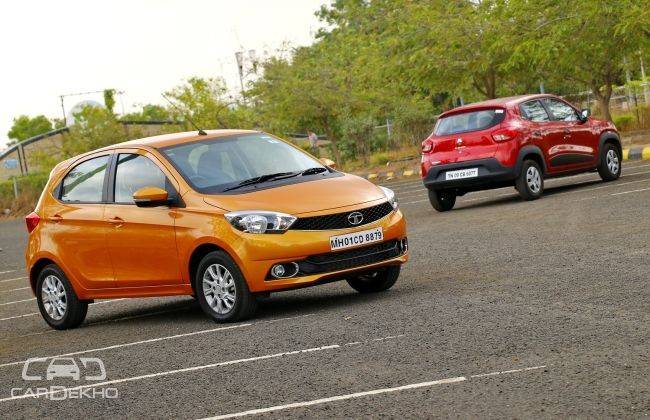 If you plan to buy an automatic, then you should consider only between the Kwid RXT(O) AMT and and the top-end Tiago XZA (automatic variant). That's because the lower variant of the Tiago AMT (Tiago XTA) does not get airbags even as an option! However, the price gap between the Kwid RXT (O) AMT and Tiago XZ AMT ​​​​​​is huge (Rs 1.10 lakh).
But the Tiago XZA is also more equipped than the Kwid RXT (O) AMT as it gets alloy wheels, ORVMs with turn indicators, steering mounted audio controls, passenger side airbag, follow-me-home headlamps, rear parking sensors, day/night IRVM, ABS with EBD, rear wiper and washer, AMT with sport mode and creep function, tilt adjustable steering wheel, height adjustable driver's seat, rear power windows, electrically adjustable ORVMs, and cooled glovebox. With all the basic safety features ticked and some additional creature comforts, the Tiago automatic is the car we would recommend between the two hatchbacks.
Additionally, the AMT gearbox on the Tiago has a manual mode while the Kwid AMT gets a rotary dial (with only a single drive mode 'D') instead of a shift lever. While the rotary dial frees up additional space for a cubbyhole, it doesn't offer the driver manual control over gear shifts. The manual mode can be useful while overtaking on highways.
Final words: Overall, barring the XE variant, the Tiago is a better car to consider. It is bigger, more spacious, has a more powerful engine and loaded with more practical features. But most importantly, it's the car which gets dual airbags which in our opinion makes it a more sensible buy.
Recommended: Renault Kwid Vs Tata Tiago - Expert Review
Read More on : Tiago AMT