Chevrolet to showcase six cars at the Auto Expo 2012
Modified On Dec 29, 2011 05:56 PM By Meenal for Chevrolet Tavera
General Motors has its own flock of cars for the 2012 Auto Expo and the big surprises for this Auto Expo will be the compact Sail hatchback and the WTCC Cruze race car. The usual revamped versions of the economic Chevrolet Tavera and premium SUV, Chevrolet Captiva will be all present, but another car we can look forward to is the Wuling MPV spotted couple of times with the Chevrolet underpinning. The Chevrolet Sail hatchback is something worth the wait until the launch in April next year. Until then, we can just brood over the car we get to see at the 2012 Auto Expo. Surprisingly compact matchbox type car jointly developed by GM China and SIAC will carry a Chevy Beat's 1.2 L petrol engine to pump out 79 Bhp top power.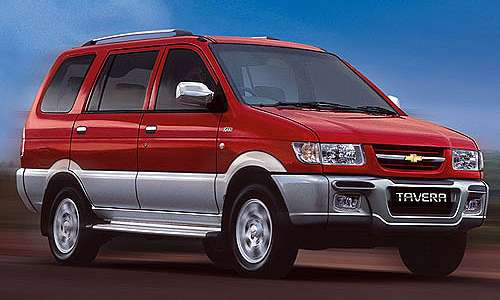 See More Chevrolet Tavera Pictures Read More on Chevrolet Tavera
If the diesel car lovers are disappointed by the fact, then not to worry, the 1.3 L Mutlijet diesel engine powered diesel variant will follow soon. A saloon version of the Sail is also expected for the Indian car market sometime in September, but all the same will make it to the 2012 Delhi Auto Expo with a 1.4 L petrol engine under the hood. The new Wuling MPV is again something General Motors India has managed to pull out from its Chinese partner Wuling's product portfolio. The auto major doesn't intend to leave the MPV segment without its stamp and here comes the Wuling MPV CN-100 or what was referred to as Wuling Sunshine MPV just to make up for the same.

See More Chevrolet Captiva Pictures Read More on Chevrolet Captiva
A 1.4 L 102 Bhp petrol engine will power the CN-100, while the same 1.3 L Fiat's diesel engine will fill in for the diesel variant.If you want a good kick at the Auto Expo, then WTCC Cruze is the car. The sports car after a spectacular performance at the Autocar Performance show in November at Mumbai will prance at the Auto Expo 2012 as well with a 2.0 L 285 Bhp engine. The all new Chevrolet Captiva with a good part of external makeover will also be seen at the General Motors pavilion. If one was ever turned off by the softer touch on the SUV, the SUV is expected to carry an outright macho image this time with the same ever powerful 2.2 L diesel engine under the hood. Alongside Chevrolet Captiva expect the all new Chevrolet Tavera with well-tuned ICL Sonalika diesel powertrain to meet the latest BS IV emission norms apart from some additional power. The peak power output from the new diesel engine will be nothing less of 100 Bhp a whopping 30 bhp excess from what we have last seen.
Read More on : Chevrolet Tavera detailed review