BMW M4 - Propelling the M Legacy to the Next Level
Modified On Feb 11, 2016 02:22 PM By Manish for BMW M Series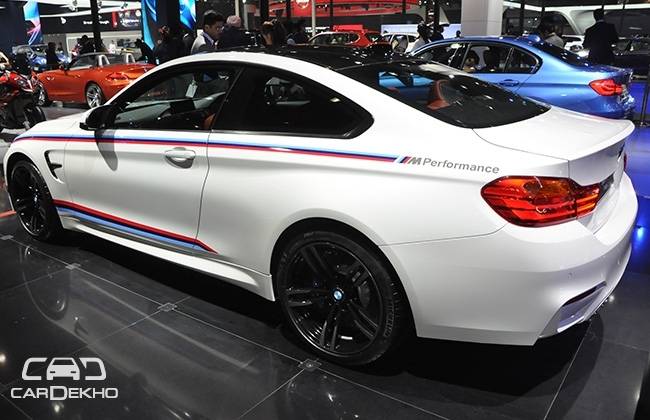 German automaker BMW showcased its M4 coupe at the ongoing 2016 Indian auto Expo. For those who need a little context, M4 is a two-door coupe version of the globally revered sports sedan M3. The car is available in the Indian market for resourceful consumers, who are more than willing to shell out the relatively reasonable amount of Rs. 1.21 crores (Ex-showroom, New Delhi ). The car is a bargain, when you realise that you get the standard 3-Series for Rs. 1.19 crores and this 2-door fierce instrument of automotive intimidation just a few lacs more.

Under the hood, M4 features a 3.0-litre, 24V MPower V6 Petrol Engine, which churns out a formidable 431bhp of power output, that only falls short in front of its arch rival Audi RS5's 4.2-liter V8 which produces around 444bhp. It must also be taken into account that BMW, even though is underpowered, is also lighter as compared to the RS5 and features a power-to-weight ratio of 0.271, whereas the fellow German automaker's offering stands at only 0.24 (but, then again Audi is also Rs.10 lacs cheaper). Anyway, when its comes to sports coupes, it is never about the technical jargon, as it is about the feelings that these cars induce amongst us and looking at this white performance machine proudly flaunting its M-series racing stripes, it would be fair to say that this car is a league of its own.
Recommended Read: BMW X5 xDrive30d M Sport Edition Launched at Rs. 75.9 Lacs
Read More on : BMW M Series
Was this article helpful ?
0 out of 0 found this helpful