The Datsun GO is a GO
Modified On Jun 10, 2014 02:58 PM By Sundeep for Datsun GO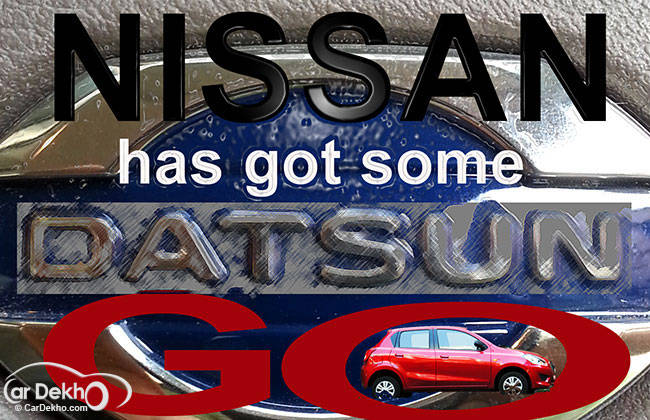 Nissan is bullish on the Indian Car Market and is looking at garnering about ten percent market share in India, by the year 2016. In any case, it is not a secret that Nissan already has the "Power 88" business plan where it aspires to achieve 8% global market share by 2016 and intends to do so while achieving and maintaining profitability level at 8%. The key to fulfill this corporate ambition lies in the developing economies, especially BRIC (Brazil, Russia, India and China) nations which may account for the lion's share of global car market in the coming years, and India is a very important market in that context. So, Nissan had to find ways and means to get the required sales numbers in India. And this is where the once famous brand – Datsun - comes into picture.

Datsun happens to be the oldest Japanese car manufacturer which had come into the folds of Nissan in 1934. Till 1960s, Nissan cars were branded as Datsun and even after that, for many years, Nissan exported cars under the Datsun brand name. Datsun brand spawned some successful rally cars aka Datsun Bluebird, Datsun 240Z which got podium finishes in rallies across the world and were very popular in the African Safari Rally. In the nineteen eighties Nissan stopped using the Datsun brand but now it has resurrected this hitherto moribund brand. Datsun will be the brand under which Nissan will produce and market vehicles for developing / emerging markets. Cost competitiveness and value for money proposition will be the most important traits of vehicle carrying the Datsun logo.

Cracking the Indian car market takes some serious efforts and no-nonsense approach as far as action in the volume segments is concerned. Despite the presence of almost all the major manufacturers, Maruti-Suzuki combine is still ruling the roost. Practically every second car sold in India bears the Suzuki badge. Hyundai, and a until a few years back Tata Motors, were the only manufacturers who could manage to attain significant market shares to make a dent at the market share commanded by Maruti-Suzuki. Off late, Honda Amaze has got into the game and sometime back Ford Figo also had an appreciably good run. Even a cursory look at market-share and sales figures will indicate that the defining factor is the huge number of sales in the entry segment, premium-compact and entry level compact-sedan segments.

Moral of the story – if a manufacturer aspires to gain a respectable market share, it must have at-least one very good product in one of these three segments – entry, premium-compact and compact-sedan class.

Now the ever popular compact-sedan class is something created out of Government diktats rather than any commercial or engineering logic. Yes commercial logic did play a role in a somewhat convoluted manner; Government of India decided to levy lower taxes on cars measuring less than 4 metres in length and having engine cubic capacity under 1.5l (diesel) and 1.2l (petrol). This tax benefit was irrespective of the fact whether the 4 metre long car was more fuel efficient and / or less polluting and /or more practical than a 4.5 metre long car. First off the block was Tata Motors with the Indigo CS and Maruti-Suzuki was forced to follow suit. The new Swift Dzire came out with a truncated boot to get into the 4 metre band-wagon. Now, Honda Amaze and Hyundai Xcent have also entered the segment to entice the image conscious Indian car buyer into the 3-box sedan class from the 2-box hatchback class irrespective of the fact whether a boot is such a necessary appendage to carry around when the predominant or in many cases exclusive usage is intra-city commute.

Well coming to the point, in this scenario, after tasting success in compact SUV class through Duster / Terrano and finding very little traction for Micra / Pulse and Scala / Sunny, Nissan-Renault finally decided to take the plunge and brought forth Datsun Go at a very competitive price point. Datsun Go represents the well thought out strategy by Nissan Motors to entrench itself as a major player in the Indian car market.

I had the opportunity to check out the Go for an extended period over highways, expressway, city / town roads and I must say that it looks and feels good to Go. Based on a much more competent and bigger platform than the class of vehicles with which it competes on price point – read Alto, Eon, Wagon R etc. - Datsun Go is not only much more spacious and dynamic but it also offers a ride and handling package which could easily do justice to a car in a higher price band / segment.

Nissan has not only used the platform of Micra but even the power-plant is the same three-cylinder 1.2l gasoline engine which powers Micra and Pulse, albeit in a lower state of tune (67bhp at 5000rpm and 10.60kgm at 4000rpm) for enhancing the all-important (kitna average deti hai) km/l figure. Other cars in this price band come with smaller engines producing comparable max power but less torque.

In case of Datsun Go, the comparatively low stressed bigger engine allied with a very lean body mass (just 788kg - a remarkable feat for the manufacturer) results in excellent drive-ability while limiting the fuel efficiency penalty on account of larger and technologically less-advanced engine.


The appreciably bigger (2450mm wheelbase) and more spacious Datsun Go manages to deliver small car like fuel efficiency while providing more space, comfort and much better overall dynamics.

Datsun Go comes with a minimalistic dashboard without any effort to disguise the fact that the manufacturer has indulged in substantial cost cutting but the surprising part is that functionality aspect has remained intact – a large, eminently readable speedometer with digital monochrome rev counter and digital fuel gauge along-with a full-fledged trip computer. In place of a music system, Datsun Go makes do with mobile phone docking station (a receptacle for smart phone) and a panel which comprises of an amplifier with auxiliary audio input and USB port. Sadly, the USB port doesn't do much as it clearly states - "CHARGING ONLY".

Speakers are incorporated in the car and for all practical purpose, in alliance with a smart phone or for that matter any phone having music files and FM radio, the minimalistic music system panel of Datsun Go can potentially transform itself into a fully functional and fully customizable audio system. A neat trick played by the manufacturer which brings the cost down but retains the option to enjoy music without any extra cost as in this age, it is inconceivable that a car user will not have a cell phone with capability to store and play music.

The car returned fuel efficiency figure of 15.1 km/l on a fast (pedal to metal mode) drive from Navi-Mumbai to Pune through the Expressway and 18.2 km/l during the return drive when the right foot was used sensibly and with necessary sensitivity. Overall fuel efficiency figure over more than 500 km of mixed intra-city usage in Mumbai/Pune and inter-city (Mumbai-Pune- highway / expressway) was about 16 km/l.


The way Nissan has conceived this product is certainly a lesson in cost management. Despite being built with frugal approach to achieve low cost, Datsun Go manages to deliver excellent value for money to the end user. Datsun seems to have the necessary "Go" to contribute towards the major portion of the sales volume of Nissan in India.
Was this article helpful ?
0 out of 0 found this helpful