Safest Cars Under Rs 10 Lakh
Modified On Jun 18, 2016 11:53 AM By Arun
As a responsible media house, we've always maintained that if you have to buy a car, buy it with all possible safety options ticked. Sadly, most manufacturers tend to offer vital safety equipment such as airbags and anti-lock brakes as an option, which the budget conscious buyer usually (and conveniently) skips on. Over the past couple of years there has been an increased focus on safety. Call it the effect of the poor crash test results of made in India cars or stricter government regulations around the corner, manufacturers are now considering safety features a bit more seriously.
Manufacturers use a lot of fancy terminology for explaining safety tech. To make it simpler, here's a quick list of car safety features and how they work for you to go through. And, if you are in the market to buy a safe car under Rs 10 lakh, here are your best bets!
1. Ford Figo (Rs 4.6 - 7.8 Lakh)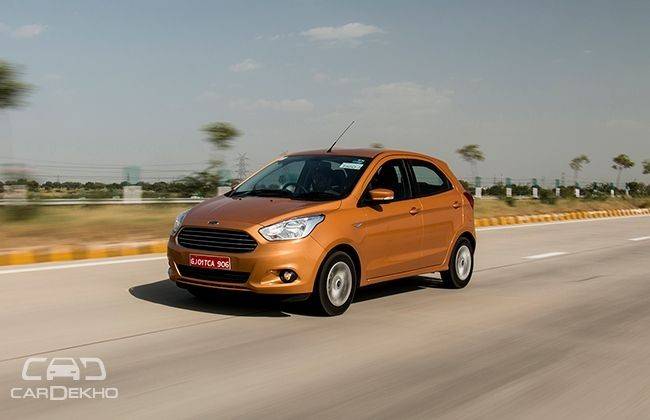 The second generation of the Figo packs quite a punch. The little Ford is the only hatch under Rs 10 lakh that gets 6 airbags! Other safety tech include ABS and EBD. The automatic variant (that featured in our top 7 automatics to buy, by the way) also features traction control and hill start assist. Its sedan sibling, the Figo Aspire gets all the safety features as well.
2. Toyota Etios (Rs 6.3 - 8.8 Lakh)

The Etios (and its hatch avatar, the Liva) scored a 4-star rating in the NCAP crash test. It scored 13 out of 16 for adult occupant protection and 20.02 out of 49 for child occupant protection in the test. The Toyotas get dual airbags, ABS and EBD standard across all trims of both the sedan and the hatchback.
3. Volkswagen Vento (Rs 8.1 - 12.7 Lakh)

The Vento, in its TSi avatar, is the only car to score a full 5-stars in the NCAP crash test (read more, here). The standard variants scored a respectable 4-stars. The rigid body structure, dual airbags, ABS, and gizmos such as traction control and electronic stability control make it rank amongst the safest cars you can buy. Notably, the Ameo and the Polo are just as safe as the sedan.
4. Maruti Suzuki Ciaz (Rs 7.8 - 10.6 Lakh)

The Ciaz gets a spot on our list after a Thai-spec version scored 4-stars in a crash test. It is key to note that the crash tested car isn't vastly different from the one sold in India and gets identical safety features such as a seatbelt reminder, ABS and dual airbags. A special shoutout to the Maruti Suzuki Ertiga that fared just as well.
5. Hyundai Elite i20 (Rs 5.6 - 9.0 Lakh)

While we weren't too happy about Hyundai offering just 2 airbags in the Elite i20 (the first-generation had 6), that alone does not change the fact the new generation is a safe car. Just like most other cars on this list, the i20 gets twin airbags and ABS across variants. It also gets something Hyundai calls a 'smart pedal', that overrides accelerator inputs when the accelerator and brake pedals are pressed simultaneously.
Cars such as the Ford EcoSport, Hyundai Creta, Hyundai Verna, Maruti Suzuki Baleno and Skoda Rapid get a pat on the back from us as well. All cars rank high when it comes to safety, both in terms of technology and structural rigidity. Got anything to add? Disagree with our choices? Sound off in the comments section below.
Was this article helpful ?
0 out of 0 found this helpful