7 Best Automatic Hatchbacks to Buy!
Modified On Apr 26, 2016 06:47 PM By Arun
347676 Views

Write a comment
Convenience is such a delight, isn't it? Why fret when there's something to make your life that one bit easier and more relaxed? Not so long ago, automatic cars were a bit of a no-no. They were whiny, indecisive and guzzled a lot, much like your average teenager. However, times have changed; automatics have become as reliable and as frugal as their manual counterparts.
An automatic transmission means your left leg can take a step back (pun intended) and relax. There's no need to operate the clutch pedal with the poise of a ballerina in traffic. Slot the gear selector in Drive and set off. The added convenience is particularly useful in the city, where you'd be surprised if you found empty roads. Speaking of which, isn't a small, nimble and agile hatchback the best way of dealing with traffic woes?
We put together a list of the seven best automatic hatchbacks in the country that range from being perfect city-slickers to outrageously fun. Let's get started!
1. Tata Nano AMT XTA (Rs. 3.0 Lakh)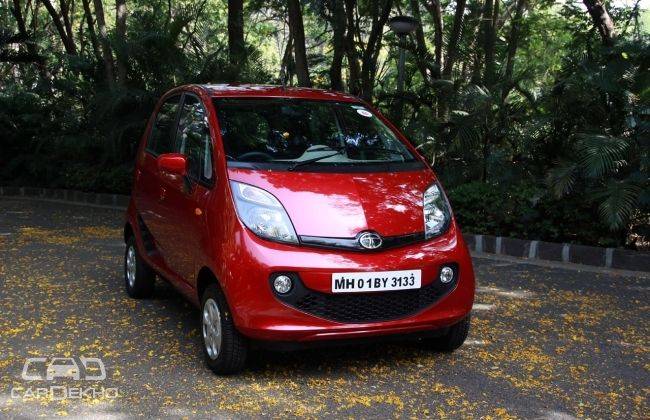 The cheapest automatic one can buy in the country kicks off our list. We love the little Tata since it is quick on its feet and can tuck itself in almost anywhere. Admittedly, it isn't the most powerful thing on four wheels, but it does just fine inside the confines of the city. The AMT gearbox isn't the most polished of the lot either. That said, it is brilliant value for money. Check out our Nano first drive report!
2. Hyundai Grand i10 Asta (O) AT (Rs. 6.1 Lakh)

The little all-rounder from Hyundai ticks all the boxes a hatchback should. It is spacious, fuel-efficient, full of nifty features and has a decently large boot as well. The automatic variant makes the potent package all the more exciting. While we are talking of the automatic, we're glad that it is available with dual airbags now; something it skimped on earlier.
3. Ford Figo TITANIUM AT (Rs. 7.2 lakh)

The Ford Figo is the most affordable car in the country to sport a dual-clutch automatic transmission. The punchy motor dishes out a healthy blend of efficiency and performance. The Figo is a well-packaged car that leaves little room for complaints. We think it is worth the premium one would pay over the Grand i10. Moreover, you get all the bells and whistles you'll ever need! We thought it was amongst the most no-nonsense hatchbacks you can buy. Check the Figo automatic review here!
4. Maruti Suzuki Baleno CVT ZETA (Rs. 7.5 Lakh)

Nexa's poster boy has been a runaway success for India's largest car manufacturer. Positioned as a premium alternative to the humble Swift, the Baleno gets a CVT that the former doesn't. We like how Maruti has stuck to its trusted formula of developing hatchbacks for our country and managed to infuse some modern elements as well. As is the case with most Marutis, the Baleno ranks high when it comes to user-friendliness, reliability and after-sales support. In case you missed it, the Baleno is now available in a fairly well-specced Zeta variant as well!
5. Volkswagen Polo GT TSi (Rs. 9.0 Lakh)

There's little surprise that this car features on our list. The GT rekindled the "hot-hatch" fire in the country with a potent engine and gearbox combo. The TSi is amongst the most fun cars you can buy for around 10 lakh rupees. In fact, we chose it over the Abarth Punto in our comparison review. If you do not behave like a child with the accelerator, the motor is a conscious sipper as well. If you can excuse the lack of space at the rear bench and want nothing but silly grins, you know where the Volkswagen showroom is.
6. Mercedes A-Class A200D (Rs. 28.8 Lakh)

The luxury segment has no dearth of cars that are in-your-face and want to make a statement. If that is exactly what pleases you, we recommend the Mercedes A-Class. After all, there's not a lot that can announce your arrival like the Three-Pointed Star. The plethora of gizmos, comfortable ride and the exclusivity come complimentary!
7. Mini Cooper S (Rs. 31.5 Lakh)

The Cooper S is the most powerful hatchback in the country. While we would have loved a good old stick shifter, the automatic with the optional paddle shifters are just as good. Pick this one if you intend to go on a corner carving spree on that winding ghat you've always dreamt of attacking. It won't disappoint one bit. Just be wary of the stiff suspension. If all of this isn't good enough for you, there's a convertible version too! Click here to know how it drives!
That's our list of the seven best automatic hatchbacks one can put their money on. We like how there's something for everyone, and how the market has evolved to cater to the masses and the niche customer at the same time. Have something to add to our list? Disagree with our choices? Let us hear your opinions through the comments section below!
New Car Insurance - Save Upto 75%* - Simple. Instant. Hassle Free - (InsuranceDekho.com)
Sell Car - Free Home Inspection @ CarDekho Gaadi Store
Was this article helpful ?
0 out of 0 found this helpful