Top 5 EVs With Longest Range Per Charge In The World
Modified On Dec 07, 2017 01:45 PM By Khan Mohd.
None of the five are offered in India but with our country heading towards a greener future, we might have one soon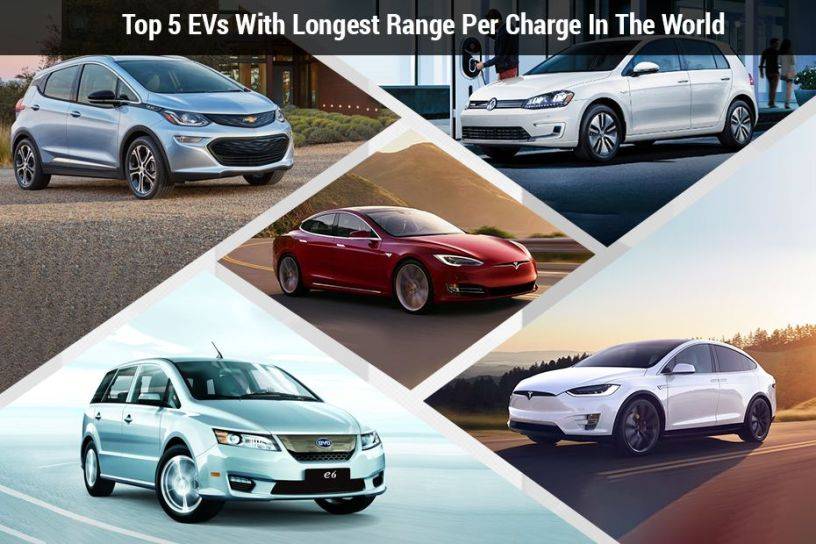 Whenever we talk about electric vehicles (EVs), people start cribbing about its limitations and among all, the restricted range per charge tops the list. Presently, among the EVs on sale in India, the Mahindra e-Verito has the maximum range of 180 km per charge, that too is only for the cars supplied to EESL. But do you know there are many EVs in the world that offer a much higher range than the Mahindra electric sedan? Let's take a look at the top five electric vehicles with the longest range per charge in the world.
5. Volkswagen e-Golf
Range per charge- 201km

The Volkswagen e-Golf ranks at the fifth spot in our list with a range of 201km before it needs another recharge. It is rated among the most fuel efficient cars in the US market. Its competitors – the BMW i3 and the Nissan Leaf – despite being built from scratch as electric vehicles have lesser range compared to the e-Golf, which shares platform with the standard petrol Golf. Powered by a 100kW electric motor, it generates a decent torque of 290Nm. With a top speed of 150kmph, it sprints from naught to 100kmph in 9.6seconds.
4. BYD e6
Range per charge- 300km

The Warren Buffet-backed BYD group's BYD e6 sits at the fourth spot with an amazing range of 300km as per Chinese test cycle, which relatively lenient compared to the US EPA standards. The carmaker has been one of the major reasons for the recent growth of electric vehicles in the Chinese automotive market. Considered among the rather affordable EVs, the BYD e6 is powered by a 90kW battery which returns a massive torque of 450Nm. It has a top speed of 140kmph.
3. Chevrolet Bolt
Range per charge- 383km

The Chevrolet Bolt has been one of the most practical electric cars in the world. Sitting at the third position, it has an excellent range of 383km which is way way ahead of its competitors. The all-electric Chevy hatch is powered by a 150kW electric motor putting out 361Nm of torque. The subcompact hatch has a top speed of 146kmph. Had it stayed here, GM might have brought it to India, given the changing circumstances and Government's push towards all-electric vehicles.
2. Tesla Model X
Range per charge- 467km

From here, we are heading to an all-different level of EVs. The Tesla Model X 100D has an unbelievable range of 467km per charge! It's a proper SUV, comes with seven-seat configuration and an all-time all-wheel-drive setup. Unsurprisingly, it's the quickest SUV in production today and can accelerate from 0-97kmph in a mere 4.7 seconds! Did we talk about its design? It's simply awe-inspiring.
1. Tesla Model S
Range per charge- 539km

Yes, the numero uno spot is held by the Tesla Model S (100D variant), which revolutionised the electric vehicle segment for ever. Elon Musk stunned other players of the game with an insane range of 539km of the innovative Model S. No, we are not kidding. The car is right up there with its petrol and diesel-powered competition in every aspect, be it style, safety, comfort, power or range. It is powered by a 75kWh or 100kWh lithium-ion battery (depending on variants) and has a top speed of 250kmph. It sprints from 0-97kmph in just 4.1seconds while its other variant, the p100D takes 2.5seconds to do the same job.
Want to know which electric cars are coming to India? Head over to our story - Upcoming Electric Cars In India.
Was this article helpful ?
0 out of 0 found this helpful