Experiential: Mahindra Adventure Academy
Modified On Sep 22, 2014 06:34 PM By Firdaus
Lately off-road motorsport has become very popular in India. The sport had takers even back in the days, but with the introduction of sporty, mean and aggressive looking machines like the Mahindra Thar and the Bolero, the popularity of the sport has increased. Enthusiasts are now pursuing off-road motorsport as a regular week-end passion, and specialized events are being organized to promote this sport even more. I, like most petrol heads love off-roading - be it on two wheels or four, and have occasionally indulged in this expensive passion having performed satisfactorily. So when I got back from my recent trip to Ladakh & Spiti I was under the impression that tackling off-road paths is now going to be a cake walk. After all I'd ridden almost 550 kms of no roads, but sandy, rock laden paths and innumerable water crossings in Spiti; and moreover I'd aced them all. I'd breezed through the off-road trail at the recent media drive of an SUV, so it was obvious my confidence was on cloud nine. I thought of myself as a pro! So when I got the opportunity to attend the Mahindra Adventure Academy I assumed "how tough can it get?" I've aced Spiti so this should be a walk in the park. Or I thought so.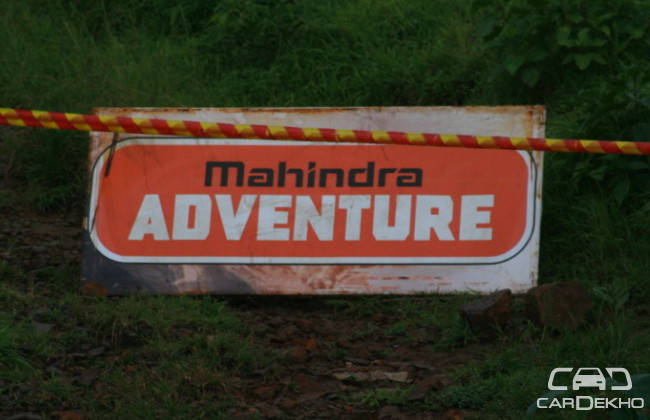 So on a cloudy Saturday morning I headed to Igatpuri near Nashik where the academy is located. After a six hour drive I finally reached my destination and met my instructor Manish Sarser. Since I arrived at lunch time, I got the opportunity to interact with an ongoing batch that was doing the getting dirty stage at the Adventure Academy. Getting dirty is the basic stage where one is taught the basics of off-roading including what a 4x4 means, the different gears on 4x4 vehicles, how to tackle slopes etc. Since I was going to be part of the advanced trail survivor course, I decided to go shutter crazy clicking pictures of participants tackling the obstacles.


I was allotted the second batch and luckily there were four of us, which meant we could hog all the attention of the instructor and go over obstacles multiple times if we felt like. Just as our briefing session started the rain Gods descended ensuring our off-road escapade was smooth and challenging at the same time, quite a paradox. We were told we'd be driving not just the Mahindra Thar, but also the Bolero and the Mahindra 4x4 Jeep. For me this was a delectable automotive platter for all the insane off-road fun in store. I called dibs on the Thar, as it's one of my favourites and I knew the potential this mean machine has. I thought if I drove the Thar it would be easy for me to ace all the trails, what happened later is a different story altogether.

The Thar feels perfectly at home on any terrain

At the start of the session Manish handed us a 'Trail Survivor' manual which gave a download of the geometrical terms which would be useful for better understanding of our machines and while tackling the obstacles. It also had recovery scenarios and what one should do in them. As expected, I happily skipped this part not knowing what would lie ahead. I also skipped the part which explained the four wheel drive modes simply because I've always been a believer of practical's rather than theory. It was the first time I'd ever heard of these terms and after going through the manual briefly, I again thought to my self – this is going to be easy. This was until I plunged the Bolero into a water pit and wasn't able to get it out. (All of us attempted the water pit in the Bolero). My first obstacle and I'd already embarrassed myself. On the brighter side, this was also the first recovery of the day, and a huge learning of throttle control and not getting people standing- on- the-side- step- of- the- car-trying-to-help-you-out killed. With Manish's guidance I was able to get the Bolero out and off I went to the manual to get my basics right.

The second obstacle was the pond crossing. From far off the pond looked like a small shallow water body which I assumed I could calmly drive through, until Manish put a halt to my thoughts and said "Stick to the right side, the left side is very deep. You may get stuck and the water will enter the car" What? That deep that it'll enter the car! That's where all my confidence dampened, but of course I couldn't show this, after all I had to show it to the boys and moreover to myself that I can tackle this successfully. So as I descended with the Thar into the pond with my heart beat racing, I ensured I stayed steady on the throttle in order to cross hurdle as smoothly as I could. Praying helped too and I breezed though it sans a glitch.

Gently wading through the water

Moving on to the next climb – now this looked relatively easy, and it was, as long as you'd attempt it in the 4x4 mode. The challenge here was that we had to clear a ridge and start the ascent in 2x2 mode, halting mid-way, moving to 4x4 mode, and then completing the descend. The halting point was another challenge as we had to doge our way over the ridges ensuring the car doesn't get stuck. A tip that Manish gave us before starting this course is to get down and gauge the obstacle before attempting it. And when tackling ridges one should always go in a criss cross pattern, so as to avoid getting both wheels stuck.
I crossed the ridge with ease, but climbing the steep ascent in 2x2 mode was a task. So finally after struggling with it for a few minutes, I was up the hill moving to the 4x4 mode and thereon battling the ridges like a boss! The descent was even easier. However it wasn't as easy for some of my co-participants. As they struggled to get up-hill, we had our chai, snacks and bio breaks still, waiting for two of them to finish. By the time all of us finished this obstacle it was nightfall and I assumed we'd call it a day.

However the ever optimistic and encouraging Manish had another obstacle in mind for us – the Sarpanch. The Sarpanch is a steep mushy incline with a hard 90 degree right hander turn straight onto the rocks. Once you're on the rocks, then it's a dead end. The only way to get out is to reverse turn your vehicle and then climb down. In reality it isn't as complicated as it sounds, except that we had to do this in pitch darkness with only our car headlights to rely on, and Manish's phone lights to direct the path. Yes, I struggled a bit on the climb as the rain made the existing path even mushier giving the tyres little traction. As I reversed to gain more momentum Manish warned me to not move back even an inch, as then I'd simply slide away downhill, going turtle in all possibility; just what I needed to hear in order to channel my inner automotive demon and finish that obstacle. Honestly, I was so exhausted by the time we got to the Sarpanch that I just wanted to finish and head back to the hotel for a nice, satiating meal. So finally at 8:30 in pitch darkness day one of our trail survivor course came to an end.
As we started day two, Manish offered us a choice of doing the designated trails or creating new ones. We of course opted for the latter because it's not everytime that one gets an opportunity to create a new path when learning something new. By day two, I had my basics right and knew the best way to steer an ascent and ridges is to go criss crossing over the trail.

Creating new trails for others to follow
I aced my first trail along with the other participant, but when it came down to creating the new trail, we were kind of stuck. We tried our best under Manish's guidance but then again something's are best left for the pros. One go and viola, Manish carved a new path at a spot we'd been burning our axles and clutches for a good half an hour! No wonder he's the one running the academy so successfully.

As we decided to move on to the other side to create a new trail, our Bolero got stuck like a seasaw (I conveniently picked the 4x4 Jeep for day 2) All the pushing, increasing traction by standing on the side steps of the car wouldn't help. The only way to get it out was by using a winch. I learned how a winch set-up is done and how it is important to position the winch car at a proper distance to ensure safety of both the vehicles. Once the Bolero was out we moved ahead 10 meters just to get stuck at the side of the slope. This time around as well, it was the winch to the rescue. As my co-participant waited for his Bolero to be rescued by the winch car, I crawled down slope in the Jeep, only to mildly evade the same fate as my Bolero driving friend. The trick while doing down slope is to keep the steering wheel/wheels parallel to the slope. If you don't pay heed to this, you car will slide perpendicular to the slop in all possibility turning turtle by the time it reaches the bottom. After quickly correcting myself I reached downhill.
As the Bolero got out and we headed onto the next path, we were again stopped in our tracks to realize the Bolero was stuck again, and this time around in a really deep ridge. The entire front right tyre was stuck in the ridge and the vehicle had tilted a good 45 degrees. No amount of rocking the car and adding weight at the rear helped it come out. So again we had to winch it out. Day two as I called it was a 'Recovery' day with us spending more time in recovering vehicles that driving them. Don't get me wrong, this was immense fun as it's rarely that you'll get such an opportunity and I enjoyed it to the core.

Third time down – Recovery day
As we finished lunch and moved on to our certification, Manish asked if we'd like to try a level three rock crawling. I was skeptical but thought why not? I also thought of this as a good way to earn my dessert – If I complete the rock crawl successfully, I'll eat the cake, if not, I'll let it go. Manish was the first to go on the rock crawl to gives us an idea of how it's done. As I attempted this last leg of the trail survivor I hoped to clear it with ease liked the earlier ones, because this certainly didn't look easy. As I crawled from one rock to the other descending into the water stream flowing through the rocks, I heard Manish say "Don't hit the rock on the left, else that will be the end of the car".

Rock crawling in the Thar
There are damages and then there are DAMAGES. And in off-road motorsport, the damages are usually expensive that you may have to sell your comfortable hatch-back in-order to fix this off-road monster that you're breeding. After hearing that from Manish, I way in no mood to damage the Thar for it had already taken a beating since morning. I carefully treated over, only to get stuck at the rock I was not supposed to. Good grace prevailed and I managed to get the Thar out without any damage. Feeling proud for having tackled such obstacles (and happy that I earned my dessert), I realized that it takes lots of practice, dedication and patience in order to be called a pro.

Post the level three rock crawl we had our certification ceremony and I was grinning ear to ear. This was one of the most productive weekends I've had in a long time and it just fueled my appetite for off-road trails even more. If you're a budding off-road motorsport lover, here are a few 'cardinal' rules you need to keep in mind:
1. Reduce tyre pressures for sand and soft places: A bigger contact patch helps to distribute the weight of the vehicle
2. Never go out alone: It isn't fun to be stuck away from civilization
3. Hill descend: Always be parallel to the slope when descending or climbing
4. Peer Pressure: Attempt obstacles you're comfortable with
5. Engine braking: Let the engine take you down the slopes. Keep your foot off the brake
6. Care for the environment: Don't litter, don't unnecessarily disturb wild surroundings

Getting certified to have successfully survived the trail
The Thars we drove we modified to take this kind of beating, but that doesn't mean a stock Thar can't rock that slope as efficiently as its modified sibling. So if you're feeling adventurous and are not confident of tacking off-road terrains on your own, a course at the Mahindra Adventure Academy will surely hone your skills fueling that urge for off-road trails.












Was this article helpful ?
0 out of 0 found this helpful