5 Things Tata Hexa Does Better Than Toyota Innova Crysta
Modified On Feb 21, 2017 06:53 PM By Aakash for Tata Hexa 2016-2020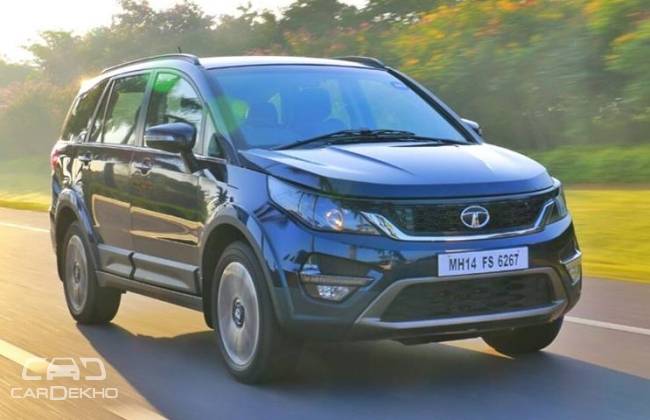 Tata has announced the arrival of its latest offering - the Hexa. The company will commence bookings for the car on November 1, 2016 and will launch it in January 2017. It has been priced competitvely and faces off against Toyota's Innova Crysta MPV. Having said that, there are certain aspects that differentiate the Tata's Aria replacement from Toyota's people hauler. These aspects will help you understand why the Hexa is a better buy over Innova Crysta. Want to know those aspects? Then read on:
1. Driving Modes
Can you think of a crossover vehicle that has different driving modes and does not cost half a crore rupees? Well, the Hexa is that one product. Unlike the Innova Crysta, which has Power and Eco modes, the Hexa has Comfort, Dynamic, Auto and Rough modes. These modes not just alter the engine response but also the ABS, electronic stability program and other settings. What's more is that the Hexa can be had in all-wheel drive or rear-wheel drive variants. Speaking of driven wheels and driving modes...

2. Off-road credentials
It is a given that crossovers are not as good as SUVs and pick-up trucks when it comes to going off the road. However, going by the drive modes and the engine that the Hexa will draw power from, it will be safe to say it would have some off-road credentials. The Hexa makes use of Tata's 2.2-litre Varicor 400 diesel engine that makes 156PS power and 400Nm torque. Mated to six-speed manual and automatic gearboxes, the Hexa would have more off-road credentials than Innova Crysta. The fact that it sports 200mm of ground clearance is nothing to laugh about. This would be crucial for those looking for a jack-of-all-trades vehicle.
3. In-car entertainment system
Since coming out with the Zest, Tata has ensured it can be lauded in one area - in-car entertainment system. Right out of factory, this is perhaps one of the best systems available on mass market cars today. Developed in collaboration with Harman Kardon (JBL's parent company), the Hexa will feature a 5-inch touchscreen unit paired to 10 speakers and a 320-watt sub-woofer. This should quell the 'thirst' of any and every audiophile out there, save the ones who don't like factory in-car entertainment systems.
4. Seating for 6-7 people
What tata claims for the Hexa is its ability to seat 6-7 people with ease in the car. The fact that it is 4788mm long, 1903mm wide and 1791mm high, makes the claim even more realistic. Features like dual-zone A/c for second and third row passengers with separate vents just show how much attention Tata has paid towards occupants inside the car. In essence, the car is comfortable for long rides for families that have more than four members.
5. No more feeling like a cabbie!
You may take this lightly, but a lot of people stay away from Innova Crysta because its predecessor was pretty popular with cab drivers. The Innova Crysta may or may not carry forward that legacy but it faces an uphill task of breaking that stereotype. The Hexa faces no such issues as it is a ground-up new vehicle that looks more like an SUV than an MPV. People-hauling may be one of its forte but the Hexa does that and much more. Yes, breaking the 'Aria curse' may be difficult but Hexa has a good chance of achieving the same.
So, not only is the Hexa better than the Innova Crysta, but due to its off-road credentials, it aims to eat into Endeavour and Fortuner's market shares as well. Truth be told, when was the last time you took your SUV off the road to explore what it could do? For most city users, a Hexa would be more than enough when it comes to tackling tasks with ease. Do you agree with us? Please feel free to use the comments section below to weigh in with your comments.
Recommended Read:
6 Things We Would Have Liked To See In Hexa
Tata Hexa - Variants Explained
Toyota Innova Crysta vs Tata Hexa: The Apt Rivalry
Read More on : Innova
Was this article helpful ?
0 out of 0 found this helpful