Sponsored
5 Must-have Accessories For Hyundai Grand i10 NIOS
Modified On Feb 26, 2020 06:01 PM By Sponsored for Hyundai Grand i10 Nios 2019-2023
These genuine accessories for Hyundai Grand i10 NIOS dial up its convenience and cool quotient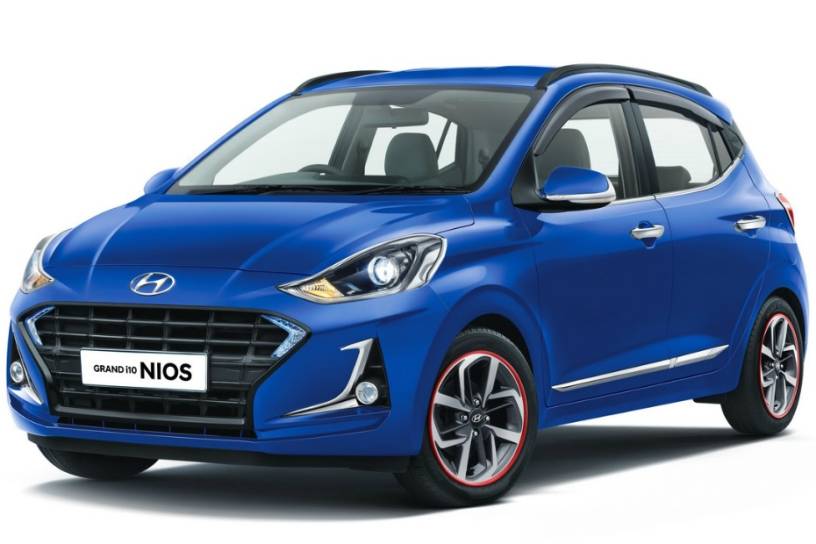 Grand i10 is one of Hyundai's most successful models in India. And with the NIOS update, the South Korean carmaker has made it even more aspirational than it already was. But it is not just the car's name that has been upgraded. The NIOS now offers more space, a longer feature list, and better styling than the second-gen Grand i10. That begs the question, is there anything you can do to make your Grand i10 NIOS even more handsome and practical?
Yes, you can courtesy these five must-have accessories for your Grand i10 NIOS by Hyundai Mobis, which is Hyundai's official parts and accessories partner in India and worldwide.
Chrome Garnish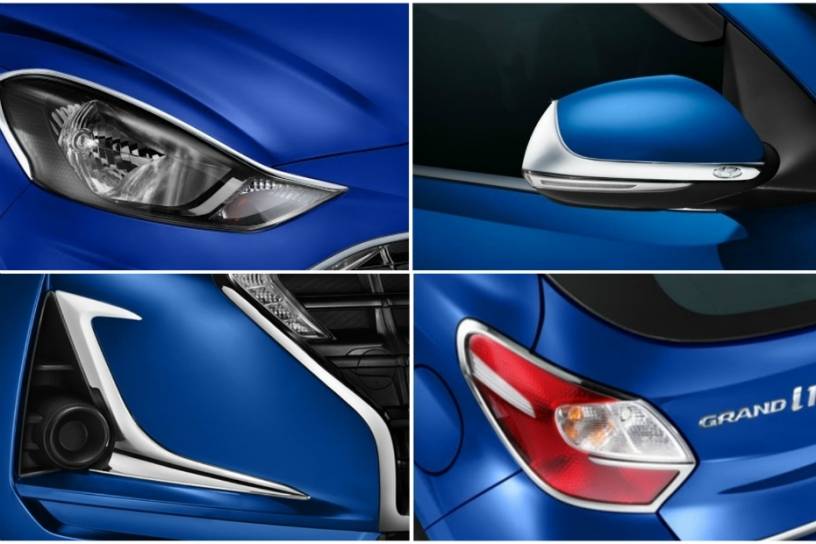 From the front, NIOS' most notable features are the sharply finished headlamps and fog lamps, which you can highlight further with a chrome garnish. Hyundai Mobis chrome garnish for Grand i10 NIOS is also available for the tail lamps, ORVMs, window beading, body side moulding, rear reflectors, and door handles. The high-density chrome finish adds just the right amount of bling to the NIOS and keeps your car looking fresh like a daisy for years together.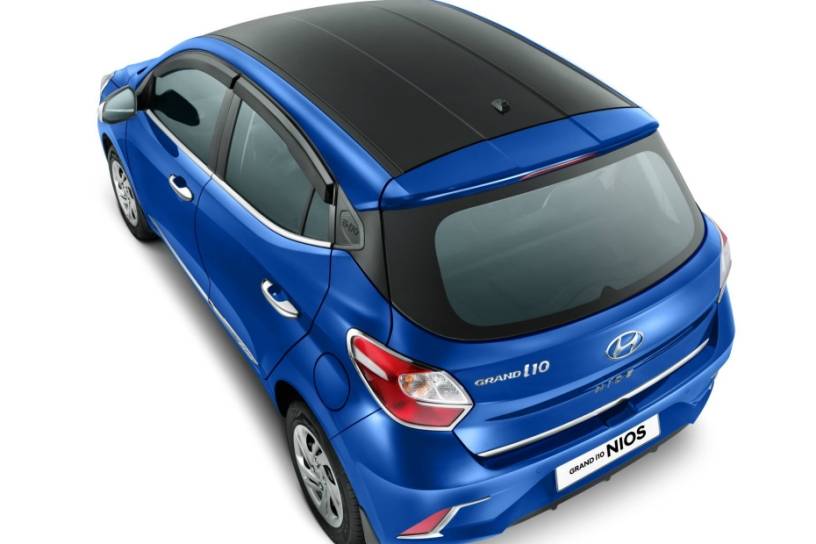 Hyundai has more or less retained the roofline of the previous-gen Grand i10 on the NIOS. But thanks to its slightly larger dimensions, the roofline and roof rails look more purposeful. By adding a matte black roof wrap for Grand i10 NIOS to the mix, you can add more than just a shade of sportiness to your car's appearance. The wrap serves a purpose as well by guarding your NIOS' roof paint against India's taxing weather.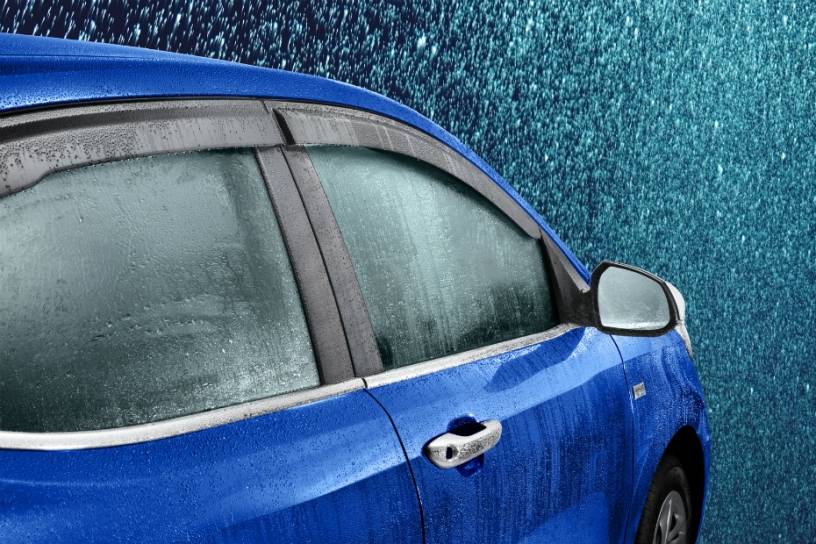 Speaking of India's weather, what the roof wrap does for your NIOS, the door visor does for you. Confused? Well, the door visor for Grand i10 NIOS keeps rain and dust from entering your car. This proves useful in heavy downpours when rainwater can seep into the cabin causing issues as varied as damp/bad odour, fungus growth, and damage to the car's interiors. A door visor also helps you be more relaxed while driving as it filters outside noise to a great extent.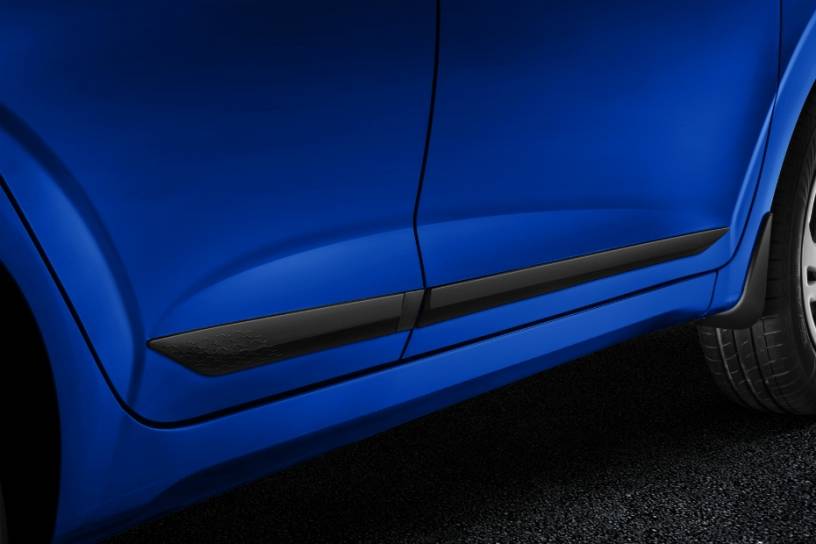 A side moulding is a simple and effective way to prevent door dings, which are marks inflicted by doors of other cars accidentally thudding into yours. But because of tight spaces and the willful ignorance of people, door dings are commonplace in India. Hyundai Mobis offers you a way around this with its body side moulding for Grand i10 NIOS. What's even better is that the moulding is finished in chrome, which goes well with NIOS' sporty stance and glossy paint options.
Seat Cover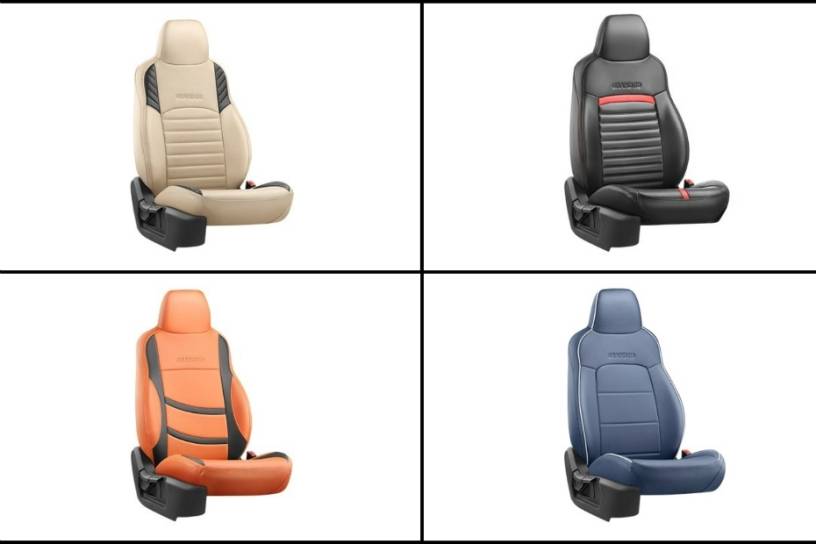 Most hatchbacks in India follow a very safe and staid styling. But the Grand i10 NIOS is an exception to that with its sporty yet elegant design. You can take this sporty and elegant appeal into the interior with Hyundai Mobis seat cover for Grand i10 NIOS. Mobis offers a wide range of i10 NIOS seat covers across different designs, colours, and textures. If you want something sporty and stylish, the black seat cover with red or orange accents is right up your alley. But if you prefer a classier and elegant look, you can always go for traditional options like beige, oyster, and amber tan. You can also try out different textures and pick the most comfortable one.
These are just five of the several accessories that can make your Grand i10 NIOS more practical and handsome than it already is. You can sift through tons of other Hyundai genuine accessories from Hyundai Mobis to enhance your Grand i10 NIOS's form as well as function.
To check out the full range of these Hyundai Grand i10 NIOS accessories, head over to the Hyundai Mobis website or click on the link below to download the 'Hyundai Genuine Accessories' mobile app:
Android: http://bit.ly/313ZKoU
Was this article helpful ?
0 out of 0 found this helpful