Toyota Restarts Camry Hybrid Production
Modified On Feb 28, 2018 03:42 PM By Khan Mohd. for Toyota Camry
As the government takes a U-turn on the electrification of the Indian auto market by 2030, the Japanese carmaker now looks to introduce more hybrids here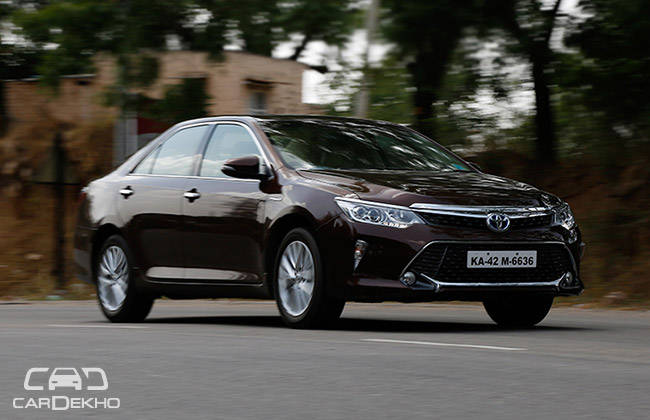 Toyota has resumed production of its premium sedan, the Camry hybrid, in India. The Japanese carmaker halted its production temporarily in October last year citing low demand due to the massive increase in taxes on luxury vehicles (28 per cent GST + 15 per cent luxury cess).
"We had to stop production of the hybrid Camry for a while because our stock had built up as the tax rate had gone up," Shekar Vishwanathan, Vice-Chairman (VC), Toyota Kirloskar Motors (TKM), said.
The carmaker looks forward to introducing new hybrid models in the country provided the government comes up with friendly tax schemes for such vehicles. These new cars will sit under the Camry and will be priced aggressively, he added.

Interesting read: Toyota's Upcoming SUV For India – Will It Be The Rush, C-HR or FT-AC?
At present, steep pricing of hybrid cars in comparison to their petrol/diesel counterparts is responsible for their low sales. But that doesn't mean that hybrids are not the future. We expect CAFE (Corporate Average Fuel Efficiency) norms to come to India by 2022. Under this, carmakers will have to maintain a minimum standard of average fuel efficiency for their portfolio. In order to achieve that, we might see carmakers launching more electric and hybrid vehicles in our market. Also, after BSVI norms come into effect from April 1, 2020, prices of diesel cars will go up significantly, which will further reduce the gap between hybrid and diesel models.

(In Picture: Toyota Prius)
The government's recent announcement of not formulating a policy for the introduction of electric vehicles by 2030 appears to be a mature decision since the focus is now on reducing emissions. This approach will allow automakers to invest in alternate fuels and other technologies. Some of the other evolving technologies that might turn out to be a better alternative to electric vehicles can be biodiesel, ethanol or hydrogen fuel. This puts power back into the hands of carmakers and would pave the way for cleaner resources in the future.
Stay tuned to CarDekho for more updates on future technology.
Source: thehindubusinessline
Recommended: Auto Expo 2018: Toyota Yaris First Look