Tesla Teases Model Y Compact SUV Again
Published On Jun 08, 2018 11:10 AM By Raunak for Tesla Model Y
Tesla's first-ever compact SUV is expected to enter production in 2020

Tesla CEO Elon Musk shared yet another glimpse of the much-anticipated compact SUV, the Model Y, at the annual shareholders' meeting held recently. The all-electric SUV, which was first announced in June 2017, was recently confirmed to enter production in 2020 alongside the second-gen Roadster and the Tesla Semi truck.
The Model Y is the SUV equivalent of the India-bound Model 3 sedan and is likely to be offered in the country as well. While there's absolutely no information about the Model Y, Musk had earlier said that it would be based on an all-new platform. In May 2018, however, he confirmed that the SUV will be based on the Model 3's platform instead.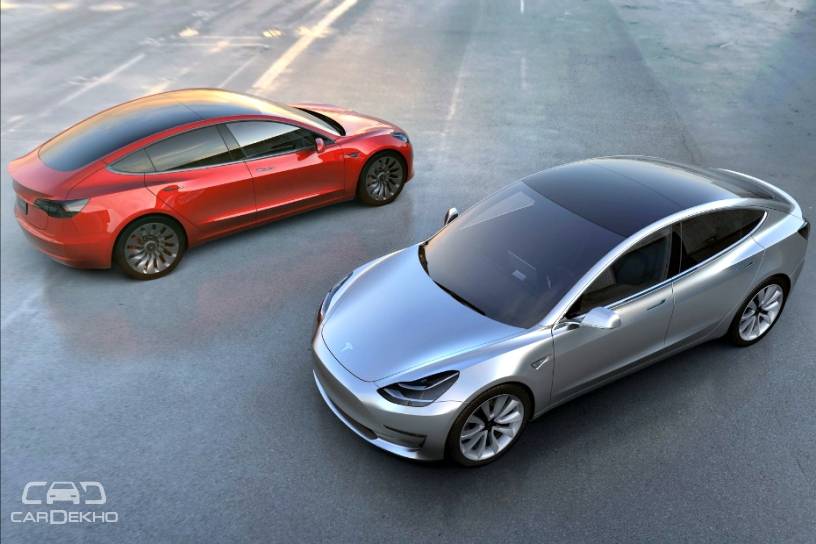 As seen in the previous teaser, the Model Y borrows design cues such as the flat face and smooth profile from its siblings. However, it is unlikely to feature the steeply swooping roofline seen on the Model X SUV. Instead, it is likely to feature a more traditional SUV-like profile. And to keep costs in check, expect Tesla to give the Model Y conventional rear doors instead of the 'Falcon' gullwing doors seen on the larger SUV.
Read more about the Model Y, including its possible powertrain options, here: Tesla Model Y To Enter Production In 2020, Could Be India-Bound
Besides the new teaser for the Model Y, Elon also said that Tesla is planning a new compact offering that would sit below the company's current entry-level product, the Model 3. The compact car will hit the market within five years from now. Expect all of these cars to be offered in the Indian market, like the long-awaited Model 3.
Check out: Meet The 2020 Tesla Roadster: 0-96kmph In 1.9s, +400kmph, 1000km range!
Was this article helpful ?
0 out of 1 found this helpful