Smart and JBL create mobile concert hall
Published On May 19, 2015 04:22 PM By Abhijeet
Smart and JBL have partnered to develop possibly the world's smallest most compact concert hall on wheels. The tiny Smart fortwo has been chosen to be equipped with a high-end sound system producing a total maximum power output of 5720 watts!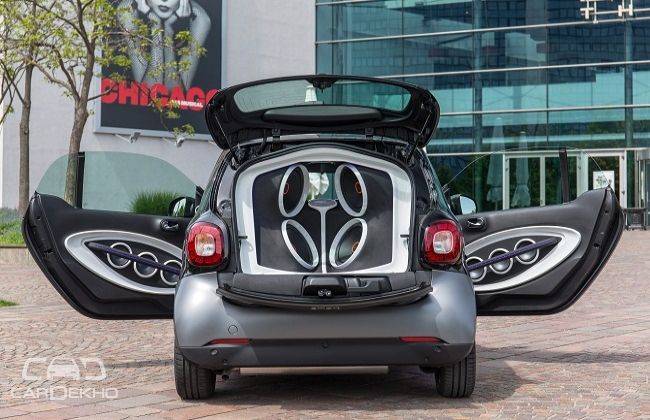 The smart forgigs study wanted to see what kind of a sound experience is possible when a small city runabout is packed with the most powerful audio components. A selection of five amplifiers generates sound pressure of up to 150 dB. These are paired to three JBL GTO 804 EZ amps serving the tweeters and mid-range speakers, while two JBL GTO 751 EZ amps power the subwoofers. They drive a total of four type JBL GTO 609 C loudspeaker sets, each with two tweeters and two mid-range speakers. Added to the 16 loudspeakers are two more powerful subwoofers, each with a diameter of 30 cm.

Music signals are processed by a digital signal processor (DSP) from the Italian experts at Mosconi. Sound processor can output through eight channels and with Bluetooth streaming it can also process uncompressed files in formats such as Wave or Flac with much ease and convenience. Signals are transferred from mobile devices such as tablets or smartphones by A2DP (Advanced Audio Distribution Profile) and supports iOS, Android and Windows devices.

But the best thing about this one-off is the design of the visible components of the mobile sound system which has been neatly integrated in the smartest compact setup. Just for example, the ventilation openings in the dashboard served as the visual model for integrating of the loudspeakers. Three mid-range speakers have been integrated in each door and four tweeters have been accommodated in the dashboard. The subwoofers fill the smart's luggage compartment; they are flanked by a pair of midrange speakers/tweeters on the left- and right-hand sides of the tailgate.