Sponsored
Why the redi-GO AMT makes for a better package than its rivals
Modified On Jul 16, 2018 02:17 PM By Sponsored for Datsun redi-GO 2016-2020
"Ease of driving, superior fuel efficiency and class-leading features make redi-GO AMT a high value package."
There are those for whom a car is a symbol of opulence, speed and thrill. And then there are those for who look at car as a safer, more convenient and a personalized means to reach work and run daily errands. Usually, these are the people who put more wager on practicality than on luxury and comfort.
They would prefer the convenience of automatic transmission to take on the daily traffic. Sadly, high cost of automatic transmissions has been a major deterrent. But with redi-GO AMT, Datsun wants to change the norm.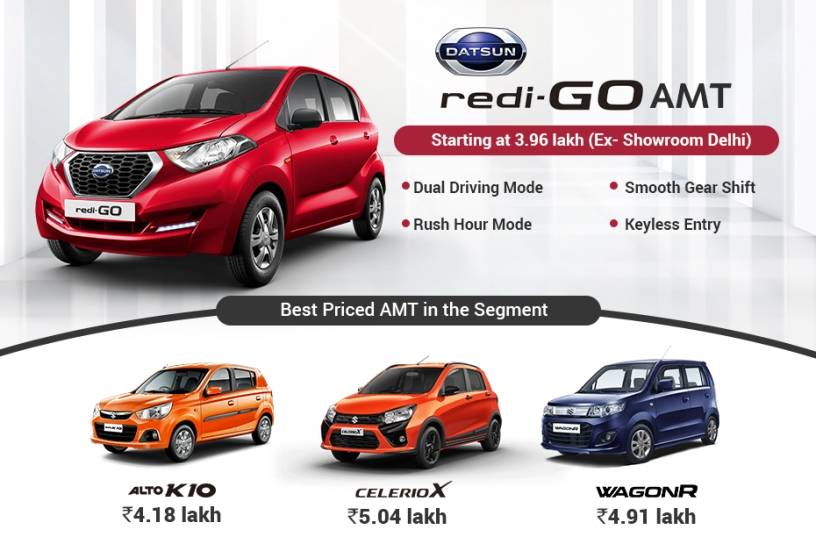 Launched recently, Datsun redi-GO AMT offers convenience of automatic transmission, at a price of just Rs 3.81 lakh*. This makes redi-Go 1.0L AMT undoubtedly the most affordable hatchback equipped with an automated manual transmission when compared to other cars in this segment.
What's more, it returns a fuel efficiency of 23 kmpl ( ARAI test figures). This makes the AMT-equipped variant of redi-GO a great value- package.

Datsun redi-GO AMT has a 5-speed automated manual transmission which works brilliantly in city traffic as well as for long highway trips.
Especially designed to battle heavy traffic, redi-GO AMT comes with a smart Rush-Hour mode, that makes driving in stop-start traffic all the easier by allowing you to move ahead at a speed of 5-6 km/hr. All of this negates the need to constantly switch foot from brake to accelerator and back. This is definitely a feature that amps up ease of driving by several notches. All one has to do in heavy, bumper to bumper traffic is to let go of the brake pedal to slightly move ahead.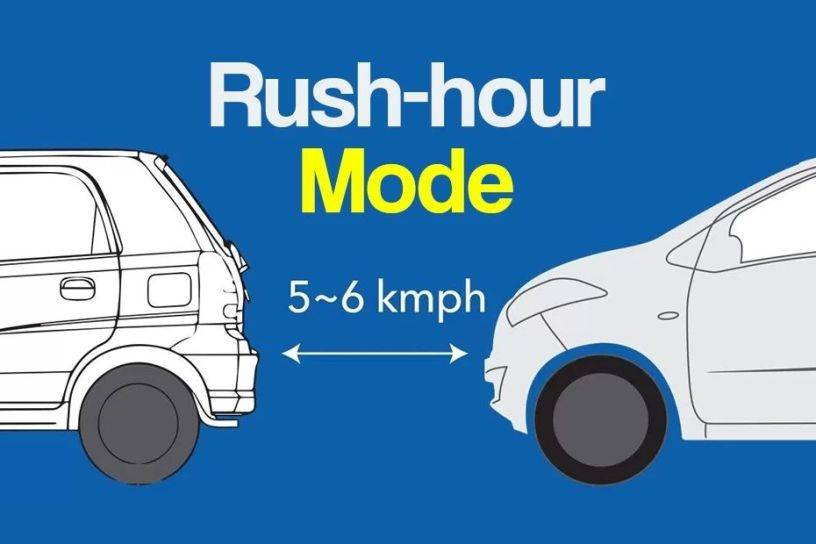 And for those situations that require a torque surge, the AMT in redi-GO comes with a Dual-Driving mode which allows for manual shifting of gears at the flick of the gear lever.

Apart from the superior automatic transmission, what also makes redi-GO AMT version a better package than its competition is the high ground clearance. Class-leading ride height of 185mm makes scraping the underbelly a thing of past. Higher sitting position also ensures a better visibility to make ambling in the traffic more convenient.
So, with redi-GO you never have to worry about tackling bad roads and potholes.However, the same can't be said about its competition.

Now ,let's talk about how redi-GO AMT is a more practical vehicle than its rivals. By employing the famed Japanese bold design language, Datsun have not only made the car look stylish,but also very spacious. With all wheels pushed to either extremes to maximize interior space, redi-GO can comfortably accommodate 5 passengers. Its well-shaped boot with 222 litres of space is enough to swallow your luggage for a weekend getaway. For reference, the nearest rival of redi-GO offers only 177 ltrs of boot space.
And not to miss, when you buy redi-Go AMT, you get plenty of safety features on board, including driver side airbag, collapsible steering column and a sturdy shell.
Just because you have an entry level hatchback doesn't mean it has to be dull to drive. Datsun have paid ample attention to ensure that redi-GO AMT is an efficient, but a fun to drive vehicle. Its 1000cc engine churns out a healthy 68 PS of power to keep you engaged, all this while returning a superior fuel efficiency. And if you ever thought maintaining an AMT was a heavy affair, you'd be surprised to know that redi-GO AMT is one of the most pocket friendly cars to maintain in its segment.
Another spheres where redi-GO AMT gains edge above its competition are the aesthetics and long feature list. All black interiors with silver accents and piano black centre console lend to redi-GO a sporty feel on the inside.

The AMT variant of redi-GO also comes equipped with an entertainment system offering multiple connectivity options like Bluetooth, USB and Aux. 12V charging socket and multiple storage options only add to making journeys more comfortable for the passengers. All this seems like a pretty good bargain at a price of just Rs 3.96 lakh*.
Takeaway
If you are on the look-out for an automatic car that isn't heavy on pocket, is fun to drive, comes loaded with features and towers above its competition, then redi-GO AMT should definitely be on your list. The AMT on redi-GO leaps ahead of its competition because of the Rush-hour mode and the superior fuel-efficiency. Easy maintenance cost, bold design and long feature list make its case stronger.
Interesting read:
Was this article helpful ?
0 out of 0 found this helpful