Which Renault Kwid Should You Buy – 0.8L or 1L, Manual or AMT?
Modified On Jan 02, 2019 12:41 PM By Sponsored for Renault KWID 2015-2019
Renault India offers the Kwid with two engine options, a 0.8-litre and a 1.0-litre. The former comes with a five-speed manual gearbox, which is also present in the Kwid 1.0, but the latter also offers the option of an automatic (AMT) gearbox.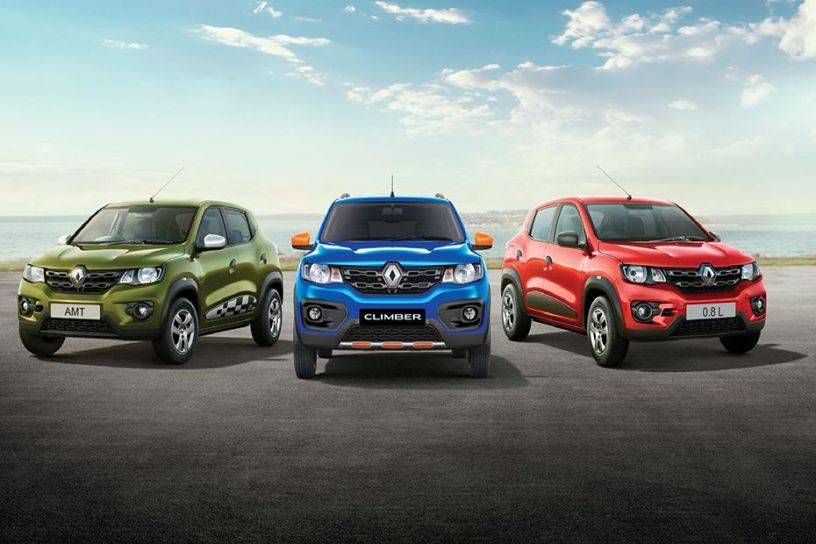 Renault Kwid 0.8-litre: This Kwid comes with a 799cc three-cylinder DOHC petrol motor that breathes through 12 valves. It produces 54PS of peak power at 5,678rpm, and 72Nm of peak torque at 4,386rpm. Both figures are better than what's offered by the competition, and it's an outright win for the Kwid when it comes to the power-to-weight battles. Renault's 669kg weight, along with the aforementioned power and torque figures, give it the best-in-class power-to-weight ratio making it the quickest car in its segment. But, the most important criteria for a budget-conscious buyer is fuel efficiency. Here as well, the Renault Kwid offers the utmost peace of mind as it it offers high fuel efficiency

Renault Kwid 1.0-litre: This Kwid features a 999cc three-cylinder engine that produces 68 PS of peak power at 5,500rpm, and 91Nm of peak torque at 4,250rpm. The peak power figure is the same as that offered by the Kwid's arch rival, but the torque on offer is better in the Kwid. The KWID' power to weight ratio is 97 PS/ton , normally such a ratio is only seen in much bigger cars. Again, like the Kwid 0.8-litre, even the Kwid 1.0-litre enjoys a much better power-to-weight ratio than what the competition can muster, and, as such, the Kwid is a much quicker and faster hatchback than the rest in the segment. The Kwid 1.0-litre's sprightly performance means that getting away from the crowd at traffic lights is always a cinch. Even overtaking on highways does not need much planning, thanks to the beautiful spread of torque. The Kwid 1.0-litre is highly frugal too.

Renault Kwid 1.0-litre AMT Easy-R: The Kwid AMT is an avatar of the Kwid 1.0-litre in almost every way, save for one crucial aspect – the gearbox. This one employs an AMT transmission. AMT stands for Automated Manual Transmission, where the car changes gears for you, and there is no clutch pedal. However, the traditional gearstick doesn't make its way into the Kwid's cabin. Instead, taking the cool quotient a notch above, you get a funky little rotary knob – Easy Shift control Dial to shift through reverse, neutral and drive. Like all Kwids, even the AMT is extremely fuel-efficient – its ARAI-certified fuel-efficiency figure is 22.5kmpl. Also, if you think that auto cars are lethargic and slow, then you are in for a quick surprise with the Kwid AMT. It's a quick car with the 0-100kmph sprint coming up in under 20 seconds, while some independent testers claim that it can do the same in around 16-17 seconds with just the driver on-board.

Check out: Renault Kwid Design – SUV Inspired Styling
Interesting Reads :
Was this article helpful ?
0 out of 0 found this helpful