Rainy Rhapsody
Published On Aug 02, 2013 02:04 PM By Sundeep
2835 Views

Write a comment
Right from the time India gained independence, Mahindra is known for building robust and tough vehicles. Mahindra has come a long way since the days when it used to build jeeps; presently it has several SUVs, UVs and even a couple of cars in its range. Considerable sophistication has crept in vehicles manufactured by Mahindra – XUV500 is as feature rich and refined as any contemporary vehicle in its category, but Mahindra has managed to retain the primary USP – that Mahindra vehicles are strong and sturdy.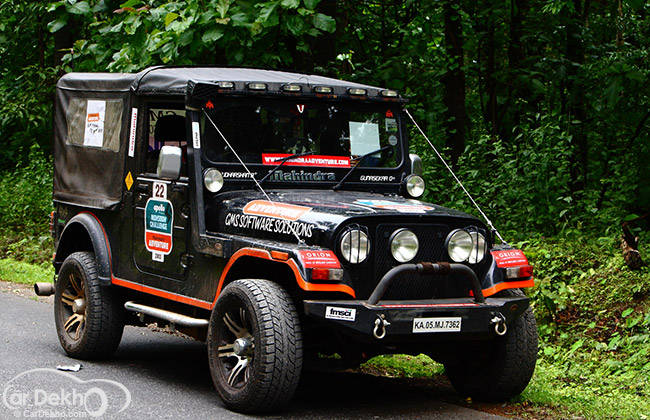 Personally I think the tipping point for Mahindra was the introduction of MM540 with Peugeot sourced diesel engine. Perhaps, this was the first product (mass produced in India) to dispel the notion that a diesel powered vehicle has to be slow and tardy. It was a fantastic product in its era with almost all law enforcement agencies in the country as well as defence forces utilizing its toughness and efficiency to the hilt. Thereafter, Scorpio, Bolero and then the modern front-wheel driven XUV500 has firmly cemented Mahindra's position as the dominant indigenous SUV/UV manufacturer in India.

Mahindra's deep involvement in motorsport and organized motor expeditions is a natural expression of a vehicle manufacturer which takes pride in the inherent strength of its products; this goes a long way in showcasing the intrinsic sturdiness of vehicles manufactured by it. Mahindra has ended up sponsoring and managing a wide range of motor sport activities under its Mahindra Adventures umbrella and has partnered with several reputed professional entities in the field of motorsports for conducting various off-road events, expeditions and competitive rallies.

Mahindra Monsoon Challenge is arguably the biggest TSD Motor Rally in India. It runs for three days over a distance of approximately 1200kms. The participating vehicles wind their way through the most scenic but difficult terrains in the rugged western-ghats - encompassing the famed Coorg area (Kodagu district – coffee plantations), Mangalore, Shimoga, picturesque Jog falls (highest waterfall in India) and dense forest area of Dandeli.

As the prize money at stake is huge, Mahindra Monsoon Challenge attracts professional rallyists from all over the country and is an intensely competitive event. Organized by IMSC (Indian Motor Sports Club ) under the aegis of FMSCI (The Federation of Motor Sports Clubs of India), the 2013 Mahindra Monsoon Challenge was run with clockwork precision from 26th July 2013 to 28th July 2013.

Registration and Scrutiny was held on 25th July 2013 and the rally started from Bengaluru on 26th July 2013, ending at Goa on 28th July 2013. Registration charge (Rs.25000/=) included four night stays at good hotels / resorts – Taj Vivanta (Bengaluru), Gold Finch (Mangalore), Royal Orchid (Shimoga) and Radisson Blu (Goa). Participants were required to bear only the fuel cost and incidental expenditure viz. toll charges, bottled water, some daytime snacks - all else was covered in the registration charge.

Mahindra Monsoon Challenge is a motor rally run in the classic TSD (Time, Speed, Distance) format. What it means is that the participants have to follow the given route at specified speeds throughout the course as the TC (Time Control) locations remain undisclosed. All this may look and sound simple to the uninitiated but it entails considerable navigation skills on the part of the co-driver who has to continuously keep an eye on the road book and speed chart as well as road features. Disciplined driving is the mantra for the driver as he has to adhere to the given speed. The given speeds are never excessive, but it requires immense anticipation, patience and precision driving to limit penalties.



Almost continuous heavy rainfall meant that driving condition was tough throughout the rally. Mahindra Adventures supports the cause of rallyists by not only sponsoring the event but it also provides vehicles to such participants who want to use fully prepared Mahindra vehicles with service backup from Mahindra's "with you hamesha" service team. The cost of hiring vehicle for the Mahindra Monsoon Challenge was Rs.20,000/= and several participants were competing in vehicles hired from Mahindra. Most of the hired vehicles were Mahindra Quantos.

Mahindra Quanto is a small sized variant of Mahindra Xylo. It falls within the 4metre length and 1500cc engine size category and therefore gets the advantage of lower taxes. Quanto is powered by a three cylinder variant of Mahindra's famed M-Hawk 2.2litre four cylinder engine. This engine develops around 100bhp and is equipped with twin turbochargers for taking care of forced aspiration at low rpm as well as high rpm. Despite being a three cylinder turbo charged diesel engine, it performs well. Twin turbo configuration has meant that there is no perceptible turbo lag and power delivery is seamless. Vibration level is certainly on the higher side, especially at idle and off idle speeds but otherwise there is nothing to complain about the engine. It is quite flexible and provides adequate power with amazing fuel efficiency. On the rally route (first day) it returned fuel efficiency figure of about 14 kmpl.

The competition in the 2013 Mahindra Monsoon Challenge was so intense that at the end of the first day, after driving from Bengaluru to Mangalore seven competitors were bracketed within total 52 seconds penalty, a mere 20 seconds separating number 1 and number 7 in the SUV Open Category.

Second day was really tough for the drivers as maintaining specified speeds over steep inclines and some really bad surface demanded utmost concentration and skill. It was very hard on the vehicles as well, but Mahindra vehicles are basically strong beasts built for tough conditions so there was no breakdown and all vehicles were safe and sound at the end of day two. Eventual winners M D Ganesh Moorthy and T Nagarajan emerged at the top of the classification at the end of day two – at Shimoga.



Third day was a test of navigation skill as there were several short sections with wide variation in specified speed. Any calculation error and error in distance estimation had the potential of upsetting the final classification. But M.D. Ganesh Moorthy and T Nagarajan held their nerves and defended their top position.

In the Mahindra Monsoon Challenge media representatives are also required to participate as competitors. However, competitive sections for media category is somewhat truncated so that media representatives do get the time and opportunity to click photos and cover the event. Still, the competitive sections for media participants entailed encountering ten TCs on all days and it wasn't easy to hold penalties within reasonable and respectable limits. Moreover when there is any kind of competition, the natural competitive streak kicks in and one forgets everything about covering the event and starts concentrating on road book, speed chart and TCs. This, in one way is good, as it allows the media participants to experience the event in the right perspective. Harsh Prakash, a budding photographer who is besotted with automobiles and his camera lenses in equal measure was my co-driver cum navigator. Being an engineering (Instrumentation) student he used his skills to compute odometer errors and GPS errors quite adeptly and was quick to pick up the nuances of TSD rally. He navigated well to get us at the top in media category and used his camera to great effect which the accompanying photos will testify.

I had the opportunity to speak to Mr T Nagarajan (co-driver / navigator) of the winning team and was astonished to know that he tracked average speed at 50 metres / 100 metres interval throughout the TSD sections and communicated the result to the driver. The driver, in turn was skilled enough to follow the directions so accurately that they incurred just I minute and 50 seconds penalty over three days of competition. This calls for supreme concentration and superhuman navigation and driving skills.
The rally was flagged in on 28th July 2013 at Radisson Blu resort (Goa), followed by prize distribution and a rocking celebration party.




Was this article helpful ?
0 out of 0 found this helpful