Nilgiri Experience in a Tata Aria
Modified On Dec 17, 2012 01:28 PM By Rahul for Tata Aria
4373 Views

Write a comment
The intensely aromatic leaves of Nilgiri tea pulled us on a trip to South India. Of course, the trip was organised by Cougar Motorsports for Tata Motors, still it is love for that scenic moment that attracted us despite our several visits to this place. Previously, we had also attended the Konkan Experience, where we drove from Mumbai to Jog Falls via Goa and Mangalore.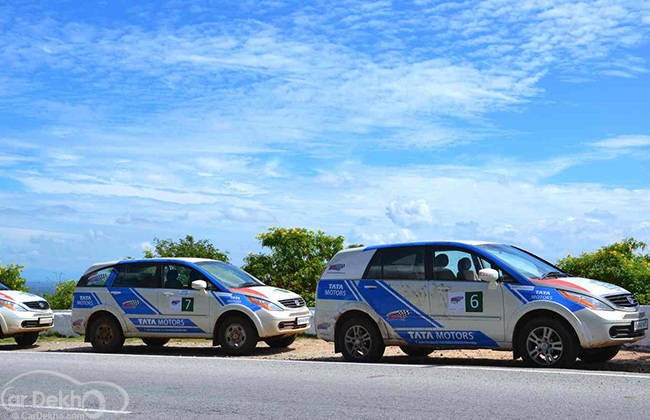 This is an interesting concept— to go out with your family in your Tata SUV, and also meet likeminded people and families. Even the stays are in mostly Taj chain of hotels and the cost is very economical. Also, if you are scared to go only with your family for a road trip, the group factor also brings satisfaction of safety.

For the Nilgiri experience, we were to drive from Bangalore to Ooty to Munnar to Cochin, a total of four nights experience with two nights stay in Munnar. CarDekho was assigned an Aria, which is Tata's flagship model. We began our journey from Bangalore to Ooty from Nice Road, and then we headed towards Mysore. It is from Mysore that we drove through the Bandipur Tiger Reserve towards Ooty. Throughout the way, before you reach the Tiger Reserve, there are a couple of Café Coffee Days, and some good restaurants also.

The Aria handled well on ghats and never ran out of breath. The steering feedback is a bit vague as it is light, but it was due to this light steering wheel that our drive wasn't tiring. The seats are fairly comfortable, but there is sufficient room for head and legs.

The 36 loops were definitely fun to drive on, and the Aria soldiered on these steep bends in the second cog without any sort of trouble. All one had to do was maintain a certain momentum and the Aria climbed up these sheer slopes without any hesitation. Despite the high altitude, we didn't suffer from any mechanical hindrances; it was endurance for humans, as I myself suffered from minor headaches due to altitude.

For those who aren't aware, Ooty is also called as blue mountains because of Kurunji flowers that blooms here every 12 years giving a bluish tinge or because of the blue smoky haze given out by eucalyptus trees in that area. Taj Savoy is one of the oldest and finest hotels in Ooty today and even today it has wooden flooring.

The size of the hotel is massive considering it to be a small hill station, even the place is worth a stay.

From Ooty we headed to Munnar via Coimbatore, via Wellington. Yes, Wellington as you drive from Ooty to Coimbatore. It is about 250kms via Coimbatore and we recommend you to leave early to cut out the traffic. Also, there aren't many good places to halt for food, so ideally we will suggest you to stop over at the first good place you see for food.

After Coimbatore, one pass several windmills on the way, this again is a scenic route with lots of green lush fields around. The drive from Coimbatore to Munnar is from the Anaimalai Tiger Reserve and that ends in Tamil Nadu to the one that continues in the state of Kerala.

As we drive towards Munnar, the road becomes narrow and route also becomes scenic. We passed some dense jungles, which are the Tiger Reserves and then we moved on the hills, which were covered in a blanket of tea plantations.

This is one of the most scenic routes and it is foggy most of the times. We did encounter some fog, as we drove past the region during twilight. From there we reached Munnar. Our stay was in a private bungalow 4-5km away from Munnar on a hill surrounded by tea gardens.

These bungalows have housekeepers who will serve you with breakfast, lunch and dinner with very much home-like food. Munnar has a lot of scenic locations to visit and if you are tea person you have plenty of options here. Also, today Munnar has tea museum, boating, echo point; elephant rides etc for your family and kids. The varieties of teas in Munnar are amazing to pick and choose from.

The drive from Munnar to Cochin is a mere 130kms. This route has narrow and winding road that passes through densely populated towns and villages. So, one needs to be extremely careful while driving on these roads. Also, one needs to be aware of the speeding bus that quickly comes out from a corner. The route to Cochin is simple and it should take about 5-6 hours even if you decide to cruise. From there we headed to W. Island, where our hotel was Taj Malabar. This is one of the exotic locations for a hotel as one can experience back waters while sitting in the garden.

Overall it was an excellent trip, with loads of fun driving the Aria muscling our way through narrow town streets and also on twisty roads towards Munnar. The Aria's X2 platform makes it a superior and highly refined product. Small cars are generally preferred on narrow streets, but with the Aria we didn't feel the need to have a smaller vehicle even when we drove on narrow Kerala roads.

The small turning radius and light steering wheel made it easy to drive, and for the cost Tata is offering its customers to experience this drive in their SUVs is just phenomenal. We definitely recommend all Tata customers to once enroll for these experiences as there are still more experiences happening.
Was this article helpful ?
0 out of 0 found this helpful