Sponsored
MG Hector: Heavy On Style, Light On Your Pocket
Published On Mar 13, 2020 03:29 PM By Sponsored for MG Hector 2019-2021
Maintaining the Hector is as enjoyable as driving it. Here's how MG did it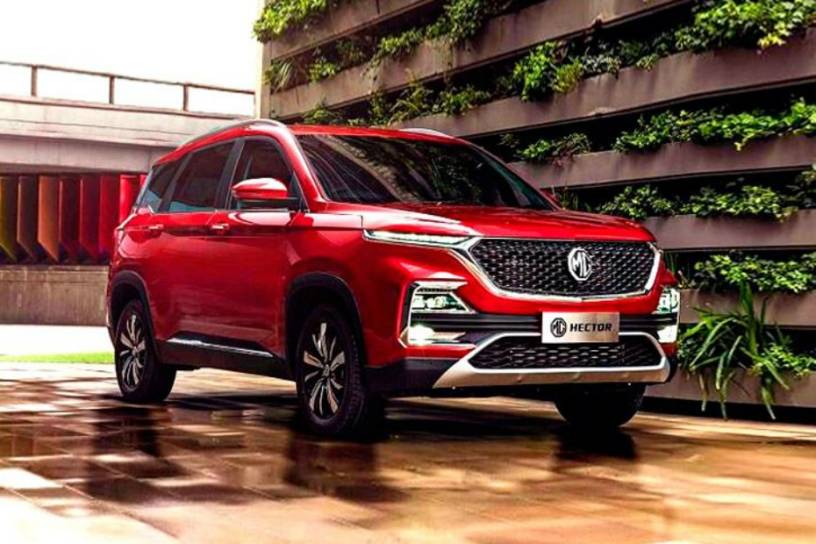 The MG Hector is a head-turner; there are no two ways about it. And it is not just due to the SUV's size, which is larger than competing models by a fair margin. The Hector's trump card lies in the design language MG has used to give it a suave and refined demeanour. Throw in the powerful yet frugal engines, luxurious interiors, a laundry list of internet-enabled technologies, a comprehensive safety package, and it is easy to assume the maintenance quotient of the MG Hector might be as high as its style quotient, right?
Wrong
That is mainly because of the Hector's price and fuel efficiency. The SUV is among the most fuel efficient in its class in both petrol and diesel trims. MG Motor has also kept the Hector's cost of acquisition low with an aggressive price tag of Rs 12.73 lakh to Rs 17.28 lakh (ex-showroom India). But the player of the match here is MG Shield, an after-sales package that not only buys you lower maintenance costs but also unlimited peace of mind.
Three Benefits for the Price of One

MG has hit it out of the park when it comes to the Hector's warranty, road-side assistance, and free services, which are clearly the best in class.
1) 5-Year/Unlimited Kilometres Warranty
The MG Hector gets a 5-year comprehensive warranty cover with unlimited kilometres as standard, the highest in its segment. And while that alone is good enough to tilt the scales in its favour, the MG Shield plan sweetens the deal some more. It covers wear and tear parts like the Hector's battery and tyres for 1 year and the 10.4-inch touchscreen infotainment system for 3 years.
2) 5-Year/Unlimited Kilometres Road-Side Assistance
The maintenance of your car is not always about money. The quality of service and the peace of mind it offers also make a huge difference to the overall ownership experience. MG has capitalised on this by offering a 5-year/unlimited kilometres road-side assistance service with the Hector.
This road-side assistance can be availed 24x7 and covers a variety of problems and situations. For instance, you can contact them if your Hector runs out of fuel on the road or, say, the battery goes kaput. You can even lose the keys to your Hector accidentally and still have road-side assistance come to your rescue.
On the spot repairing by trained technicians, towing assistance, medical assistance, and mobility assurance – which lets you avail of an alternate car from MG (subject to availability at the nearest dealership) if your Hector is not ready – are also offered as part of MG road-side assistance.
3) 5 Labour Free Services
Free services are part and parcel of buying a new car, which begs the question – what is special about MG's offering? Simple, the company will not charge you any labour costs as part of the first 5 scheduled services of your Hector. But that's not all, MG also lets you save on routine maintenance costs of the Hector.
Insure Yourself Against High Maintenance Costs

You can reduce the ownership costs of your Hector significantly with MG's Protect Plans. These plans make it easier and more affordable to maintain your Hector beyond the 5-year warranty period. Available exclusively for private Hector owners, MG offers two types of Protect Plans, with the difference coming down to which maintenance costs are covered and for what duration. Here's how much each plan costs:
Petrol

Classic

3-years/ 30,000km

Rs 8,000

5-years/ 50,000km

Rs 13,000

Premium

3 years/ 30,000km

Rs 30,000

5-years/ 50,000km

Rs 55,000

Diesel

Classic

3-years/ 45,000km

Rs 15,000

5-years/ 75,000km

Rs 28,000

Premium

3-years/ 45,000km

Rs 50,000

5-years/ 75,000km

Rs 80,000
MG's Classic Protect Plan includes all scheduled maintenance costs while the Premium Protect Plan also adds wear and tear costs to the mix. However, neither of the MG Protect Plans cover costs related to tyre wear, battery, or issues caused by collisions.
Cost of Ownership: Lowest in Class

The MG Hector is an affordable SUV to own thanks to its excellent fuel efficiency. But fuel is just one aspect of ownership costs as high maintenance costs can offset the gains from good fuel efficiency. That is not the case with the MG Hector as the SUV has a low maintenance cost of just Rs 0.45/km for petrol and Rs 0.49/km for diesel. Those figures are, by far, the lowest you'll find in this segment.
The luxury, power, and features of an iconic British luxury SUV but with the ownership costs of a much smaller car? That might sound impossible and yet it is exactly what MG Motor has achieved with the Hector. By itself, the SUV is immensely desirable and appeals to your heart. But with its standard warranty and optional Protect Plans, MG has ensured the Hector appeals to your pocket as well.
Was this article helpful ?
0 out of 0 found this helpful