Merc's Capabilities Put to Test - Mercedes Benz StarDrive Jaipur!
Modified On Mar 01, 2018 05:25 PM By Raunak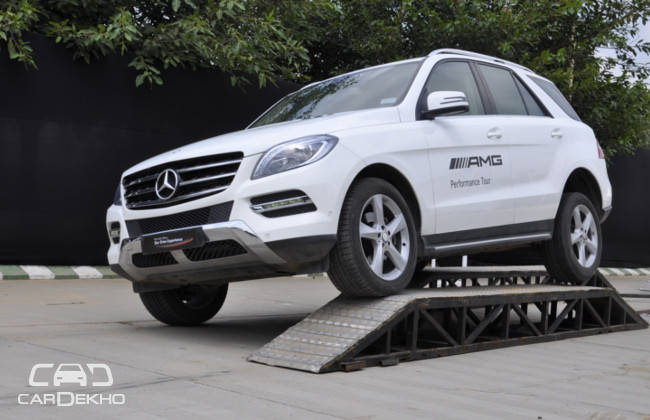 Indians, out of the blue, might not know Audi's or BMW's but among the 'Big German 3' – (Audi, BMW, Mercedes) they remember this 'three pointed star' logo! As Mercedes entered first in India in 1994 compared to rest two. Adding to it, one of the Mercedes Benz India's most successful customer centric program to demonstrate the capabilities of its cars - Mercedes Benz StarDrive arrived Jaipur. In it's fifth consecutive year they are covering tier II cities, starting with the Pink City – Jaipur it will travel to Indore, Kanpur, Bhubaneswar & Coimbatore in coming months.

Held on 13th and 14th September, StarDrive is divided into two categories, first the SUVs showcased their ruggedness then MB's popular sedans demonstrated how safe they can be in an event of crash keeping you unscathed. ML and GL Class were there along with the C and E Class while S Class and CLS Class were on display, grabbing eye balls. There were media, existing customers and MB's prospective buyers present at the event.


Starting with it, remember those heavily altered first generation ML Class from the Jurassic Park flick - The Lost World: Jurassic Park, raging the forest with ease! In its third generation now, ML along with the GL Class flaunts their all-terrain capabilities at the Merc's StarDrive event, grueling through undulated terrain, 45-degree ascend and descend and 30-degree incline (though it can go till 35-degree).

Both the SUVs sport Merc's 4MATIC all-wheel-drive system which is active all the time and intelligently analyze which wheel requires the maximum power. It effortlessly shifts the power to the wheel which has max traction, away from the lose spinning wheel! Participants also gets a chance to experience the hill-hold and hill-descend of these SUV's, which is also a helpful feature in everyday driving. The AIRMATIC suspension keeps you comfortable while the SUV tackles the hurdles.

Later on, it was the turn of sedans to show what they are capable of, things like ESP – Electronic Stability Control, BAS – Brake Assist System along with ABS - Anti-Lock Braking System made sure that you are in full-control of your vehicle in any chaotic situation. Participants also got a chance to witness Mercedes Benz's Pre-Safe, a safety feature which intelligently senses your 'instincts' - emergency braking, heavy understeer or oversteer or extreme steering movement.

The Pre-Safe system harnesses the information from car's ESP & BAS sensors and takes precautionary actions like electronic seat belts pre-tensioning along with closing of windows and sunroof to prevent debris entering the vehicle in an event of crash along with protecting any part of your body protruding out of the car.

In a nutshell, it's a modest initiative to demonstrate capabilities of Mercedes Benz cars to their existing customers and prospective buyers. SUV's climbing 45 degree incline and raging through obstacles while sedans showcased ESP, ABS, PreSafe, etc. Getting this experience in a controlled environment helps you to understand that these 'three pointed star' keeps you in a safe cocoon apart from the flamboyance they offer!

Was this article helpful ?
0 out of 0 found this helpful