Evolution of Honda Accord
Modified On Sep 07, 2015 03:26 PM By Manish for Honda Accord 2001-2003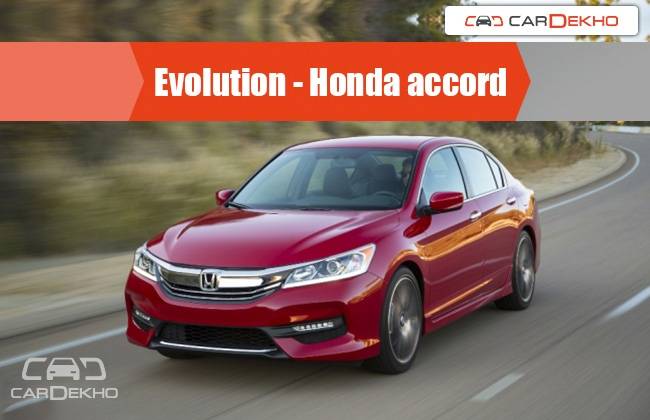 Accord was among the early launches in the emerging D car segment of the Indian automotive industry . The car is easily the most versatile saloon that ever made its way to our Indian roads. The car helped us experience international standard for a fraction of the price. Accord didn't just have enough minerals to keep up with its rivals and but also enough to teach them a thing or two. The car was highly sought after by businessmen who intended on making a statement, as well as speed junkies who were looking for exhilaration of speed and a medium to convey their individualities by the means of customization. So here is a look into the history of the Honda Accord.


Generation 1
The sixth generation Honda Accord was launched in India on July 5, 2001. In two months of its launch, the car sold more than 600 units. Honda, then known as Honda Siel Cars India (HSCI) launched Accord to break even on its total investments of Rs. 460 crores by March-end 2002. The car was priced from Rs. 15.75 lakhs (ex-showroom Delhi) to Rs. 16.55 lakhs and featured both automatic and manual transmissions. Accord was Honda's flagship car for over two decades, which was being sold in over 130 countries. This was the sixth generation of Accord, which had sold over 1.1 million units worldwide.
Generation 2
This was the seventh-generation Honda Accord, which was introduced in India in 2004 and churned out better volumes for the japanese automaker in comparison to the previous generations. The car came with a sportier appearance and spacious interiors. It featured a 2.4-litre 4-cylinder i-VTEC and a more powerful 3.0-litre V6 VTEC, both of which were petrol units and were among the most refined powertrains on Indian roads at the time. A facelifted version that featured LED taillight cluster was also introduced.
Also Read: Evolution of Honda Jazz
Generation 3
The new Honda Accord was launched in 2008 and was available in three variants - Accord 2.4, Accord 2.4 Elegance and Accord 2.4 Inspire. The car received the no. 1 Entry Luxury Car award by TNS. The car was competitively priced and variants started from Rs 16.49 lakh (ex-showroom Delhi) and went up to Rs 18.14 lakh.
Generation 4
The new Accord will be launched sometime next year and will feature a completely redesigned body and LED headlamps, LED fog lamps and redesigned LED taillamps. This will be the first Accord to feature a Hybrid powertrain. Honda might offer this unit with Apple's CarPlay and Android Auto in India similar to its global variant.
Also Read: Evolution of Honda City


Also read: Evolution of Tata Indica
Was this article helpful ?
0 out of 0 found this helpful