Evolution: Tata Indica
Modified On Aug 26, 2015 04:20 PM By Manish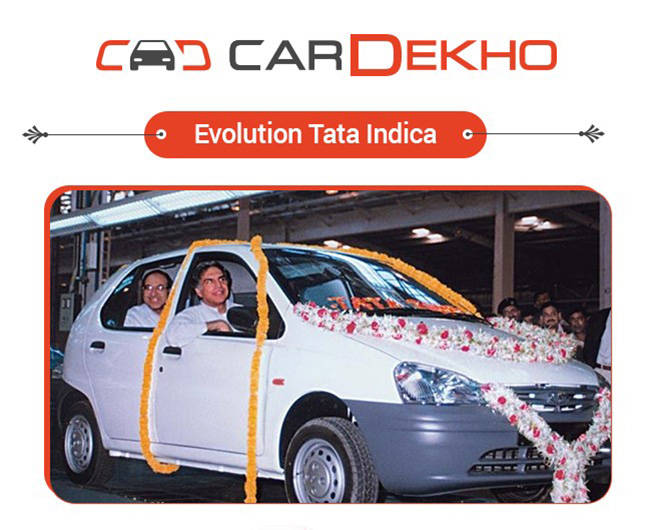 Tata has always been a company that has been the point of pride for Indians and motorheads all over the world. Be it the induction in the automotive hall of fame or the purchase of iconic british brands- Jaguar and Land Rover, Tata has always manages to deliver milestones, which have no equal in terms of their stature. One such milestone and probably the most prominent one was the development and introduction of India's first fully indigenous car: The Indica. ever since its production the car has become part of our lives either due to its immense success in the Taxi sector or an economically feasible diesel commute option for the masses. So lets take a look in to the history of Tata Indica.


Generation 1: Indica (1998- 2001)
The first generation Indica rolled out in 1998 and Ratan Tata called it his baby. The name Indica was derived as an amalgamation of words India (Indi) and car (ca) and according to Ratan Tata, the car was designed to have the external dimension of a Zen, while providing the interior space of an Ambassador. The feeling of patriotism and sense of pride helped Indica get 115,000 registered bookings against full payment within a week! The car was particularly well designed for its time and featured an aerodynamic look that incorporated the classic 2 box silhouette, which was designed by I.DE.A. The car had a robust interior design and featured teardrop headlamps and "bison" vertical taillights which might have been an analogy incorporated to project its Indian lineage. This look went on to become its identity. Tata also introduced a powerful 1.4L petrol version called the Indica 2000, which was launched in the year 2000 and featured enhanced power of 75 bhp from the original 60 bhp 1.2L petrol and torque output of 127 Nm.
Indica V2 (2001- Present)
After its launch, Indica received mostly positive reviews but the critics often mentioned that the reason for Indica's success was its competitive pricing, which compensated for its shortcomings. To address this issue in 2001, the next generation of Indica called the Indica V2 was launched and it came with a diesel engine to go along with the petrol Indica 2000 variant. A variation of this model is still in production today. In the year 2003, following an agreement with MG Rover(UK), Tata Indica was sold in the United Kingdom as the "City Rover. Three years after the launch of the V2 tata introduced the Indica V2 Facelift in 2004. This car came with the same powerplant options as the V2 but featured redesigned bumpers, tail lights and grill amongst other aesthetic updates and stayed in production until 2006. In 2005, only a year after the launch of Indica V2 facelift and while it was still in the market, Tata introduced the first turbo diesel engine in its passenger car segment with the Indica V2 Turbo. Before the V2 Turbo variant went out of production in 2008, Tata introduced the Indica V2 Xeta in 2006, which came with a 1.2-L MPFI petrol engine and helped Tata sell more than a million cars. In 2008 a facelift of the Indica V2 was introduced and featured a common rail engine, which helped improve its fuel efficiency. In 2001, an improved common rail engine variant called the Indica eV2 was launched and featured a more refined common rail engine, the CR4 and is available in both diesel and petrol variants along with improved NVH levels and suspension setup. Four years ago, In 2011 the latest installment of the Indica V2 was introduced and this car featured the 1.4- L Cr4 diesel engine and also came in a 1.2-L MPFI petrol/CNG variant
Indica Vista (2008-Present)
Alongside the eV2, Tata launched its next generation passenger Indica, the Tata Indica Vista.
The car was based on a completely new platform from ground up and had new dimensions, styling cues and engine options. Thanks to the Tata-Fiat JV, Indica finally received its most refined diesel engine till date - Fiat's 1.3L MultiJet dubbed as QuadraJet. Initially the car was offered with a 75 hp version and later on Tata introduced a 90 hp - D90 version of the same engine variant from Manza, which has now been discontinued. this version featured touchscreen infotainment/ navigation system and the centrally positioned instrument cluster was moved to the drivers side, behind the steering wheel.
Tata Bolt (2015- Present)
Tata Bolt was launched in 2014 and was based on a modified Vista's platform. The car came with Tata's Connectnext infotainment system powered by Harman, which gave it features like - touch screen air-con controls, navigation. This also happens to be the first car in its segment that comes with 3 different drive configurations i.e. City, Eco, Sport courtesy of the Tata's new turbocharged Revotron 1.2-L MPFI petrol engine. the car also featured a first in class speed-sensing auto-lock safety feature and geo-responders for a smooth ride and sound isolators, which reduce cabin noise. Other features included smartphone enables navigation system powered by "MapMyIndia".


Also Read: Evolution: Maruti Suzuki Swift
Was this article helpful ?
0 out of 0 found this helpful