Cabriolets You Can Buy In India Right Now!
Modified On Oct 06, 2017 02:15 PM By Tushar
Prices start at Rs 35 lakh and go up to over Rs 6.25 crore!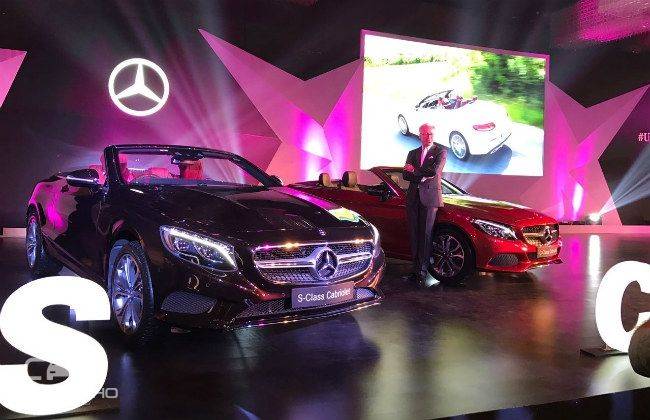 Cabriolets/convertibles don't make for a very popular body style in India. Our weather isn't particularly supportive of 'topless' driving and dusty conditions mean that even if you have a convertible, the roof will probably be down more often than not.
However, the idea of playing some soothing tunes while cruising down the highway with the wind in your hair is quite tempting, not to mention, the exclusivity of owning something rarely seen on our roads. Believe it or not, there's no lack of cabriolet options in India, provided you're able to pay up a good sum of money.
Here's a look at some drop-tops you can buy in India:
Mini Cooper S Convertible (Rs 34.90 lakh ex-showroom Delhi)

When Mini launched the 3-door in India, we couldn't wait for the Cooper S and when they finally launched it, we couldn't wait for the Cooper S convertible. Are we greedy? You bet, and thankfully Mini obliged and launched the convertible. Powered by a 2.0-litre petrol engine, this hot hatch made hotter has 192PS of power and 280Nm of torque at its disposal. What's more is that it can complete the 0-100kmph run in just 7.1 seconds and of course, it's a Mini so the optional extra list where the real meat lies.
The one we like the most is the Union Jack stitching on the fabric roof, though it's an add-on that costs nearly Rs 1 lakh!
Audi A3 40 TFSI Cabriolet (Rs 44.75 lakh ex-showroom Delhi)

The A3 Cabriolet has found a good number of takers in India. Powered by a 1.8-litre petrol engine, the little cabriolet has 180PS/250Nm at its disposal, making it quite zippy. Supporting your highway cruise is a 13-speaker Bang & Olufsen sound system along with 13 exterior colour options to choose from, though the fabric roof can only be had in black.
Mercedes-Benz C300 Cabriolet (Rs 60 lakh ex-showroom Delhi)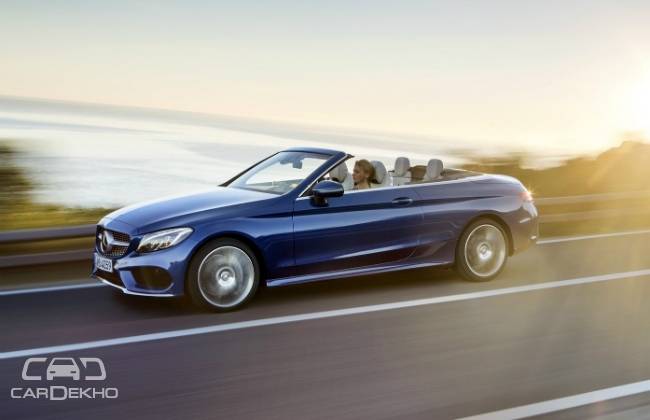 The recently launched Mercedes-Benz C300 takes a traditionally chauffeur driven car and puts you in the front seat instead. Powered by the same engine as the GLC300 SUV, the C300 cabrio has 241PS of power and 370Nm of torque at its disposal, all sent straight to the rear wheels via Mercedes' new 9-speed gearbox. 0-100kmph comes up in a claimed 6.4 seconds with the top speed limited to 250kmph.
The roof itself is electrically foldable and can be operated at speeds of up to 50kmph. Mercedes claims that the roof can be tucked away in around 20 seconds. Also included is Mercedes' Aircap system that reduces the draft while the car is being driven with the roof down.
Audi A5 Cabriolet (Rs 67.51 lakh ex-showroom pan-India)

Audi's 2nd drop-top in India is part of what the brand likes to call, the A5 brat pack. Introduced alongside the A5 and S5, the A5 cabriolet features a soft-top convertible roof that opens in 15 seconds and closes in 18 seconds at speeds of up to 50kmph.
The features list includes full LED headlights and tail lights, along with dynamic LED turn indicators. Inside, it features the Audi virtual cockpit, MMI navigation Plus with MMI touch and can be had with a Bang and Olufsen sound system. Its 2.0-litre diesel engine makes 190PS of power and drives all four wheels, courtesy Audi's Quattro all-wheel drive system. The 7-speed twin-clutch automatic gearbox enables quick shifts, helping achieve a claimed 0-100kmph time of 7.8 seconds!
Mercedes-Benz E400 Cabriolet (Rs 76 lakh ex-showroom Delhi)

The E400 gives one of Mercedes-Benz India's best selling cars a nice and exclusive touch. What's more is that its price has dropped by around Rs 2.5 lakh since it was launched, since the current-gen E-Class is on its way out. Powering the car is a 3.0-litre V6 petrol engine that makes 333PS of power and 480Nm of torque.
The motor comes paired with a 7-speed automatic gearbox with paddle shifters and the E400 executes the 0-100kmph run in a claimed 5.3 seconds. The topless E's highlight, of course, is the fabric convertible roof that can be opened or closed completely in around 20 seconds, at speeds of 40kmph or below.
Mercedes-AMG SLC43 Roadster (Rs 77.5 lakh ex-showroom Delhi)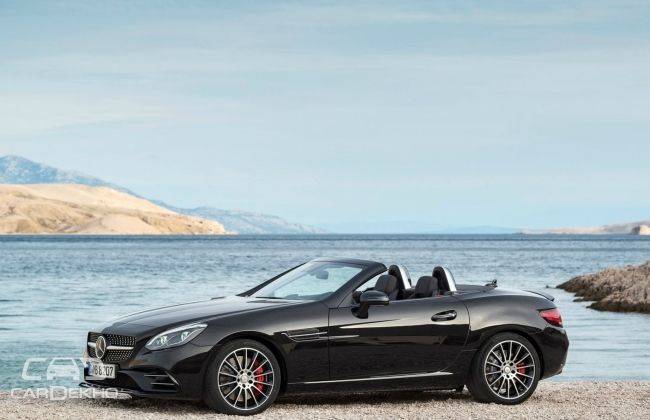 The SLC43 is the spiritual successor to the SLK55 AMG. Following the trend of downsizing seen across the German automaker's range, the SLC43 drops the old 5.5-litre V8 engine in favour of a 3.0-litre biturbo V6 engine with an AMG-specific engine management system. Power output is a delicious 367PS with the torque peaking 520Nm. The oomph is driven to the rear wheels through a '9G-TRONIC' 9-speed automatic gearbox with paddle shifters. 0-100kmph comes up in a claimed 4.7 seconds with the top speed electronically limited to 250kmph. If a fabric roof isn't to your taste, the SLC43 is a rare-breed-within-a-rare breed in India since it's a hard-top convertible!
BMW Z4 Roadster (Rs 77.5 lakh ex-showroom Delhi)

With an inline 6-cylinder engine making 306PS and 400Nm, the BMW Z4 has enough performance to thrill, combined with the great driving dynamics you'd expect of a BMW. Incidentally, it's the only convertible the brand sells in India. Like the SLC43, it too has a hard-top and if the invigorating exhaust note isn't enough, it also gets a 650W 14-speaker sound system.
Porsche 718 Boxster (Rs 85.53 lakh ex-Delhi)

Porsche has launched the 718 Boxster in India The 718 moniker pays homage to the successful flat-four cylinder Porsche 718 sports car of the '50s, and because the latest Cayman and Boxster get a new 2.0-litre, four-pot motor themselves, the 718 nameplate is back. The 718 Boxster makes 300PS of power (35PS more than before) and 380Nm of torque (100Nm more than before) and manages the 0-100kmph sprint in under 5 seconds!
Mercedes-Benz S500 Cabriolet (Rs 2.25 crore ex-showroom Delhi)

Yes, it's another Mercedes on this list! Here's where things start to get interesting and really expensive too. Having showcased the S500 drop-top at the 2016 Delhi Auto Expo, Mercedes-Benz has launched the 2-door cabriolet in India making it one of many body styles the S-Class is available to us in (sedan, Maybach limousine, coupe and cabriolet). Under its bonnet is a 4.7-litre V8 engine developing 455PS of power and 700Nm of torque. Equipped with a 9-speed automatic gearbox, the car completes the 0-100kmph run in 4.6 seconds with the top speed limited to 250kmph.
It too features a dashboard similar to the standard S-Class, but unlike it, the cabriolet is for buyers who prefer the front seat, especially because the rear legroom isn't nearly as generous. Like the C300, it sports a fabric roof which and it can be folded down in around 20 seconds.
Porsche 911 Cabriolet (Rs 1.54 crore-Rs 2.79 crore ex-showroom Delhi)

Convertibles don't get more legendary than this. The 911 Cabriolet is available in many iterations, including the Carrera cabriolet (Rs 1.54 crore ex-showroom Delhi), Carrera S cabriolet (Rs. 1.75 crore ex-showroom Delhi), Turbo cabriolet (Rs 2.37 crore ex-showroom Delhi) and Turbo S cabriolet (Rs 2.79 crore ex-showroom Delhi). With power outputs ranging from 370PS all the way up to 580PS, the 911 convertible range can be everything from a beach cruiser to a track tamer.
Jaguar F-Type Convertible (Rs 1.59 crore ex-showroom Delhi)

Take a striking balance of retro and modern design, add to it performance that can get your hair standing and the result is the F-Type. The drop-top F-Type is one of the sexiest cars money can buy and backs its sporty looks with powerful engines too.
While the 3.0-litre 6-cylinder mill of the F-Type S is certainly no slouch with a 0-100kmph time of 4.9 seconds, we'd get the F-Type R's 5.0-litre V8. Apart from belching up over 550 horsepower, it has a monstrous exhaust note that warns everyone ahead of you to move out of your way.
Maserati GranCabrio (Rs 2.19 crore ex-showroom Delhi)

Class, finesse, poise and style – all things you associate with the Italians so how could we miss out on Maserati? The GranCabrio offers bespoke soft-top fabric, wood finish and sound system options, packaged in an aggressively styled Italian masterpiece. It's propelled by a 4.7-litre engine that makes 450PS of power and 510Nm of torque – enough to make it hit 100kmph from a dead-stop in 5.2 seconds. The long bonnet and swooping tail look distinctive and with a length of nearly 5-metres, this beautiful demon has some serious road presence.
Ferrari California T (Rs 3.45 crore ex-showroom Delhi)

It's a tough chance we'll see the LaFerrari Aperta in India and while the 488 Spider will be here soon, here is one Ferrari convertible you can have in India right now. Powering the California T is a V8 engine producing 560PS and 755Nm of torque. With a 0-100kmph time of 3.6 seconds, you'll really need to resist the urge to slam the accelerator pedal, so onlookers get a good chance to ogle at and appreciate the design. With its asking price, you can be sure that not many will hit Indian roads. After all exclusivity doesn't come cheap.
Aston Martin Vantage S convertibles (approximately Rs 2.75 crore-Rs 3.85 crore ex-showroom)

Available with both V8 and V12 engines making 436PS/490Nm and 573PS/620Nm respectively, the Vantage twins offer beautiful designs combined with big engines to please the throttle-happy. These grand tourers are the ultimate tools to help you enjoy long distance cruises with class and make for a great way to flaunt that Aston Martin badge. Good thing the top goes down, so you can enjoy this jaw-dropping exhaust note (https://soundcloud.com/aston-martin-official/v12-vantage-s-roadster-in-car).
Bentley Continental GTC (Rs 3.81 crore ex-showroom)

A 6.0-litre, twin-turbo V12 powers this near 4 crore Rupee behemoth. Producing a meaty 590PS of power and 720Nm of torque, the Continental GTC executes the 0-100kmph run in just 4.7 seconds. Weighing over 2 tonnes, this heavy-weight comes with legendary British craftsmanship, aided with bits like walnut veneer, 17 leather upholstery options and a wider range of customization options than even your imagination would permit.
Aston Martin Vanquish Volante (approximately Rs 5.50 crore ex-showroom)

Just when you thought the Vantage twins are beauty personified, along comes the Vanquish Volante. Guaranteed to make you go weak in the knees, Aston's "ultimate grand tourer" features arguably the perfect balance of muscular and graceful design schemes. It's best keep a little time buffer while driving this though. Why? Well its blistering 0-100kmph time of just under 4 seconds is ballistic, but with a car that looks this good, chances are, you're going to spend some time just staring at it before driving off.
Lamborghini Aventador S Roadster (Rs 5.79 crore all-India ex-showroom)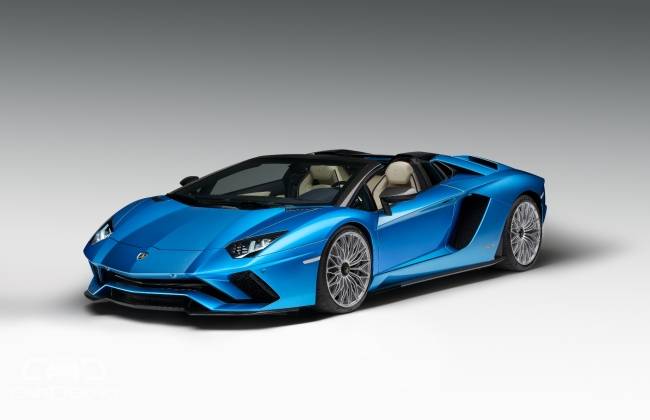 Revealed at the 2017 Frankfurt Motor Show and launched in India simultaneously, the Lamborghini Aventador S Roadster is a technically a facelift, but packs in a lot of new kit. Its roof is a two-panel hardtop setup with each panel weighing less than 6kg, finished in matte carbon fibre. High gloss black and shiny visible carbon fibre are optionally available, while Lambo's Ad Personam programme opens the door to a wider range of custom selections. The mid-rear-mounted 6.5-litre V12 engine makes 740PS and 690Nm of torque, enabling a 0-100kmph time of 3 seconds!
Rolls-Royce Dawn (Rs 6.25 crore ex-showroom)

The last word in luxury? Perhaps, but that's for you to decide. However, the Rolls-Royce Dawn has a price tag that can baffle even the super-rich, before you even start personalizing it. Labelled the "quietest convertible on sale", the RR Dawn is propelled by a 6.6-litre V12 engine that it shares with the Wraith. This power mill generates around 570PS and a peak torque of 780Nm. Apart from a claimed 0-100kmph time of 4.9 seconds, the luxo-barge gets a soft-top that can be opened or shut in 22 seconds.
Which one of these topless beauties would you like to see in your garage?
Was this article helpful ?
0 out of 0 found this helpful