Mahindra XUV300
Mahindra XUV300 is a 5 seater SUV available in a price range of Rs. 7.95 - 13.46 Lakh*. It is available in 20 variants, 2 engine options that are BS6 compliant and 2 transmission options: Manual & Automatic. Other key specifications of the XUV300 include a kerb weight of, ground clearance of 180mm and boot space of 259 Liters. The XUV300 is available in 7 colours. Over 2485 User reviews basis Mileage, Performance, Price and overall experience of users for Mahindra XUV300.
Change car
2299 reviewsRate This Car
Rs.
7.95 - 13.46 Lakh
*
*Ex-showroom Price in New Delhi
Don't miss out on the best offers for this month
Key Specs of Mahindra XUV300
| | |
| --- | --- |
| Mileage (upto) | 20.0 kmpl |
| Engine (upto) | 1497 cc |
| BHP | 115.0 |
| Transmission | Manual/Automatic |
| Seats | 5 |
| Boot Space | 259 Litres |
XUV300 Latest Update
Latest Update: A recent Delhi RTO document suggests Mahindra could soon introduce a more powerful 1.2-litre petrol engine (130PS/230Nm) to all the XUV300's trims.
Mahindra XUV300 Price: Mahindra has priced the sub-4m SUV between Rs 7.95 lakh and Rs 11.71 lakh (ex-showroom Delhi).
Mahindra XUV300 Variants: The XUV300 is sold in four trims: W4, W6, W8, and W8(O).
Mahindra XUV300 Seating Capacity: It is a five-seater SUV.
Mahindra XUV300 Engine and Transmission: It gets 1.2-litre turbo-petrol (110PS/200Nm) and 1.5-litre diesel engines (117PS/300Nm). Both can be paired with either a 6-speed MT or an AMT gearbox.
Mahindra XUV300 Features: The SUV comes with a sunroof, cruise control, a 7-inch touchscreen infotainment system with Android Auto and Apple CarPlay, rain-sensing wipers, auto AC, and connected car tech.
Mahindra XUV300 Safety: Safety features include up to seven airbags, corner braking control, and front and rear parking sensors.
Mahindra XUV300 Rivals: It rivals the Nissan Magnite, Toyota Urban Cruiser, Ford EcoSport, Hyundai Venue, Renault Kiger, Tata Nexon, Kia Sonet, and the Maruti Suzuki Vitara Brezza.
Read More
Mahindra XUV300 Price
The price of Mahindra XUV300 starts at Rs. 7.95 Lakh and goes upto Rs. 13.46 Lakh. Mahindra XUV300 is offered in 20 variants - the base model of XUV300 is W4 and the top variant Mahindra XUV300 W8 AMT Option Diesel Dual Tone which comes at a price tag of Rs. 13.46 Lakh.
W41197 cc, Manual, Petrol, 17.0 kmpl2 months waiting
Rs.7.95 Lakh*
W4 Diesel1497 cc, Manual, Diesel, 20.0 kmpl2 months waiting
Rs.9.09 Lakh*
W6 Sunroof NT1197 cc, Manual, Petrol, 17.0 kmpl2 months waiting
Rs.9.87 Lakh*
W6 Sunroof1197 cc, Manual, Petrol, 17.0 kmpl2 months waiting
Rs.9.99 Lakh*
W6 AMT Sunroof NT1197 cc, Automatic, Petrol, 17.0 kmpl
Rs.9.99 Lakh*
W6 Diesel Sunroof NT1497 cc, Manual, Diesel, 20.0 kmpl
Rs.9.99 Lakh*
W6 AMT Sunroof1197 cc, Automatic, Petrol, 17.0 kmpl

Top Selling

2 months waiting
Rs.10.57 Lakh*
W6 Diesel Sunroof1497 cc, Manual, Diesel, 20.0 kmpl2 months waiting
Rs.10.63 Lakh*
W81197 cc, Manual, Petrol, 17.0 kmpl2 months waiting
Rs.10.64 Lakh*
W6 AMT Diesel Sunroof NT1497 cc, Automatic, Diesel, 20.0 kmpl2 months waiting
Rs.11.14 Lakh*
W6 AMT Diesel Sunroof1497 cc, Automatic, Diesel, 20.0 kmpl2 months waiting
Rs.11.28 Lakh*
W8 Option1197 cc, Manual, Petrol, 17.0 kmpl2 months waiting
Rs.11.82 Lakh*
W8 Diesel Sunroof1497 cc, Manual, Diesel, 20.0 kmpl

Top Selling

2 months waiting
Rs.11.84 Lakh*
W8 Option Dual Tone1197 cc, Manual, Petrol, 17.0 kmpl2 months waiting
Rs.11.97 Lakh*
UPCOMINGTurbo Sportz1197 cc, Manual, Petrol, 20.0 kmpl
Rs.12.34 Lakh*
 
W8 Option AMT1197 cc, Automatic, Petrol, 17.0 kmpl2 months waiting
Rs.12.48 Lakh*
W8 Option AMT Dual Tone1197 cc, Automatic, Petrol, 17.0 kmpl2 months waiting
Rs.12.63 Lakh*
W8 Option Diesel1497 cc, Manual, Diesel, 20.0 kmpl2 months waiting
Rs.12.64 Lakh*
W8 Option Dual Tone Diesel1497 cc, Manual, Diesel, 20.0 kmpl2 months waiting
Rs.12.79 Lakh*
W8 AMT Optional Diesel1497 cc, Automatic, Diesel, 20.0 kmpl2 months waiting
Rs.13.31 Lakh*
W8 AMT Option Diesel Dual Tone1497 cc, Automatic, Diesel, 20.0 kmpl2 months waiting
Rs.13.46 Lakh*
View All Variants
Mahindra XUV300 Comparison with similar cars
sponsored

Rs.10.49 - 17.59 Lakh*
Ex-showroom price in New Delhi
Mahindra XUV300 Review
Exterior

The XUV300 is based on Ssangyong's Tivoli. And hence, the XUV shares its basic stance with the Tivoli. But there are a few key differences. Firstly, overall length has been shortened by chopping the boot area (after the C-Pillar) to shorten the length by 200mm, from 4195 to 3995mm. As a result, when viewed from the side, the XUV300 looks a bit strange as the design ends quite abruptly.

Also, the Tivoli's ground clearance of 167mm is lower than the XUV300. Even though it has been raised for India, the XUV300 sits lower than the competition. However, it boasts of a segment-leading wheelbase, which along with the 215/60 R17 tyres on our top-end W8 (O) test car, give it a confident look.

In terms of design, the XUV300 looks similar to the Tivoli, but Mahindra state that every panel is different from the Tivoli. You can see that the face is more aggressive despite being neater. The slim grille gets the chrome slot treatment just like the XUV500. It wedges in neatly between the angular headlamps that flare out as they head towards the side. The sharp LED DRLS give this SUV quite a distinctive look.

From the side, the XUV300 reminds us of the Hyundai Creta, which is no bad thing. The A-Pillar, roofline and roof rails (not offered in the UK) contribute to that effect. But, if it stood a bit taller, the SUV look would have been cemented solid. When it comes to premiumness, the diamond-cut alloys play their part just right.

From the rear, the XUV looks quite rugged and premium, thanks to the wide hips and high-set tail lamps which use smooth LED elements. Just to be clear, the look here is completely different from the Tivoli, and better for it. Also, while the manual transmission-equipped XUV300 gets model and variant badging at the rear, the XUV300 AMT adds the "autoSHIFT" badge, making the automatic XUV300 easier to identify.

Interior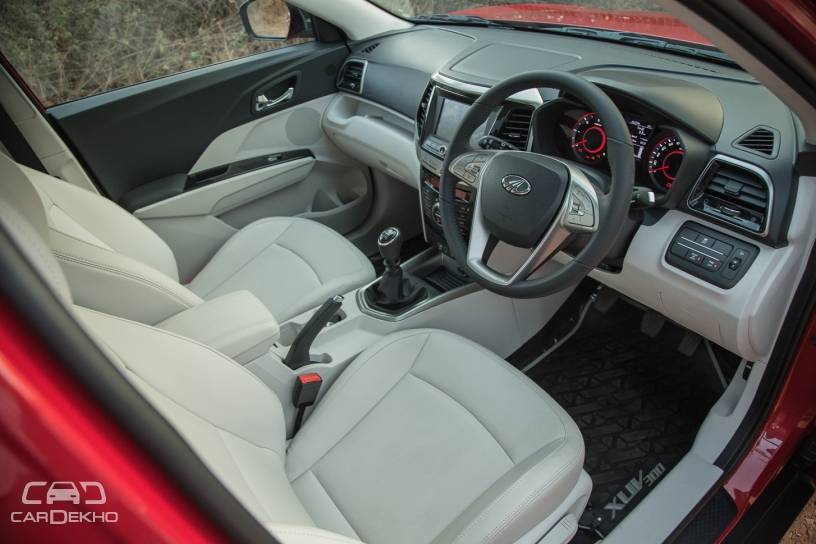 The XUV300 might be the baby of its family, but on the inside it feels more premium than its elder sibling, the XUV500. The two-tone colour combination for the cabin looks very inviting. The leatherette seats also use the lighter colour, giving a sense of being in a car from a segment above. These seats also use firmer cushions for the side bolstering for greater support in corners. The only hiccup is that the light colour means they will get dirty quickly.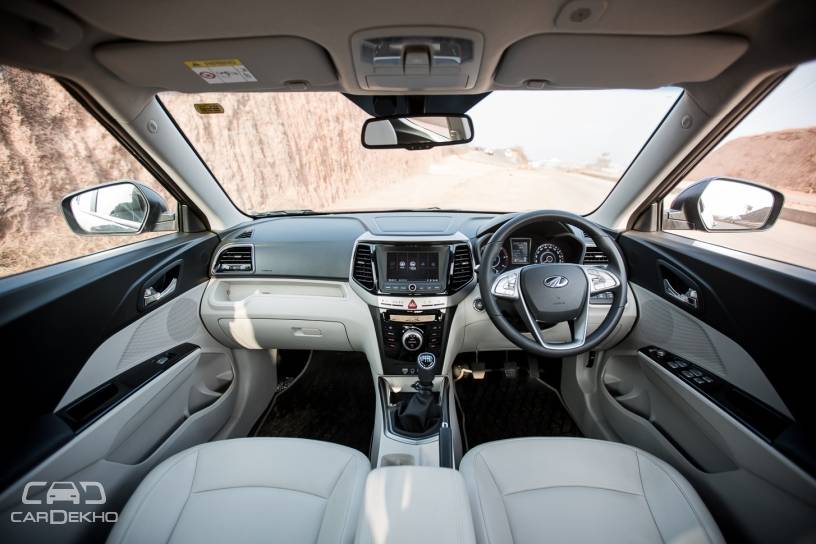 Smart looking touches include the steering wheel, embellished with gunmetal grey switchgear. The simple instrument cluster is easy to read and the controls for display sit in between them. However, bits like the central unlock switches, the flimsy feel of the stalks on the steering wheel and the door release lever feel cheap and tacky. The centre console could have also looked better. In a world of floating screens and minimal buttons, this looks a bit out of place on a new car.

Additionally, while the manual gear lever blends well with the rest of the interior, the AMT gear selector looks a bit out of place. The Vitara Brezza's AMT gear selector, for example, looks more premium and purpose-built to match the rest of the cabin.

The driver gets a height adjustable seat and a tilt adjustable steering to find the right seating position too. But, the footwells are too cramped to accomodate a dead pedal. This will add a bit of stress to your left leg in long drives. However, whether tall or short, you will have enough room in the front and the view of the road ahead is confidence inspiring, spotting the edge of the hood is easy.

The second row treats its occupants acceptably. The seat cushioning is supportive and there is enough knee room and headroom to accommodate six-footers. Even sitting three abreast is managed with reasonable comfort as the middle passenger doesn't sit shoulder to shoulder with the other occupants as the seat pushes him forward slightly. However, the low-set seat feels short on under-thigh support and the smaller window area eats into the sense of space. However, for a car that boasts of class-leading wheelbase and width, we were expecting a greater sense of space and comfort in the backseat. Also, the lack of any charging options feels a bit strange.

In the transition from Tivoli to XUV, the boot space has really suffered. Chopping 200mm of overall length has resulted in a luggage carrying capacity that is more like a mid-size hatch. The 60:40 split folding seats offer some flexibility, but we expect luggage space to be significantly smaller than the competition.

Performance

Straight off the bat, we must say that both engine options of the XUV300 are impressive to drive. The petrol is a 1.2-litre, 3-cylinder turbocharged engine good for 110PS @ 5,000rpm & 200Nm of torque @ 2000-3500rpm. The diesel, shared with the Marazzo, is a 1.5-litre, 4-cylinder turbocharged engine good for about 117PS @ 3750rpm & 300Nm of torque @ 1500-2500rpm. While both were initially available only with a 6-speed manual transmission, the diesel is now also available with a 6-speed automated manual transmission (AMT). There is no all-wheel drive option and Mahindra will not offer one.

The 1.5-litre four-cylinder diesel engine is derived from the Marazzo, but some changes to the tune give it a more energetic character. At start up, you can feel a bit of diesel rumble and light vibes in the cabin. While this isn't something we would complain about, we have been spoilt by the larger Marazzo which just damps these out.

It is easy to make out that the XUV300 is peppier to drive. Overtaking other vehicles requires very little effort. No doubt, being lighter than the Marazzo has helped, but the torque spike at 1500rpm makes it feel quite exciting. Even in the city, you can drive around smoothly and easily as the clutch is light, although shifting the tall gear lever requires a bit of effort.

However, like on the Marazzo, the engine can feel lethargic if you drive around in a higher gear at low speeds. On inclines or if the engine revs drop below 1500rpm, it is easy to stall the XUV300. This will require some getting used to. In terms of fuel efficiency, no tested figures are available as of now, but you can expect them to be higher than the 17.3kpl that Mahindra claims for the Marazzo.

Driving The Diesel AMT
First, the basics. Yes, it does get the creep function. So in slow-moving city traffic, you just need to ease off the brake pedal and have the car creep ahead. This also works well while parking in reverse, making progress at crawl speeds convenient.
Second, the shift lever's operation is similar to BMW's automatic gear lever i.e. it shifts back to the same position after you've selected any of the transmission's six modes - auto, manual, neutral, reverse, manual upshift & manual downshift.
Before moving any further, here's the main takeaway: this is a well-tuned engine & transmission combination. The XUV300 diesel gets the same engine as the Marazzo, albeit with about 4PS less power. But the XUV300 is a lighter car too and much like in the manual, you just need the slightest throttle input to get into the 50-60kmph range. The low rev torque is plenty and does a good job of making up for any lag in the AMT itself.
It comes across immediately as city drive-friendly and has a unique advantage over the manual. This diesel engine does have some lag in torque delivery below 1500rpm. So much so that you can stall the engine quite easily (this happens in the Marazzo as well) if you let the revs drop below that. However, AMTs won't let the engine stall, so it pulls even from very low revs in a clean manner.
A slight disadvantage, though, is that with the AMT, the engine tends to rev a notch more than what seems necessary. Even with the lightest of throttle inputs it upshifts above 2,000rpm till 4th gear. While this still doesn't make the cabin too noisy it can have an adverse impact on fuel efficiency vs the manual. Something we can & will ascertain with a road test.
Is it as fun to drive as the manual? No. Fun for an AMT? Yes. For one, this AMT offers surprisingly smooth gear changes with minimal headnod.

It's also very responsive, intuitive and knows exactly when to downshift and when it needs to stick to the same gear. This transmission doesn't create the need for highway overtakes to be planned. Simply dip the accelerator and the engine delivers an instant flow of torque to make overtakes quick. Even at speeds of 100kmph, the transmission doesn't need to drop more than one gear for overtakes, simply because the engine is both rev happy and has plenty to offer by or before 3,000rpm.
If you feel the need to keep the revs on the boil, the transmission also comes with a manual mode with a tiptronic shift action. This comes in handy while engine braking downhill or if you want to stick to the same gear while driving uphill. It is also, of course, useful for overtakes but we found the transmission to be responsive enough that you don't really need to switch to manual mode for this. And yes, to protect the engine, it will auto-upshift at around 4500rpm or auto-downshift if the speeds are too low for a given gear.
This also makes it good fun to drive since you're never left hunting for more punch. However, when we say the transmission is good, we mean it's good by AMT standards. Under hard throttle, it's not as quick or smooth as a torque-converter or twin-clutch transmission. While driving the XUV300 with full throttle, there is a noticeable pause before upshifts, which is characteristic of automated manual transmissions. That said, given how punchy an engine this is, it offers a more exciting experience vs the Vitara Brezza diesel AMT and is also a little more engaging than the Nexon diesel AMT.

Driving The Petrol
The petrol engine in the XUV300 has strong numbers on paper and thankfully, they translate to great real world performance too. It's very easy as a city drive with smooth power delivery and a good amount of torque available at low revs. It's a motor that encourages you to upshift early as there's a strong amount of pull even in higher gears.
Taking 8.65 seconds to go from 30-80kmph (3rd gear), the in-gear acceleration is quicker than all its petrol rivals, including the EcoSport 1.5, Nexon & WR-V. Numbers aside, this reflects how easy to drive the XUV300 petrol is, ensuring good punch even if you upshift early.
It's also a great engine for highway usage, offering adequate punch for high speed overtakes, all the while offering good refinement. Thanks to this punch, it's also fun to drive and you can enjoy a drive through inclines/ghats without pushing the engine to the point where it feels strained.
However, what this engine offers in excitement, it takes away in efficiency. Delivering 12.16kmpl/14.25kmpl (city/highway) in our road tests, it's significantly down on mileage vs its petrol sub-4 metre SUV rivals like the EcoSport 1.5 (12.74kmpl/17.59kmpl), Nexon (14.03kmpl/17.89kmpl) & WR-V (13.29kmpl/18.06kmpl).

Ride & Handling
You feel confident driving the XUV too, thanks to the steering. It has three modes - Normal, Comfort and Sport -, which change the weight of the steering. These do not change how quickly the vehicle actually turns, so we preferred the light but precise and direct feel of Comfort. The suspension also makes the XUV300 feel composed at high speeds, even over poor roads. The brakes provide a safe and secure feel while slowing down too. In the city, the way the suspension reduces the impact of the potholes is also satisfying.

Safety

On the safety front, the XUV300 starts from the ground up by offering disc brakes on all four wheels, ABS with EBD, Cornering Brake Control, dual airbags and ISOFIX mounts as standard. The top-end variant gets seven airbags, including a knee airbag for the driver, and ESP based safety features like traction control, roll-over mitigation, brake fade compensation and hill-start assist too. Smaller details like an adjustable headrest for the middle occupant at the back and a proper three-point seatbelt present a very mature side of the XUV300. If you are focussed on the front seats, the height-adjustable seatbelts at the front deserve some brownie points.
Variants
The Mahindra XUV300 is available in 4 variants - W4, W6, W8 & W8 (O). Both, the petrol manual and diesel manual are available in all the variants. The diesel AMT will be available in the top-spec W8 (O), though, it remains to be seen what other variants get the diesel AMT option.
Mahindra's XUV300 will appeal to you for its high feel good factor and exciting nature. Despite a few shortcomings, it feels premium and is very well equipped too. Its cramped boot can be a deal breaker for households with just one car. While the rear seat isn't class leading in terms of space and comfort, it is comfortable enough for two adults.
Pros & Cons of Mahindra XUV300

CarDekho Experts:
The XUV300's value, practicality and SUV quotient aren't its main attractions. Its indulgent packaging, sense of solidity and fun to drive nature are, and will impress you enough to tempt you to open up your wallet a bit more for this Mahindra.
Things We Like
Comfortable even over bad roads.
Feels premium because of class-leading safety and convenience features.
Stable and fun to drive because of steering and good grip.
Overtaking on highways easy, thanks to punchy diesel engine.
Things We Don't Like
Premium experience let down by quality issues like poorly fitting panels, mushy switches and flimsy stalks.
Small boot will be a hassle if it's the only car in the family.
Cramped footwell, no space for dead pedal for driver
Not the most spacious or comfortable backseat in the class
Stand Out Features
Rear Disc Brakes: Only SUV in the segment to offer these. They undoubtedly offer better braking performance compared to drum brakes.

Seven airbags on top-end W8(O) variant includes knee airbag for driver.

Steering modes let drivers pick the right setting for them. 

Dual-zone climate control allows two different temperature settings. 
Mahindra XUV300 User Reviews
Based on
2299 User reviews
All (2040)
Looks (566)
Comfort (319)
Mileage (129)
Engine (213)
Interior (219)
Space (179)
Price (297)
More ...
LATEST
HELPFUL
VERIFIED
CRITICAL
Good safety, Best performance Achieved Fuel Efficiency of 22Kmpl at 80-100Kmph speed Stylish with Bold look-W8 and w8(O) mine is W6 Ds Manual need to get Projectors headl...Read More

Completed 10009kms in 13 months. My immense love towards the fuel economy-19 -21kmpl on the highways and 15- 17kmpl in the city. The sunroof was a joy for kids and family...Read More

Awesome experience after driving 21487kms. Bought this beast on 31/08/2020 and after doing the 3rd free service. The performance and mileage are increasing simu...Read More

The car delivered me without checking of electric function. The door lamp not working. Malfunction error in a brand new car. Most electric functions suddenly not working.

I have fallen in love with my car, W8 optional petrol is a pure gem. Have gone on a 4-day trip, with my wife, boot space for luggage was never an issue. The boot&nbs...Read More

Mahindra XUV300 Videos
Mahindra XUV300 2021 has 14 video of its detailed review, pros & cons, comparison & variant explained,test drive experience, features, specs, interior & exterior details and more. Watch our Latest Hindi video of Mahindra XUV300 to know price, safety features & more.
Mahindra XUV3OO | Automatic Update | PowerDrift

Apr 08, 2021

5:52

2019 Mahindra XUV300: Pros, Cons and Should You Buy One? | CarDekho.com

Feb 10, 2021

14:0

Mahindra XUV300 vs Tata Nexon vs Ford EcoSport | Petrol MT Heat! | Zigwheels.com

Feb 10, 2021

Mahindra XUV300 Petrol AMT Review: DRIVING को बनाये आसान! लेकिन …

Feb 10, 2021

1:52

Mahindra XUV300 Launched; Price Starts At Rs 7.9 Lakh | #In2Mins

Feb 10, 2021
Mahindra XUV300 Colours
Pearl White

Aquamarine

Dual-Tone Red Rage

Dual-Tone Aquamarine

Red Rage

D'Sat Silver

Napoli Black

Mahindra XUV300 Road Test

Users who viewed this car also viewed
Ex-showroom price in New Delhi
Best SUV cars In This Range
Ex-showroom price in New Delhi
Ex-showroom price in New Delhi

Are you Confused?
Ask anything & get answer in 48 hours
Mahindra XUV300 Questions & Answers
What is the exact on-road price of Mahindra XUV300?
The on-road
price of XUV300 in Delhi
starts at Rs. 8,99,009. The on-road price is inclusive of RTO charges and insurance.
What are the latest October offers available on Mahindra XUV300?
For the month of October 2021, 6 offers are available on the Mahindra XUV300 in Delhi.
Which car is better XUV300 or Vitara Brezza?
What will the EMI or down payment for Mahindra XUV300?
Mahindra XUV300 EMI
starts at ₹ 17,617 per month for a tenure of 60 months @ 9.8% for a loan amount of Rs 8.33 Lakh & down payment will be ₹ 93,000.
Is Mahindra XUV300 a 5 or 7 seater SUV?
Mahindra XUV300 is a 5 seater car, Which is priced at Rs 7.95 Lakh. Check more
5 seater SUV
options on CarDekho.
Write your Comment on Mahindra XUV300
29 comments
1
j
jay vasoya
Feb 3, 2021 7:41:09 PM
I bought this car .. conform driving, I have no issue..very good car.. very safest car
Read More...
Reply
Write a Reply
1
J
jumni maro
Dec 30, 2020 7:52:27 PM
The most pathetic car..lot of disturbing noises from brake and suspension area..
Read More...
Reply
Write a Reply
1
U
ujjal hazarika
Nov 24, 2020 1:27:35 PM
I brought xuv 300 w8 (o) diesel facing problem in head light . I contact the service centre but no response
Read More...
Reply
Write a Reply


Mahindra XUV300 Price in India
Choose your city
×
We need your city to customize your experience