Renault Scala and Competition
Modified On Sep 08, 2012 11:59 AM By Mansi for Renault Scala
The already competitive sedan segment is getting more aggressive with each passing launch. The latest entrant Renault Scala, much hyped, much talked about and much waited for, added to the hue and cry of this segment. Renault India is comparatively new to Indian market but that is not diverting them from their 'go-getter' stance. Renault's youngest is calling a head on with the likes of Volkswagen Vento, Skoda Rapid and a few others that fall in the same price range.

The Scala petrol is the 1.5 HX2 engine with a capability to deliver a mileage of 16.95kmpl (ARAI) and the 1.5-litre K9K diesel engine that returns a mileage of 21.64kmpl (ARAI). Before we take this competitive analysis forward, the prices of all variants of Renault Scala are as follows:
| | |
| --- | --- |
| Model | Price |
| RxE Petrol | Rs. 6.99 lakh |
| RxL Petrol | Rs. 7.85 lakh |
| RxL Diesel | Rs. 8.69 lakh |
| RxZ Diesel | Rs. 9.57 lakh |

Volkswagen Vento vs Renault Scala
The petrol variants of the Volkswagen Vento start from a price of Rs. 7.10 lakh and go up to Rs. 9.21 lakh for the Highline AT. The diesel variants on the other hand are two, with Trendline MT being tagged at a price of Rs. 8.30 lakh and Highline MT priced at Rs. 9.99 Lakh. In terms of engine, Vento has a 1.6-litre mill that delivers a mileage close to 20kmpl for diesel models and approximately 14-15kmpl for petrol. In terms of both, price and mileage, Scala can give a tough competition to the Volkswagen Vento. The edge that Vento has over Scala is that Volkswagen brand name is much established and much more renowned and trusted in India whereas Renault is comparatively a new name. In terms of looks, it's very subjective.

Skoda Rapid vs Renault Scala
Skoda Rapid petrol starts at a price of Rs. 6.75 lakh and goes up to Rs. 8.99 lakh. The diesel variants start from Rs. 7.95 lakh and go up to Rs. 9.9 lakh. In terms of pricing, both Scala and Rapid are neck to neck but with Rapid having 5 options (including automatic and petrol transmissions) in petrol and 1 Automatic transmission variant and 2 Manual transmission option variant in diesel, giving consumers a large variety of permutation and combinations to choose from. Scala on the other hand has just 2 petrol variants and 2 diesel variants. Skoda Rapid delivers a mileage of approximately 15kmpl in petrol and around 20kmpl in diesel.

Hyundai Verna vs Renault Scala
Hyundai Verna is available in the market with 5 petrol models and 5 diesel models, the top of the line for each mated to Automatic Transmission. The base petrol variant comes at Rs. 6.99 Lakh and goes up to Rs. 9.72 lakh, diesel on the other hand, starts from Rs. 8.19 lakh and goes up to Rs. 10.99. With engine option of 1.4-litre mills and 1.6-litre mills in both fuel types, the options for consumers are varied. Hyundai is one of the most celebrated brand names in the passenger car segment; in fact it stands at the No.2 position in the market. Therefore the competition with Hyundai is not going to be easy for Scala.

Nissan Sunny vs Renault Scala
This would be an example of what a brand name can do for you. Both, Nissan Sunny and Renault Scala are almost the same cars with same power-mills and very similar looks. The price of Nissan Sunny however starts a little below Renault Scala, with petrol base model being priced at Rs. 5.83 lakh and diesel base model being tagged at Rs. 7.98 lakh. The top of the line for Sunny is Rs. 8.78 lakh. The major difference between the two sedans is the CVT present in petrol version and a little more premium looks of the Scala.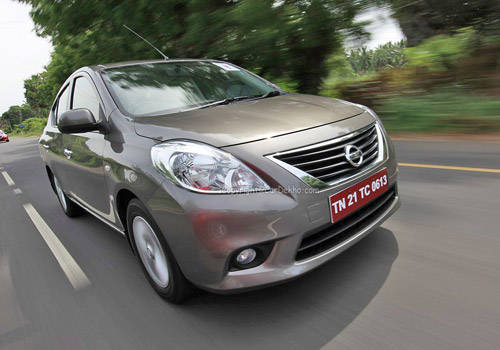 Toyota Etios vs Renault Scala Toyota Etios, once again is available with multi options in both petrol and diesel. The base petrol model starts at a price of Rs. 5.03 lakh and the top end is Rs. 7.03 lakh, the diesel base variant is Rs. 6.56 lakh and the top of the line comes at Rs. 7.99 lakh. Etios comes with 1496cc manual petrol variant that returns a mileage of 17kmpl approximately and the 1364cc diesel variant that delivers a mileage of 23kmpl. In terms of looks, the Etios looks classy.

Well, irrespective of all these terms and conditions and analysis that we presented, the real test of the Scala is yet to take place. How the sedan actually fares, we'll know once it comes in day to day use. But nevertheless, it's a beautiful piece that Renault India has brought in and here is one hoping that all is well for Renault Scala…
#All prices mentioned are ex-showroom
Read More on : Renault Scala
Was this article helpful ?
0 out of 0 found this helpful