India Gets First 14-lane Expressway
Modified On Jun 01, 2018 11:58 AM By Saransh
The Delhi-Meerut Expressway and Eastern Peripheral Expressway come as a massive relief to Delhi's congestion and pollution woes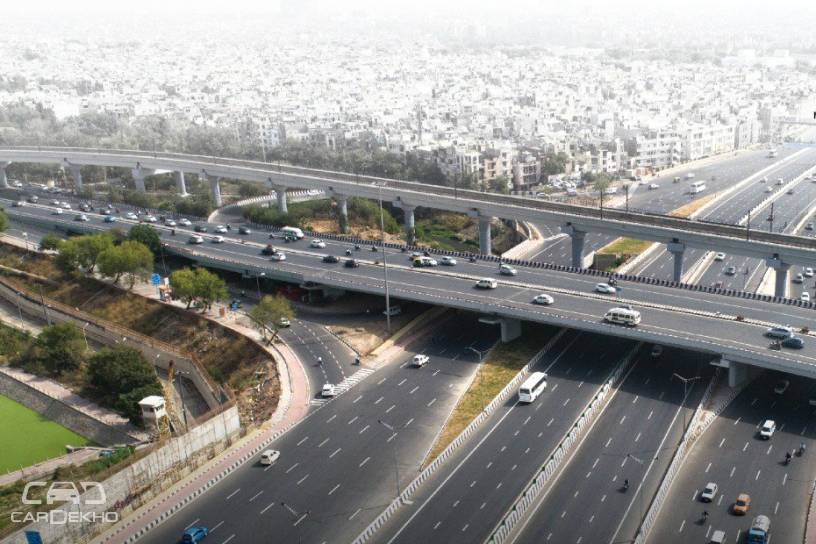 In a bid to decongest and curb down pollution in the national capital, the Prime Minister of India inaugurated two new expressways on 27 May 2018. The newly constructed expressways include first phase of the 14-lane Delhi-Meerut Expressway and the Eastern Peripheral Expressway (EPE). Upon completion of all four phases, the 14-lane expressway will bring down the travel time from Delhi to Meerut to 60 minutes (from 4-5 hours). The EPE, on the other hand, connects Kundli to Palwal while passing through Sonepat, Baghpat, Ghaziabad, Noida and Faridabad.
Delhi-Meerut Expressway
The first phase of the Delhi-Meerut Expressway that has just been inaugurated is a 14-lane, 8.36km-long stretch that spans from Nizamuddin Bridge to UP border. It consists of a six-lane expressway with two 4-lane service roads on either side. It also gets two 2.5m cycle tracks on both sides and a 1.5m footpath. Further, to keep pollution in check, the expressway features vertical gardens, solar panels for lighting and drip water irrigation as well.
For safety, the 14-lane road has been equipped with Advanced Traffic Management Systems (ATMS) and CCTVs to monitor traffic. The Government says that the 14-lane expressway has been completed in a record time of 18 months, instead of the estimated time of 30 months, at a cost of Rs 841 crore.

The total length of the Delhi-Meerut project is 82 km, of which the first 27.74 km will be 14-laned, while the rest will be a 6-lane expressway. The project is likely to cost Rs 4975.17 crore in total. Here's a look at the four planned phases of the expressway.
Also Read: Ministry Of Road Transport Commences 29th National Road Safety Week
Phase

Description

I

Nizamuddin Bridge to UP Border (Km 0.000 to Km 8.360)

6-lane Expressway & 4+4 service lanes

II

UP Border to Dasna (Km 8.360 to Km 27.740 = 19.28km)

6-lane Expressway & 4+4 service lanes

III

Dasna to Hapur (Km 27.740 to Km 49.346 = 22.27km)

6-laning of NH-24 with 2-lane service roads on either side

IV

Green-field Alignment of Delhi-Meerut Expressway from Dasna to Meerut (27.740 to 59.983 = 31.78 km) - 6-lane Expressway

Eastern Peripheral Expressway
The Eastern Peripheral Expressway is a 135km-long stretch that connects Kundli and Palwal (both in Haryana). It has been constructed in 17 months for Rs 11,000 crore to curb pollution and congestion in Delhi by diverting over 50,000 vehicles from entering the national capital everyday. It is expected to bring down the pollution level in Delhi by 27 per cent.

This is claimed to be the first highway to be lit by solar power and with a provision of rainwater harvesting at every 500 metres on either side. There are eight solar power plants on this expressway with a capacity of 4000 KW (4 megawatts) to light up underpasses. It even has solar pumps for watering plants. Like the Delhi-Meerut Expressway, the EPE is also equipped with various new advanced systems for safe and fast movement of vehicles. It gets a smart and intelligent highway traffic management system (HTMS) and video incident detection system (VIDS) for safety. It also gets electronic toll collection system (ETC) through which toll will be collected electronically (Fastag) and only for the distance travelled, rather than the entire length. Weigh-in-Motion (WIMs) equipment have also been installed at all 30 entry points of the Expressway to stop entry of overloaded vehicles.
Have you been to any of these expressways? Do share your inputs in the comments section below if you have.
Also Read: Uniform Road Tax On Cars Could Soon Be A Reality
Read More on : Honda Amaze on road price