Ministry Of Road Transport Commences 29th National Road Safety Week
Modified On Apr 24, 2018 03:45 PM By Dhruv.A
To support the initiative, SIAM-SAFE, along with the Ministry of Road Transport and Highways, will be conducting eye and health check-ups across India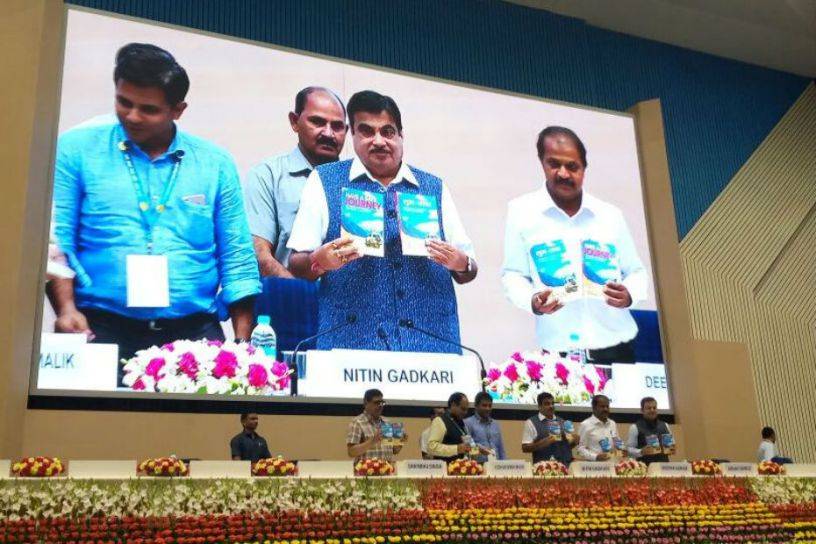 The 29th National Safety Week was kicked off yesterday, on April 23, by the Ministry of Road Transport and Highways and will go on till April 30, 2018. As a part of this, the Ministry of Road Transport and Highways has decided to hold various road safety activities across the country. These include free eye check-up camps at 16 toll plazas, health check-up camps at 15 locations and other road safety awareness programs for commercial drivers at various locations across India. Most of the commercial truck drivers in the country are overworked due to long hours and are not at their best when it comes to fitness. These exercises should help them understand that paying attention to their health is crucial to the safety of other road users. Related: National Road Safety Week: Renault To Offer Discounts On Tyres And Accessories
Below are some more details:
Ministry of Road Transport & Highways inaugurated the 29th National Road Safety Week 2018 today at Vigyan Bhawan with the support from SIAM and all other stakeholders working in the area of Road Safety.
The Program was inaugurated by Shri. Nitin Gadkari, Hon'ble Minister for Road Transport & Highways, Shipping and Water Resources; River Development & Ganga Rejuvenation. He addressed more than 1200 school representatives and students on the need of an hour of spreading the message of Road Safety among our coming up citizens of the nation.
During the inauguration, SIAM assisted MoRTH by displaying the various initiatives work implemented by Gyan Mandir School on the best practices adopted by school in spreading the awareness on Road Safety. The week-long initiative will see participation of school students, SIAM members, Delhi Traffic Police and NGO's.
Speaking on the occasion, Mr. Vishnu Mathur, Director General, SIAM, said, "SIAM is committed towards developing a sustainable road safety model by imparting valuable road safety tips. At SIAM we believe that the significance of road safety must be addressed at an early age and hence we strive to reach out to the students; apprise and educate them on road safety. The week long activities will include training workshops, competitions, workshop for students, drivers and general masses with an objective of reducing fatalities on our roads. We are extremely thankful to the Ministry of Road Transport and Highways, Delhi Police and others who have extended their support"
SIAM -SAFE with the support of MoRTH , NHAI and Sight Savers will also be organising Free Eye Check up Camps at 16 Toll Plazas in the country. They will be also be organising 15 Health check up camps and road safety awareness training for commercial vehicles drivers at truckers hub with TCI foundation. SIAM -SAFE with the support of members will also be organising various activities constitute awareness programs for drivers and students which will also be held in partnership with various state transport departments, dealer outlets and educational institutes. Also Read:
The activities will include road safety activities at automobiles dealers' network across the country. A road safety awareness driver at Bareilly, Moradabad and Lucknow is organised along with UP transport department. Driver's health is also of utmost importance when we look at following road safety. As a part of this initiative, SIAM along with MoRTH has organised a free eye check up camps at 16 Toll Plazas.
Some of the other major activities taking place during Road Safety Week are:
Road Safety Vehicle display at GMR, Delhi

Road Safety Awareness program for Students and drivers with GMR at Delhi Airport

Interactive session with Commercial Vehicle Drivers at Burari

Health Check Up camp for Drivers at Ludhiana, Chandigarh Haridwar, Rudrapur, Jaipur, Bhilwara, Allahabad, Patna, Kanpur, Bhiwandi, Mumbai, Andhra Pradesh, Hosur, Haldia and Hoogly

Road Safety awareness drive for Drivers at Ludhiana, Chandigarh Haridwar, Rudrapur, Jaipur, Bhilwara, Allahabad, Patna, Kanpur, Bhiwandi, Mumbai, Andhra Pradesh, Hosur, Haldia and Hoogly, Vijayawada, Pithampur, Ahmedabad, Indore, Kolkata, Mohali and Delhi

Road Safety awareness drive for Students with Eicher at Delhi

Road Safety Awareness Drive for Drivers of BEST, Commercial taxis, bus & trucks at Maharashtra

Road Safety awareness drive for Students with Eicher at Vijayawada, Pithampur, Ahmedabad, Indore, Kolkata, Mohali

Road Safety Awareness Drive for Drivers of BEST, Commercial taxis, bus & trucks at Maharashtra

Road Safety Awareness Drive for Students at Hyderabad and Pondicherry

Road Safety Workshop for Students of JIET and Road Safety Cycle Rally for Road Safety at Cuttack, Odisha

Road Safety Workshop for School & College Students at Tripura

Refresher Workshop for HMV Drivers at Balasore, Odisha