For Sale: The Very Last Bugatti Veyron Super Sport Coupe
Published On Dec 14, 2016 03:54 PM By akash for Bugatti Veyron
The last Bugatti Veyron Super Sport coupe ever built is up for auction.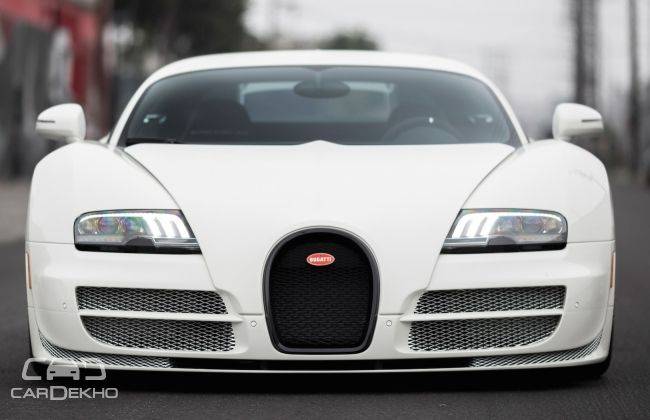 The last Bugatti Veyron Super Sport coupe ever built is up for auction. In its 10-year lifespan, Bugatti manufactured only 300 coupes and 150 roadsters, out of which only 48 Super Sports were built. This car sports the serial number '300'. If this isn't enough for you to think this Veyron is special, there's more: it is one of the eight US-spec Super Sports models and was also displayed at the 2015 Geneva Motor Show along with the first built Veyron. It was sold by Bugatti in August 2012 and is being auctioned now in Arizona in January 2017.

The Super Sports have 202.8PS more power, larger turbos, two additional fuel pumps, and are 100 pounds lighter than the standard Bugatti Veyron. The Veyron being auctioned has been driven only 400 miles (643km), out of which, 269 miles (432.8km) were driven by Bugatti engineers themselves for the final testing before delivery. When brand new, it had a price tag of around $1.7 million (Rs 11.4 crore). However, it comes under the category of rare cars now and is expected to be sold for around $2 million (Rs 13.4 crore). It is powered by an 8.0-litre quad-turbo W16 engine which produces 1215.5PS of power and goes from standstill to 60 mph (96kmph) in just 2.5 seconds with a limited top speed of 257 mph (413kmph).

The Bugatti Veyron was discontinued in 2015 since it was replaced by the Bugatti Chiron, which borrows its (heavily reworked) engine from the Veyron. However, it produces 1521PS of power and has a claimed top speed of 261 mph (420kmph). It was first showcased at the 2016 Geneva Motor Show and will have a limited production of 500 units.
Read More on : Bugatti Veyron price
Was this article helpful ?
1 out of 1 found this helpful