Chevrolet Sail Sedan Scores Zero-Star in LATIN NCAP Crash Test
Modified On Apr 21, 2016 04:13 PM By Sumit for Chevrolet Sail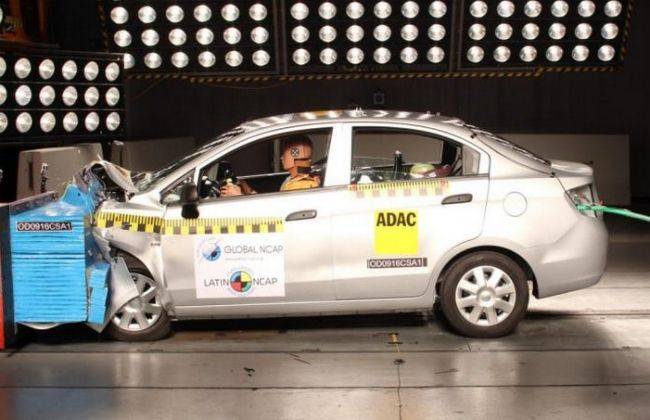 The NCAP tests have been becoming exceedingly popular with Indian car owners who have now begun to wake up to the prospect of safer cars apart from just well-equipped cars. We all remember the frenzy that was generated after the Maruti Suzuki Alto and the Tata Nano were tested. The latest car to be evaluated by the Latin NCAP is the Chevrolet Sail sedan and, sadly, the results are not encouraging. The Sail received a zero-star rating for its safety standings.
As per the test report, the biggest area of concern is the lack of protection offered to the driver's head, which can result in possibly fatal consequences. The protection offered to the chest was deemed poor too, courtesy the high deflection and contact with the steering wheel. The car scored zero stars in the Adult Occupant Safety (AOS) and a measly two stars in the Child Occupant Safety (COS) assessments. The testing vehicle lacked airbags. It scored comparatively better in the COS because of the anchors installed for child safety.

It is the second car from Chevrolet's line-up in recent times to score a zero rating. The Chevrolet Aveo also received a zero-star rating in late 2015. The Latin NCAP has said that General Motors, Chevrolet's parent company, has one of the worst safety ratings in the world – a fact that has invoked a sharp response from NCAP officials.
Recommended Read:
New Fortuner Scores 5-star Rating in NCAP Crash Test
Innova Crysta Receives a 4-Star ASEAN-NCAP rating
Maria Fernanda Rodriguez, president, Latin NCAP, said, "I am shocked that we keep finding zero star Chevrolets in the Latin American market. Whilst other manufactures have shown improvement over the course of the last five years, GM models continue to disappoint. Latin NCAP is committed to bring safer cars to Latin America and we will keep testing, informing consumers, and highlighting GM's as well as other car manufacturer's shortfalls until change is effected".
David Ward, global NCAP secretary general, said, "Two years ago GM announced a 'Speak Up for Safety' program billed as an important step toward embedding a customer and safety-centered culture in every aspect of the business. Global NCAP warmly welcomes these commitments but believes that they now must have practical application in Latin America and in other emerging automotive markets."
As cars get quicker, speed limits across the world are rising higher. Autonomous driving is just around the corner, and we feel that manufacturers must concentrate their efforts on making cars safer across board. Smaller entry level cars in particular (such as the Chevrolet Sail sedan) that form the bulk of sales across the world, are in need of extra attention, especially in countries like India and Brazil, that have bad safety records.
Also Read: Chevrolet Spin Spied Testing
Read More on : Sail
Was this article helpful ?
2 out of 2 found this helpful