Lamborghini Huracan LP 610-4 : Replaces Gallardo
Modified On Sep 15, 2014 07:03 PM By Prithvi for Lamborghini Huracan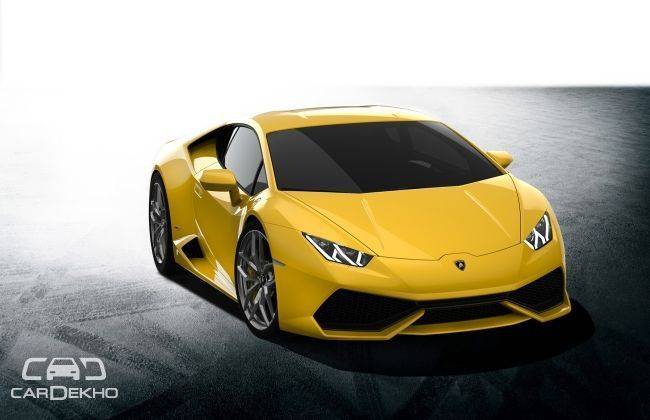 "The Raging Bull", has been an epitome of design and performance since its inception back in the year 1963. Over the years, Lamborghini's might in making some of the best sports cars in the history of automobile manufacturing have lead it to become the name to reckon with. The Gallardo is one such name that further reiterates the efforts of this Italian marquee to be the most successful performance sports car of its time. This is evident from the numbers it sold which stands at 14,022 units though out its self life cycle. Available for sale from the year 2003 – 2013, Lamborghini Gallardo wasn't just famous for its exterior and interior opulence but also for the 5.2 litre V10 engine it had to offer beneath the skin. This is the only reason why it survived and got the appreciation that it did from enthusiasts and consumers for its unique all wheel drive, V1O engine which is a gem to drive both in the city and the track to be precise.

However over the years, the Gallardo underwent a couple of upgrades or as manufacturers would term it were different variants ranging from Coupe to Spyder types clubbed with sport editions and limited editions. The most significant one out of these variants offered for sale was the Superleggera, which basically provided a Gallardo in its raw form with carbon fibre inserts mostly featured in the cabin that resulted in reduction of weight thereby making it one of the most powerful Lamborghini in the product line up. From an Indian perspective, Gallardo's last appearance in the country was via a limited edition that bore a tricolour paint job with an "India Serie Speciale" plate located on the driver's seat quarter class.

And now this might of the Gallardo has only grown bigger as Lamborghini for the first time showcased the Huracan LP 610 – 4 during this year's Geneva Motorshow after which the Italian manufacturer went ahead and launched it in both European and American markets. It's our turn this time to witness the launch of this immaculately designed intimidating machine which features a 5.2 litre V10 under the hood. Lamborghini describes Huracan as "The Instinct of the Future", which purely highlights the automakers latest design philosophy as currently seen to the Aventador.



Technologically advanced, the Huracan features sharp and aerodynamic lines throughout its exterior design thereby making it increasingly more appealing to the eye. Its front fascia caters to a pair of LED headlamps that not only look distinctive in character but also blend in perfectly with the sharp lined bonnet and bulged front wheel arches. Not to forget the air dam that forms a sizeable part of the front lower bumper enhancing its front end image. 20 inch alloy wheels adorn its side profile with carved out side skirt and chiselled side view mirrors. While the rear brings together LED tail lamps, a rear diffuser and a glass housing similar to the one available on the Aventador that enables one to see the handcrafted power plant propelling this machine.

Cockpit type of an appeal, the cabin provides handcrafted leather upholstery to begin with. There is a 12.3 inch TFT display which acts as an interface for all vital information concerning the vehicle. Its instrument panel and centre console feature slender lines indicating towards its sporty nature which can be personalize as the requirement of a customer which is the case in all high end performance cars of this day and age.

Like its overall design and appeal, the Huracan LP 610 – 4 offers a hybrid chassis which is made up of carbon fibre and aluminium compounds. This light weight construction contributes to a dry weight of 1422 kilograms enabling this machine to feature excellent handling characteristics, at same time a stiffer setup enables one to really extract the best from within. This ability is further complemented by famous 5.2 litre V10 engine on board which churns out 600 bhp with 560 Nm. High on technology, the Huracan LP 610 – 4 features direct and indirect fuel injection system that makes more power than the Gallardo and fuel efficient at the same time. Powering its wheels is a 7 speed Dual Clutch Transmission christened as "Lamborghini Doppia Frizione" that also is an all wheel drive system having a new hydraulic multi-plate clutch. From road to racetrack, the user can utilize its different driving modes by just selecting a switch located on its steering wheel.

As stated earlier, this particular Lamborghini is claimed to be more powerful than the Gallardo and this is evident from its power-to-weight that stands at 2.33 kilograms per hp (Horse Power) resulting in outright performance. Therefore, the Huracan can accelerate from standstill to 100 kmph in just under 3.2 seconds and it has a top speed of a little more than 325 kmph. If the performance isn't enough, then as per Lamboghini – the Huracan is more fuel efficient that rest of its siblings as it also features Start Stop technology that helps its overall cause.

With an Indian debut on the cards, the excitement to be able to see the Huracan on our roads is definitely growing. Its sheer performance, agile looks and light weight construction is bound to tickle the instincts of the rich (end consumer) while enthusiasts like you and me will just wait to get a glimpse of it and get swept off by its mere throttle note that is definitely music to the ears for any petrol-head.
Was this article helpful ?
0 out of 0 found this helpful