Exploring Navratri in the Nissan Evalia
Modified On Nov 13, 2014 03:50 PM By Firdaus for Nissan Evalia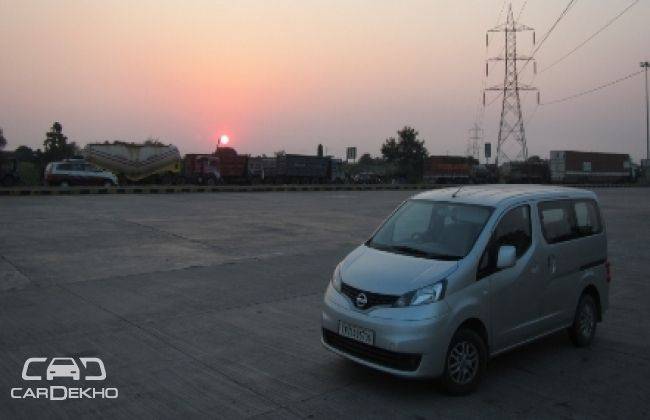 Navratri is one of the biggest festivals in India. Celebrated not just in the state of Gujarat, this nine day dance and music festival has spread its roots across India, especially urban India where Navratri is looked more as an opportunity for youngsters to get together and have a grand time. This festival which started in the villages of Gujarat to pay homage to various Goddesses in the Hindu mythology has now become an opportunity for ladies and gents to flaunt their traditional best not just in terms of attire, but also in terms of dance moves and spirituality. Navratri celebrations are not just restricted to Gujaratis, people from other communities also partake in this nine night celebration popularly also known as Dandiya Raas and Garbha. What is the difference between the two. Traditionally Garbha is performed by women around an idol of the Goddess Durga; the dance is performed in circles with women dressed in their finest, colourful traditional attire called Chaniya Choli, men wear similar attire called Kediya. Modern day Navratri celebrations are a power packed amalgamation of Garbha and Dandiya.

Garbha in full swing
Conducted between the end of September and the start of October, Navratri is a prelude to Dussera, the second most celebrated festival in India after Diwali. Dussera came into existence when Lord Ram conquered Lanka and burned down Ravan, it symbolizes 'Victory of good over evil'. Since it was celebration time all around we thought of taking a little roadtrip to discover the essence of Navratri and how it is celebrated in urban and rural areas. A travelogue usually means lots of packing for me and when it is a festive roadtrip, the amount of clothes just doubles, after all how can a lady travel without looking her best? Since the luggage increased we needed a car big enough to stack all of our stuff, and since we knew the journey would be long, we required a car which would be comfortable and spacious enough; so the good folks at Nissan were more than happy to lend us the Evalia for this travelogue. It was the perfect car since it's comfortable, has plenty of storage space and could accommodate all the additional shopping bags that I'd get back from Gujarat!

Intermittent traffic on the Ahmedabad highway
Day one
After talking to my Gujju friends and seeing information on Google, we came to a conclusion that the best place to witness Navratri would be in Ahmedabad, the commercial capital of Gujarat known for its diamonds, clothes, traditional food and of course Garbha! So three days before Dussera we embarked on our 530 km journey to Ahmedabad. The aim was to reach the city well before sundown so that we'd have enough time to rest and get ready for the dancing and music we were so keen on exploring. The road to Ahmedabad was straight, with bare minimum potholes and intermittent traffic, all throughout the Nissan Evalia performed exceptionally well. The air-kconditioning made sure my make-up didn't melt in the sweltering heat that we were encountering and the ample headroom and legroom was a relief when we needed to stretch our arms and legs; I even squeezed a comfortable nap at the back seat. Since we started early morning we managed to reach Ahmedabad by four in the evening which gave us ample time to rest, shop and get ready.

A couple performing the Garbha at Ahmedabad

A professional Garbha dancer
As night dawned we dressed up in our finery and headed to GMDC grounds, one of the most popular Garbha joints organized by the Gujarat Tourism Board. As the night progressed more and more people started flowing in. While the occasion was more traditional than modern, I had the song "Shiny disco balls" playing in my head looking at the number of women and men wearing the blingy aka shiny Chaniya cholis and kediyas. One wouldn't need flash to click pictures here, there were enough reflectors already!

No flash photography. Chaniya cholis make for good reflectors!

The enthusiasm of the people here was so contagious that I decided to try my hand at Dandiya. The attempt though was not very successful as I landed getting my knuckles hit more often than the dandiya itself. Same could be said for my colleague as well. With the Dandiya attempt turning out to be futile, we decided to give Garbha a go, only to realize it isn't as simple as it looks. After embarrassing myself enough I decided to stick to clicking pictures while my colleague continued his attempt. With the crowds gradually dispersing we decided to call it a night and headed back to our hotel.

Bling is the way to go
Day two
The next day we decided to visit the temple of Ambaji, a revered shrine frequented by devotees across Gujarat. It is said that pilgrims visit this shrine to invite the Goddess to play Garbha with them, as they believe she visits devotees during the nine nights of Navratri. Enroute our journey to Ambaji the roads were filled with devotees chanting "Bol mari Ambe, Jai Jai Ambe". The 11 km long Trishulia ghat towards the temple was decorated with flags and colourful lights marking Navratri celebrations.

Ambaji temple. One of the Shakti Pithas sees hoards of devotees during Navratri
The temple was tranquil none-the-less with devotees waiting to pay a visit to the shrine. The unique part about the Ambaji temple is that there is no idol to worship, but a copper plate carved with sacred figures. The Goddess Amba is worshipped as a Jantra, which means she is omnipresent. The Ambaji temple is recognized as one of the original Shakti Pithas (religious texts) which says that the heart of the Goddess fell on earth when her body was dismembered. If was quite a task to get a glimpse within the temple thanks to the heard of worshippers present there. As the sun peaked and the crowds scurried for some shade and cool, we got the opportunity to get a few clicks of the temple. It was quite a task, but well worth it. The second day of our journey was spent pretty much went in going to and from Ahmedabad to Ambaji and back. It is a 180 km journey one way.

The Ambaji temple at night
Day three

Back to base
After experiencing Navratri in the traditional Gujarati style we decided to pack our bags along with the additional shopping bags and head back to Mumbai to capture how this festival is celebrated outside Gujarat. Mumbai has a strong Gujarathi community with certain pockets being Gujarathi dominated. While some are famous for the number of Gujarathi food joints, some are famous for their Navratri celebrations. Mithibai college in Andheri is one such place; a Gujju college, the Navratri celebrations here attract not just the Gujarati crowd, but also people from other communities.

Ahmedabad or Mumbai, men love to flaunt their kediya
As we arrived here we were taken aback with the number of ladies dressed up in their finest, fashionable best. Now mind you, these ladies looked uber chic - they were dressed up for the occasion sans the bling which made their overall look more elegant. If I were a guy this sure would be the place for me to hit on girls - there were pretty faces all around. All through the travelogue we enjoyed the Nissan Evalia - it was fun to drive, handled brilliantly on the highways as well as in city traffic, and not once did we feel were driving a mammoth of a car; the maneuverability was brilliant. The only place we faced an issue with the Evalia was in Mumbai. Now don't get me wrong, the car didn't have any issues at all, it was simply its proportions that didn't find a spot large enough to fit in the cramped bylanes of Mumbai, rather Andheri. After struggling for an hour to find a parking spot large enough for the Evalia we headed to Mithibai college to go shutter crazy. All through the travelogue we hoped to click a picture of the Nissan Evalia against a backdrop of Garbha dancers, but since all the venues were enclosed, we couldn't do so.

Spinning around to the Garbha tune
The crowd at Mithibai college shared similar enthusiasm as the one in Ahmedabad except that this was comparatively on a smaller scale. A stage was erected for the musicians to play, this also happened to be the best spot to click pictures from so I gleefully parked myself here. While the Dandiya Raas in Ahmedabad had traditional Gujarathi songs being played, the one in Mumbai was a mix of both. The most popular tune here was "Nagada" from the movie Ram Leela. This I'd say was still apt given it's a Garbha song, but Yo Yo Honey Sing? Yes, there were moments went the entire crowd echoed to Punjabi Honey Sing beats while tapping a tune to the Dandiya. Nonetheless it was immense fun.

View from the stage at Mithibai
Throughout this travelogue I realized that these celebrations of dance and music are more of a spiritual kind aimed to bring people together and celebrate, forgetting differences and being grateful to God for all he has given us. The Evalia was a brilliant companion throughout and we're now looking forward to another journey soon.
Was this article helpful ?
0 out of 0 found this helpful