Dust-kicking Gateaway
Modified On Mar 19, 2015 06:46 PM By Sundeep for Renault Duster 2016-2019
The Gang With French Flair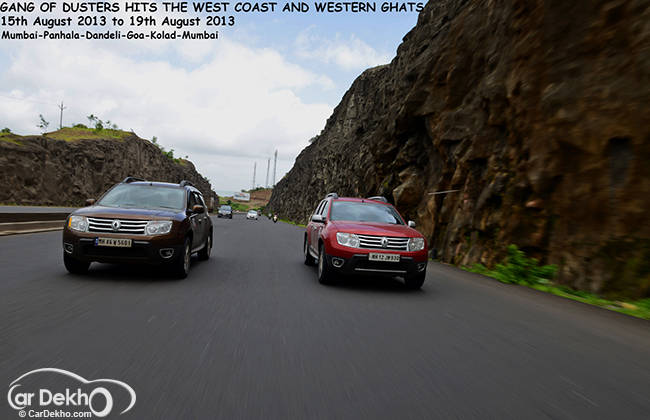 West Coast and the Western Ghats hit by the Gang of Dusters!
Well, as far as the Gang of Dusters is concerned, the way the Indian car market is evolving, I think that several other parts of the country will soon be hit by this gang. And it shouldn't come as a surprise if other such quaintly named gangs promoted by other manufacturers also decide to have some fun on Indian roads. Tata Motors (Full Throttle) and Mahindra (Mahindra Adventure) have been in the fray for quite some time and have been organizing motoring events to provide some much needed excitement to their customers; in the process they also get an opportunity to showcase their products' capabilities.

Now Renault has also entered this arena with the maiden event aptly named "West Coast Expedition" and the way the very first event has been handled by Renault it seems that the Gang of Dusters is destined to become a formidable force in foreseeable future. Actually, that shouldn't be surprising at all, especially when one reckons with the fact that Renault managed to entrench itself into a highly competitive and price sensitive Indian personal vehicle market within a span of one year with the formidable weapon that it had in its hand - the Duster.

Not that Renault was totally unknown in India. The earliest reference to Renault, i.e, in Indian context, if my memory serves me right was as one of the suitors shortlisted for the fledgling Maruti. It is another story that Suzuki managed to win the bride and the Maruti-Suzuki combine went on to change the Indian Automotive landscape forever. Later, Renault had an alliance with Mahindra resulting in introduction of Logan. Unfortunately, despite being an excellent product, Logan failed to enthuse the car buying public to look beyond Maruti Swift Dzire and Tata Indigo. In all probability, the dated looks played the proverbial spoiler. Somewhere down the road the alliance between Mahindra and Renault floundered and finally Renault decided to navigate the Indian market on its own with support from its international alliance partner Nissan. It is understandable, as the Renault-Nissan combine happens to be the fourth biggest car manufacturer in the world and sooner or later it had to have a presence in fast emerging car market of India.

At present as the matter stands, looks like this has been a masterstroke which is good not only for Renault –Nissan combine but good for Indian car buyers as well. Suddenly, out of nowhere Duster comes forth to enchant the car buyers with its practicality and performance. So much so that other manufacturers are forced to wake up and do a rethink about the desirability of having a small affordable SUV / Crossover in their model range. Ford Motor has been the first one off the block with Ecosport and believe me, apart from Nissan Terrano (Duster with Nissan logo) some more are bound to follow in due course. Off course, all these years Premier Rio and Skoda Yeti have been assiduously marking their presence in the attendance register but then Rio doesn't really hold up as a realistic SUV / Crossover and Skoda Yeti goes up a notch or two both in terms of performance and refinement as well as pricing although it may broadly fall in the same size bracket as Duster. As far as Mahindra Quanto is concerned, it has a preponderance of Utility Vehicle DNA hardwired into its genes so can't be really compared.

Coming back to the motoring event organised under the Gang of Dusters brand, though it was the maiden effort, it was quite well organised. Renault had harnessed the services of Cougar Motorsports which has considerable experience in organizing motoring events viz. motoring expeditions, hardcore off-roading and rallies. Having Cougar Motorsport onboard for its maiden Gang of Dusters event looks to have paid off for Renault; despite the ravaging monsoon which normally makes driving a tiring and at times a potentially hazardous chore, the whole expedition was run without hiccups and full credit to Renault and the organising team for the way the West Coast Expedition was managed.

The expedition was flagged off from Renault's dealership at Navi-Mumbai (Vashi) on the Indian Independence Day (15th August) and, for the next five days, it certainly provided independence to the participants from the humdrum of routine city life.

Driving through the Mumbai-Pune Expressway and then proceeding through NH4 which is part of the four laned Golden Quadrilateral (Mumbai- Begaluru section) up to Vatar formed the major part of the Independence day driving. A small westerly diversion from NH4 took the gangsters uphill (about 1000 metres) to Panhala Fort where the night stay had been planned.

Panhala was built during the period 1178 and 1209 CE by Bhoja II. It straddles the Western Ghats and overlooked important trade routes going from Bijapur to the coastal area during the bygone era. Somewhere down the line it came to be controlled by the Bijapur rulers and was extensively fortified under the Adil Shahi dynasty of Bijapur. In 1659 Shivaji captured Panhala but couldn't retain it for long and had to escape in 1960 when it was under siege of Bijapur forces under command of Siddi Johar. It was only in 1673 that Shivaji could permanently win and occupy it. Several parts of the ramparts and other structures of the fort have remained intact and attract considerable tourist traffic. The Service Team accompanying the Gang of Dusters convoy organised a basic trouble shooting session and Cougar Motorsports had some fun activities for the participants to see who had the best parking skills.

Second day of the expedition entailed driving back to NH 4 (Kolhapur) and then leaving it at Belgaum. Continuing through NH4A, the convoy took a left turn from Ramnagar (on SH 34) to reach Kali River Adventure Camp at Dandeli.


After an exhilarating drive and a wonderful lunch at the resort, it was time for some communion with nature. Despite being quite close to Dandeli town, Kali River Adventure Camp is situated in the lap of nature with the Kali River flowing past it on its rear. The area is a veritable treasure trove for nature and wildlife lovers. Crocodile sightings were reported by the participants who had opted for the complimentary coracle ride offered by the resort. I was also lucky to have seen one of these predators lazing on a small riverine island.


Next morning a jungle safari was organised for the participants to savour the sights and smells of the real jungle.

Third day saw the Gang of Dusters driving through some really memorable forest roads around the dense Dandeli forests before hitting NH17 on way to Goa. No doubt, the roads were in bad shape at some places but the scenic beauty was so overwhelming that the state of road just didn't register. This was more so due to the fact that Duster being a vehicle with ample road clearance and good ride quality allowed for a relatively hassle free drive over the broken surface. Duster's inherently good build quality meant that there was minimal rattle and little of the suspension noise could filter inside the passenger cabin to bother the driver and passengers occupying it.



Stay at Goa was organized at Resort Marinha Dourada which is situated quite close to Baga beach (North Goa). Goa being the perennial tourist place, hotels and resorts have more or less tourist friendly policies and normally come across as professionally well managed enterprises. Resort Marinha Dourada was no exception but for the fact that it did not have captive parking place and the whole convoy had to be parked outside by the side of a public road. Evening was well spent as interaction with an experienced rally driver was on the agenda for the Gang members. After witnessing some enviable and spectacular cornering techniques, the participants also had a talk session with rally driver. Mr Vikram Mathias, the rally driver emphasized the handling traits of a front-wheel drive vehicle and went on to educate the participants about the nuances of cornering safely and swiftly on rain-soaked roads.
Penultimate day was spent driving through NH17 upto Kolad and then going east to MPower Activity Camp which is situated about 16 km off the NH. This was the longest drive of the entire trip - about 430 km. NH17 is yet to be upgraded to four lanes and with ever increasing traffic, driving on this two-laned road without the convenience and security of divided carriageway doesn't evoke much enthusiasm. All through the last few years when this highway has gone on to acquire notoriety on account of accidents, especially head-on collisions as it is still devoid of a divider, I had been avoiding it as much as possible. But the drive with the Gang of Dusters meant that I had an opportunity to review and appreciate the timeless charms of this highway which is popularly known as Mumbai-Goa highway. No doubt, traffic increase has resulted in congestion as some places and at times this road does pose hazards to the users but it essentially retains the voluptuous curves and resplendent sights which have enamored drivers for generations and have spawned trend-setting movies.

Surprisingly, despite having faced the onslaught of a super abundant monsoon, the road surface for most part was smooth and Duster made good time negotiating the curves and gradients to reach MPower Activity Camp without having any need to switch on the headlights.


Final day of the expedition held the maximum promise for adrenaline pumping excitement as apart from some relatively mundane activities like a hill trek and target shooting, white water rafting in the churning and raging Kundalika river had also been organized. Rafting proved to be the literal icing on the delicious chocolate cake that the West Coast Expedition was all about. The Gangsters with Dusters turned into rafters. Once the section where the raft had to pass through the rushing and gushing rapids was crossed, it was fun when the leader allowed participants to tumble into water for a while.


Credit must go to Renault to have utilized the long weekend on account of Independence Day falling on a Thursday and having organized this impeccably planned motoring expedition for its Gang of Dusters. Actually, Renault is on a most deserving high after the resounding success of Duster, and Gang of Duster is an expression of a manufacturer having pride in its product. And to that extent, the Gang of Dusters seems to be a successful initiative and it is up to Renault to develop it further so that it fully leverages the formidable brand equity of Duster and in the process makes it a veritable lifestyle statement for Duster owners in days to come. As far as the product is a concerned, Duster comes out as a sensible vehicle blessed with practicality and sensibility with an essentially sound engineering base. Originating from Logan's B0 platform the relatively long wheelbase (2673 mm) has resulted in very good interior space and has also meant that the high ground clearance (205 mm) / ride comfort / handling compromise doesn't get out of hand. Though some idiosyncrasies are there viz. oddly located wing mirror and headlight adjusters, steering control stalks for headlight / indicators and wipers in the opposite configuration which could have been rectified, what one gets in this package is a Crossover which handles competently while retaining comfortable ride quality. In the present market situation, majority of Dusters must be selling with the ubiquitous dCi K9K diesel engine.

This 1.5litre inline 4 diesel engine is certainly not the epitome of modernity but it performs admirably. Duster has this engine in two different states of tune – 85PS (83.8BHP) and 110PS (108.5BHP) mated to a five speed and six speed transmission respectively. Fuel mapping of the engine is spot on and there is absolutely no perceptible glitch in power delivery. Steering is quite sharp and provides feedback from the road with admirable alacrity. But the fact remains that while a highly communicative steering may be good for an accomplished driver, the same may become a bit disconcerting for an average / normal driver. Having said that, I personally feel that the surge of abundant torque flowing to the outside front wheels on a curve could be a factor, especially when the driver chooses to gun the Duster on a curve with less than perfect camber and surface. Perhaps, the all-wheel drive version, especially on the higher powered variant of Duster could, to an extent mitigate this by ensuring that some of the prodigious torque is directed to the rear axle. Moreover, at the expense of some luggage space, the all-wheel drive version would certainly have a more compliant independent rear suspension than the present torsion beam arrangement. Addition of an all-wheel drive package may not only improve on-road performance of Duster, it may also ensure that it is able to go off-road with confidence. But, the proverbial fly in the ointment would be the increased price- anywhere between 1lakh to 1.5 lakh by my reckoning.

During the pre-event briefing, Renault officials were tight-lipped about the possibility of introducing the all-wheel drive version in India. India being a very price-sensitive market, may not support such a cost increase at the moment but it may be an eminently good idea to have the all-wheel drive version on the menu card as a technology demonstrator and a niche variant for discerning customers. Slowly but surely the idea is bound to catch up as the Indian market matures and car users get exposed to the benefits of a dynamic all-wheel drive package in a Crossover vehicle like Renault Duster.
Read More on : Renault Duster
Was this article helpful ?
0 out of 0 found this helpful