Volkswagen Polo
Change car
Rs.5.83 - 10.25 Lakh*
This car model has discontinued

Key Specs of Volkswagen Polo
| | |
| --- | --- |
| Engine | 999 cc - 1498 cc |
| Power | 75 - 108.62 bhp |
| Transmission | Manual / Automatic |
| Mileage | 21.49 kmpl |
| Fuel | Petrol / Diesel |
Explore Price of Polo Alternatives

Volkswagen Polo price list (Variants)
Polo 1.0 MPI Trendline BSIV999 cc, Manual, Petrol, 18.78 kmplDISCONTINUED
Rs.5.83 Lakh*
 
Polo 1.0 MPI Trendline999 cc, Manual, Petrol, 17.74 kmplDISCONTINUED
Rs.6.45 Lakh*
 
Polo 1.0 MPI Comfortline BSIV999 cc, Manual, Petrol, 18.78 kmplDISCONTINUED
Rs.6.76 Lakh*
 
Polo 1.5 TDI Trendline1498 cc, Manual, Diesel, 20.14 kmplDISCONTINUED
Rs.7.34 Lakh*
 
Polo 1.0 MPI Comfortline999 cc, Manual, Petrol, 17.74 kmplDISCONTINUED
Rs.7.42 Lakh*
 
Polo 1.0 MPI Highline Plus BSIV999 cc, Manual, Petrol, 18.78 kmplDISCONTINUED
Rs.7.76 Lakh*
 
Polo Turbo Edition999 cc, Manual, Petrol, 18.24 kmplDISCONTINUED
Rs.7.80 Lakh*
 
Polo 1.0 TSI Comfortline999 cc, Manual, PetrolDISCONTINUED
Rs.7.80 Lakh*
 
Polo TSI Edition999 cc, Manual, Petrol, 18.78 kmplDISCONTINUED
Rs.7.89 Lakh*
 
Polo 1.5 TDI Comfortline1498 cc, Manual, Diesel, 20.14 kmplDISCONTINUED
Rs.8.52 Lakh*
 
Polo 1.0 TSI Comfortline AT999 cc, Automatic, Petrol, 16.47 kmplDISCONTINUED
Rs.8.93 Lakh*
 
Polo 1.0 TSI Highline Plus999 cc, Manual, Petrol, 18.24 kmplDISCONTINUED
Rs.8.98 Lakh*
 
Polo Red And White Edition999 cc, Automatic, Petrol, 16.47 kmplDISCONTINUED
Rs.9.20 Lakh*
 
Polo 1.5 TDI Highline Plus1498 cc, Manual, Diesel, 20.14 kmplDISCONTINUED
Rs.9.31 Lakh*
 
Polo GT TSI BSIV1197 cc, Automatic, PetrolDISCONTINUED
Rs.9.76 Lakh*
 
Polo GT 1.5 TDI1498 cc, Manual, Diesel, 21.49 kmplDISCONTINUED
Rs.9.88 Lakh*
 
Polo 1.0 TSI Highline Plus AT999 cc, Automatic, Petrol, 16.47 kmplDISCONTINUED
Rs.10 Lakh*
 
Polo GT 1.0 TSI Matt Edition999 cc, Automatic, Petrol, 16.47 kmplDISCONTINUED
Rs.10 Lakh*
 
Polo GT 1.0 TSI999 cc, Automatic, Petrol, 16.47 kmplDISCONTINUED
Rs.10.25 Lakh*
 
Polo Legend Edition999 cc, Automatic, Petrol, 16.47 kmplDISCONTINUED
Rs.10.25 Lakh*
 
View All Variants
Volkswagen Polo Review
The go-to hatchback for the enthusiast now trades its most-valuable asset in favour of a greener, less expensive future. Is the future still fun?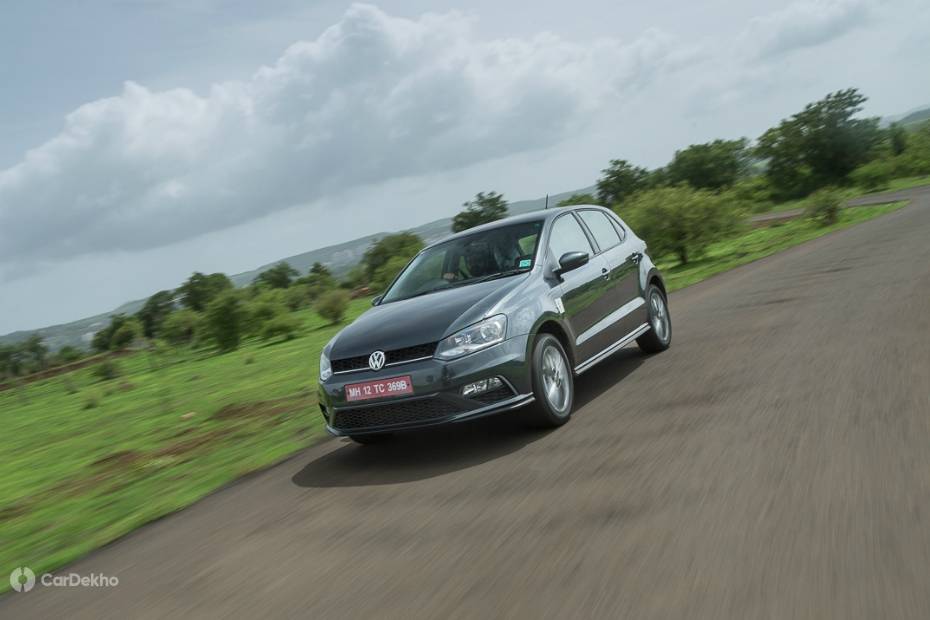 The Polo TSI has never needed any introduction among avid enthusiasts in the country. Spotting one on the road still commands some sort of respect, for the buyer clearly valued quality over quantity. Yes, it lacked space and features, but the uncompromised German build, a refined and powerful turbocharged engine (before they became 'cool') and a quick DSG transmission made it the choice of an uncompromised buyer. Now, however, the Polo has been given a new powertrain. A smaller, less refined 3-cylinder turbocharged motor. But it makes more power and finally gets a manual transmission. There are mixed emotions here. Time for a drive to sort these out.
Car Tested: Volkswagen Polo Highline Plus

Engine: 1.0L TSI

Transmission: 6-speed Manual

Price: Rs 8.02 Lakh (ex-showroom)
Exterior
Compared to the facelift that debuted in 2019, there are no visual changes. It still has the classic hatchback look with straight and strong body lines. The shape is so timeless that even today, it can play with your heartstrings.

A new honeycomb grille, inspired by the one on the GTI, helps the Polo look sportier. Headlamps neither get DRLs, nor LEDs or projector lenses. At least the LED headlamps from the Vento would have been highly appreciated.

The side profile remains identical with the smart 10-spoke 16-inch alloys helping with the stance. The tail lamps, however, are LED and look stylish with an offset element in the centre. A redone rear bumper rounds up the minimal exterior changes.
Interior

There is absolutely nothing new inside the cabin. The Polo still continues with the all-black theme with gunmetal grey accents across the centre console. The interiors can be a little dark and not to everyone's liking. The build quality, however, is mighty impressive. The hard plastics have a sense of sturdiness and everything, including the door pads, are solidly put together. The insulation of the cabin is also impressive. In fact, it is much better than cars from even two segments above. The leather-wrapped steering wheel and gear knob are exclusive to the Polo Highline Plus and are not available in lower variants. These really help elevate the sense of quality in the cabin.

The 6.5-inch touchscreen isn't the largest one out there, but is definity very user friendly. You'd appreciate the vibrant display, the touch sensitivity and the snappy response. It gets Android Auto and Apple CarPlay support with voice commands that can be activated from the steering wheel itself. Mirror link is also present; however, it is a less useful feature. What's missing is a rear camera. Even the top Highline Plus variant skips on this now essential feature. And given that the same can be found on a Renault Kwid, this one hurts.

The climate control works well and the knob to change the temperature and fan speed feel top notch as well. Other highlights include rain-sensing wipers, auto day night IRVM, all four power windows with one-touch operation, and cruise control. However, there's no automatic headlamps on offer. You also get an adjustable front armrest with storage, but our testing team ended up having mixed feelings about this. Some found it comfortable, others found it outright intrusive given it tends to foul with the elbow while shifting to 2nd or 4th gear.


At the back, things are a bit cramped for a premium hatchback. Anyone up to 5'9" wouldn't complain spending time here. However, if you're taller, you may have a different opinion as headroom and knee room are a bit tight. Seat cushioning is good and won't tire you easily. In terms of features, you get rear AC vents, a folding central cup/bottle holder and a 12V socket.
Boot

The boot of the Polo can accommodate a variety of bags thanks to its large boot floor. In our luggage test, it swallowed up all the three hard bags with the rear parcel tray out, which is mighty impressive for a hatchback. And speaking of the tray, the higher variants get a carpet-like finish on the top which feels soft and premium.
Safety

Safety has always been one of the Polo's strongest points. The tank-like build helps keep you safe in the event of an accident. The list of safety requirements is limited and you only get 2 airbags, ABS with EBD and rear parking sensors.
Performance
Gone is the 1.2-litre TSI and the 1.5-litre TDi from the lineup. Instead, you can now get a 1.0-litre MPI or this one, a 1.0-liter TSI. The MPI is only available with a 6-speed manual whereas the TSI can be either had with a 6-speed manual or an optional 6-speed torque converter automatic. Also, the TSI powertrain is only available in the Highline Plus or GT line variants. The one we have is the TSI MT, a purist's dream for the Polo. But VW seems to have done this not to satisfy that extremely niche market, but to help make the Polo more price competitive.

Fire up the motor and the reduced refinement levels are apparent. While it's plenty refined for a 3-cylinder, it obviously isn't as smooth as the 4-cylinder 1.2 TSi at idle. Get going and the vibes start to fade away faster than politicians after elections. The clutch is light and gear throws are fairly short if a bit notchy. The Polo feels a bit chilled out before the turbo kicks in and you won't find any instant acceleration there. Cross the 2400rpm mark, however, and you are met with a surprising boost. One which helps you take off and keep on building speeds in a linear and fast manner till you hit the 6500rpm redline. This sort of acceleration is hard to experience below the Rs 10 lakh mark, and is noticeably stronger than what the 1.2 TSI offered. In fact, in our VBox performance run, the Polo clocked a 0-100kmph time of 9.66 seconds. That's a second faster than the 1.2-litre GT TSI, which managed the sprint in 10.61s. This isn't a surprise as the new motor makes 110PS and 175Nm of torque, and the manual transmission lets you launch the car faster. This is 5PS more than the older TSI with the same amount of twisting force. One thing that we do miss though is the engine note, which is crude in this iteration of the Polo.

What is a surprise, however, is the Polo's dual personality. With tall gearing, the Polo manages to creep in traffic effortlessly. Even under 2000rpm, the Polo gets going cleanly even in a higher gear. Yes, acceleration isn't brisk but the hatch never complains to move along between bumpers. In 3rd gear, 30-80kmph takes 8.54seconds and 40-100kmph in 4th takes 13.74seconds. Drive easy and the Polo will return a tested 15.16kmpl in the city.

Out on the highway, the 6th gear comes into play. Meant purely for cruising, the 6th cog keeps the engine spinning at 2000 rpm at 100kmph, returning a tested 17.21kmpl. This is close to the claimed 18.24kmpl ARAI figure. While you can build speed in 6th gear, you will have to downshift to 5th for any quick overtakes. Braking too is impressive in both feel and stopping power, getting the 1072kg Polo to a halt from 100kmph in just 40.26metres.
Ride and handling
Driving dynamics of the Polo have been appreciated for ages. But this time around, there seems to be one big change. Better ride comfort. Yes, you heard that right. The Polo is now a lot more compliant on speed brakes and sharper bumps inside the city. It no longer makes a loud thud or feel harsh going over broken roads and speed breakers. In fact, this setup is so well balanced that it feels just right for Indian roads, and not just metros. It quickly settles after a bump, absorbs the surface harshness at reasonable speeds and is very quiet in doing so too.

And, because the front end is now lighter thanks to the smaller engine, the handling remains the same, if not better. The front now feels more poised and sharper to turn in and the steering still has decent feedback to keep pointing the wheels where you want them to. It's still a heavy car and will cause understeer if driven enthusiastically. However, the new setup is more accepting when you put your foot down on a set of twisties.
Verdict
Prices

Prices for the 2020 Polo start from Rs 5.82 lakh and go upto Rs 9.59 lakh. The variant that we are driving, the Highline Plus, sits one below the GT Line and comes with an ex-showroom price tag of Rs 8.02 lakh. Compared to the older GT TSI, it is a whopping Rs 1.7 lakh less expensive. And the current GT Line with the 6-speed AT is still Rs 15,000 less expensive than the older GT TSI. The only other turbo-petrol hatch in the country is the Nios Turbo, which retails at Rs 7.75 lakh.
Verdict
Driving the car for a day has let us understand the changes a lot. And most of them have been in favour of the Polo. The new engine-transmission combination gives it a split persona: offering a calmer and easier drive in the city and stronger thrills when you want to spice things up on a spirited drive. It offers a very relaxed drive experience on the highway as well. The cabin, while missing some essential features and rear space, definitely offers the best in class build quality and insulation. The only other thing that will initially bother you is the less refined engine and the crude engine note it brings with it.

If you value build, drive experience and ride over feature gimmicks and are willing to sacrifice on space, the Polo would be a good fit for you. While it is still priced at a premium, it clearly offers a better deal for the enthusiast. Turns out, the future is fun after all.
Pros & Cons of Volkswagen Polo Car
CarDekho Experts:
If you value build, drive experience and ride over feature gimmicks and are willing to sacrifice on space, the Polo would be a good fit for you.
Things We Like
Punchy turbo engine
Solid build quality
Enthusiast handling
Clean and classic looks
Things We Don't Like
Missing features like a reverse camera
Lack of rear seat space
Priced at a premium
DSG automatic no longer available
No diesel engine option
Stand Out Features
6.5-inch touchscreen

Rain-sensing wipers

Leather-wrapped steering

Cruise control
Specification of Volkswagen Polo
| | |
| --- | --- |
| ARAI Mileage | 16.47 kmpl |
| City Mileage | 15.16 kmpl |
| Fuel Type | Petrol |
| Engine Displacement (cc) | 999 |
| No. of cylinder | 3 |
| Max Power (bhp@rpm) | 108.62bhp@5000-5500rpm |
| Max Torque (nm@rpm) | 175nm@1750-4000rpm |
| Seating Capacity | 5 |
| Transmission Type | Automatic |
| Fuel Tank Capacity (Litres) | 45 |
| Body Type | Hatchback |
| Ground Clearance Unladen (mm) | 165mm |
Volkswagen Polo Car News & Updates
Latest News
Must Read Articles
Volkswagen Polo User Reviews
All (200)
Looks (30)
Comfort (49)
Mileage (49)
Engine (47)
Interior (11)
Space (14)
Price (15)
More ...
LATEST
HELPFUL
VERIFIED
CRITICAL
For Polo, I just have these words to say solid build, premium interior, and fun to drive. ...Read More

The Volkswagen polo is an amazing car because of its performance, styling features, and comfort.

Great car but comes with a lot of compromises only for people who keep safety, power, and quality in...Read More

The engine performance and the build quality are the best as compared to other hatchback cars. ...Read More

It's a good mileage car with high speed and comfortable driving. It is the fully safest ca...Read More
Volkswagen Polo Car Latest Update
Latest Update: Volkswagen has pulled down the curtains on the 12 year run of the Polo.
Volkswagen Polo Price: The carmaker used to sell it from Rs 6.45 lakh to Rs 10.25 lakh (ex-showroom pan-India).
Volkswagen Polo Variants: There were four trims on offer: Trendline, Comfortline, Highline Plus, and GT.
Volkswagen Polo Engine and Transmission: Towards the end of its lifecycle, the Volkswagen Polo was equipped with two engine options: a 1-litre naturally aspirated petrol (75PS/95Nm) and a 1-litre turbo-petrol (110PS/175Nm). While the former was mated to a 5-speed MT, the latter was paired to a standard 6-speed MT and an optional 6-speed AT. The fuel efficiency figures of the Polo were as follows:
1-litre MPI: 17.57kmpl

1-litre TSI MT: 18.24kmpl

1-litre TSI AT: 16.47kmpl
Volkswagen Polo Features: The premium hatchback got features such as cruise control, auto AC with rear vents, rain-sensing wipers, and a 6.5-inch touchscreen infotainment system with Apple CarPlay and Android Auto.
Volkswagen Polo Safety: Occupant safety was taken care of by rear parking sensors and dual front airbags.
Volkswagen Polo Rivals: It was a rival to the Hyundai i20, Honda Jazz, Tata Altroz, Maruti Suzuki Baleno, and Toyota Glanza.
Read More

Volkswagen Polo Mileage
The claimed ARAI mileage: Volkswagen Polo Diesel is 21.49 kmpl . Volkswagen Polo Petrol variant has a mileage of 18.78 kmpl.The claimed ARAI mileage for the automatic variants: Volkswagen Polo Petrol is 16.47 kmpl.
| Fuel Type | Transmission | ARAI Mileage |
| --- | --- | --- |
| Diesel | Manual | 21.49 kmpl |
| Petrol | Manual | 18.78 kmpl |
| Petrol | Automatic | 16.47 kmpl |
Found what you were looking for?
Volkswagen Polo Road Test

Are you Confused?
Ask anything & get answer in 48 hours
*Ex-showroom price in New Delhi
×
We need your city to customize your experience