Hyundai Verna vs Honda City: Comparison Review
Published On Dec 15, 2017 By Tushar for Hyundai Verna 2017-2020
Two of India's most popular premium family sedans do battle. Is there a clear winner?
Cars Tested: Hyundai Verna Petrol MT SX (O) & Honda City Petrol MT VX
Engine: 1.6-litre 4-cylinder petrol | 123PS/151Nm vs 1.5-litre 4-cylinder petrol | 119PS/145NM
ARAI Certified Fuel Economy: 17.70kmpl (Verna) / 17.40kmpl (City)
Verna Road Test Fuel Economy: 14.82kmpl (City) / 19.13kmpl (Highway)
City Road Test Fuel Economy: 13.87kmpl (City) / 19.21kmpl (Highway)
Price As Tested: Hyundai Verna Petrol SX (O) MT- Rs 11.34 lakh | Honda City Petrol VX MT- Rs 11.70 lakh (Both prices ex-showroom, Delhi)

Pros
Verna
Standard safety kit includes dual front airbags, ABS and ISOFIX. Top-end variant gets 6 airbags.
Engine and gearbox combination is very well tuned. Makes for easy daily driving.
Comfortable ride quality. Suspension deals with bad roads quite well and offers stability at high speeds.
Feature loaded – Touchscreen with Android Auto, Apple CarPlay, ventilated seats, smart-trunk, projector fog lamps, LED tail lights and more.
6-speed AT available with both engines.
City
Dual-airbags, ABS with EBD and ISOFIX offered as standard safety features.
Palatial cabin. Spacious enough for four adults who are well over 6ft tall.
Feature loaded – Touchscreen with MirrorLink, Wi-Fi and HDMI, telescopic steering, full LED headlights and more.
Petrol engine is easy to drive and offers good performance.
Cons
Verna
Rear seat space is average for the segment. Not nearly as good as the City or Ciaz.
Design is functionally perfect but lacks the "wow" factor. Comes across as a bit bland.
City
Stiff ride quality. Doesn't manage rough roads/potholes as well as the Verna.
Petrol manual unavailable in top-end ZX variant. Misses options like side and curtain airbags, LED tail lights and adjustable rear headrests.
Fit, finish and build quality while decent, aren't as good as the Verna's.
Stand-Out Features
Verna
Ventilated front seats
Smart-trunk
Touchscreen with Android Auto and Apple CarPlay
Projector fog lights
City
Full LED headlamps
Touchscreen with Wi-Fi and HDMI
Telescopic steering adjustment
Exterior

Somehow, both cars here manage to strike a similar balance in design. While they're certainly attractive, neither one is really going to make passersby stop and turn to catch a glimpse. The City and Verna also draw styling inspiration from their older siblings i.e. the Accord and Elantra. That said, even though the Verna is the newer car here, it's the City that is more striking.
The full LED headlamps and flying H chrome grille merge to replicate the Accord Hybrid's face, albeit on a smaller scale and even the daytime running LEDs have been integrated in a classier fashion than they have in the Verna. The 16-inch wheel design may be a bit loud for some but these wheels certainly add some presence and are a strong mark that differentiates the current City from its predecessor. Since this is the petrol manual, it's only available up to the VX variant, so you don't get the split look LED tail lights. But the black cut bumper and shark fin radio antenna add some sporty touches.
Dimensionally, both rivals are similar in length and wheelbase but the Verna's design, dare we say, is more fluid.
Dimension chart
| | | |
| --- | --- | --- |
| Model | Honda City | Hyundai Verna |
| LxWxH | 4,440mm x 1,695mm x 1,495mm | 4,440mm x 1,729mm x 1,475mm |
| Wheelbase | 2,600mm | 2,600mm |
| Ground Clearance | 165mm | 165mm |

The Verna looks well-proportioned and even though it is wider and shorter in height than the City, it's the latter that looks a touch more bulbous. The Hyundai Verna looks smarter than before if not monumentally different. You don't get LED headlights but projector beams are employed in the headlamps and foglamps, with the latter offering the cornering function too.
The 16-inch wheels don't have a design as funky as the City's but they do look good. At the rear, the LED tail lamp design makes it very easy to confuse this with the Elantra and arguably, it's the best angle to view the Verna from.
Fit and finish quality is tangibly better in the Verna as there's a greater sense of solidity when you open or close the doors and it feels quite similar to its European rivals.
Interior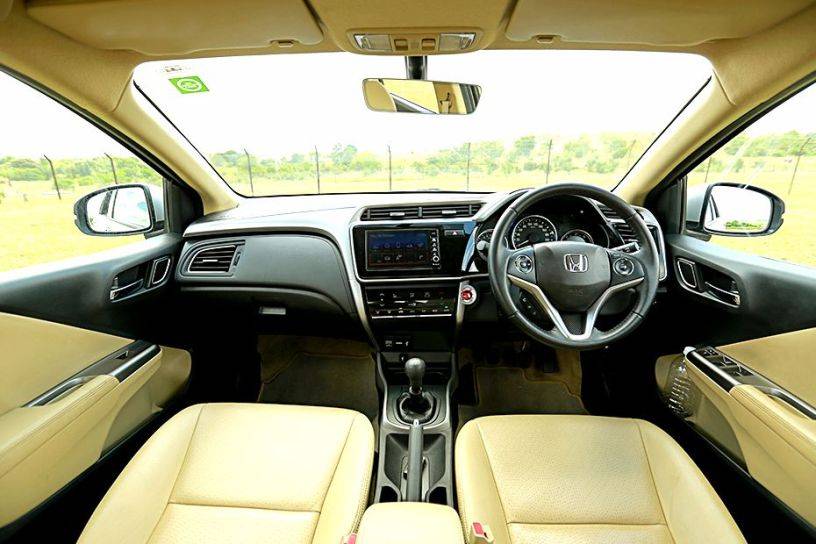 Much like the exterior, inside too, it's the City that comes across as the more "wow" machine. The beige-black-silver combination has been pulled off tastefully and while the dashboard design is busier than it is in the Verna, it feels more playful. Simple touches like the frameless rear view mirror enhance the sense of occasion. Contrarily, the Verna's dashboard layout feels safe. Almost too safe as it looks quite familiar. Sit in an Xcent and then get in here, and it just doesn't feel as different as it should.

But typical of Hyundais, the Verna's layout leaves no room for confusion. All the controls are exactly where you'd expect them and getting familiar here is no task, even if you're coming from a different brand. The City's cabin is very straightforward too but the touch panel AC, while cool to look at, does need you take your attention off the road to use it. We also found that the quality of fit and finish in the Verna is better and the plastics used are more robust and consistent.
Where the tables turn is when you break out the measuring tape. Despite sharing a 2600mm wheelbase, it's the City that's considerably more spacious.
Interior Measurement Table
| | | |
| --- | --- | --- |
| Measurements | Honda City | Hyundai Verna |
| Rear Seat Shoulder Room | 1325mm | 1315mm |
| Rear Seat Head Room | 895mm | 875mm |
| Rear Knee Room (Min-Max) | 790-1000mm | 600-840mm |
| Rear Seat Base (Length x Width) | 480mm x 1300mm | 490mm x 1260mm |
| Front Leg Room (Min x Max) | 980-1200mm | 1030-1270mm |
| Front Head Room (Min-Max) | 865-960mm | 880-960mm |
| Boot Space | 510-litre | 480-litre |
Two people as tall as 6.5ft can sit one behind the other quite comfortably, so 6 footers will have no problem whatsoever. The fact that you get telescopic steering adjustment also makes it easier to find the perfect driving position in the City. The Verna's front seat does have a healthier travel range and consequently, the front leg room is actually a little more than what you get in the City.

However, move to the back and you find that the Verna doesn't feel as big as a car in this segment should. With a 6ft tall driver, there's just about enough room left in the rear for a passenger of the same height. Average sized passengers won't have too much of an issue in the Verna but taller buyers will automatically gravitate towards the City. Another reason for this is the Honda's superior headroom, which is aided by the scooped out side section in the roof liner. We do, however, wish Honda offered adjustable rear headrests as standard, rather than limit it to the ZX as a halo feature.
Another draw for the Honda are its seats. They're slightly more supportive for larger frames, especially up front and offer superior under thigh as well as back support. But both cars have the right kind of cushioning – not too hard, nor too soft. The choice of leatherette upholstery material is decent too but the City's brighter shade of beige will get soiled a little more easily.

For practicality inside the cabin, neither one disappoints. Both have well-sized front armrests with a healthy amount of storage space underneath and both give you good storage space in the door bins too. For knick-knacks, the Verna does better as the area ahead of the gear lever is clear and flat to drop your wallet/cellphone into, while the cupholders sit next to the handbrake. In the City, cups are placed ahead of the gear lever, so you don't really have a designated space for your phone, while your wallet can sit in the recess under the handbrake.
They aren't too different in terms of boot space either but the City does offer a more impressive 510-litres, compared to the Verna's 480-litres. You won't be starved for space in either case as the boots are deep, the appertures are wide and the loading lips aren't too tall either.
Technology

It's here that the Verna really starts to come into its own. Both come with segment staples like rear AC vents, auto AC, electrically adjustable and foldable mirrors, along with push button start/stop, cooled gloveboxes and cruise control. Yes, they get sunroofs too.
They also get 7-inch touchscreen infotainment systems but the similarities end there. The Hyundai Verna's screen is more fluid and responsive than the City's. It also comes with Apple CarPlay, Android Auto and MirrorLink, while the City only offers MirrorLink.

The City's head unit does come with Wi-Fi and an HDMi input and the Android based operating system is quite easy to use too. But it does have issues with lag, not only for touch response but even steering control related functions like skipping tracks while streaming music via Bluetooth. There's also the elephant in the room – the way it looks. While this has been developed in-house by Honda Car India, the setup does look like an aftermarket add-on and doesn't blend into the dashboard as seamlessly as the Verna's unit does.
The Honda does pull some punches, quite literally, by offering a punchier 8-speaker sound system (vs Verna's 6-speaker setup) that will appeal to those who like their music loud. But then, comes the Verna's whallop – cooled front seats that are a blessing in our tropical weather. It also gets the smart trunk which makes loading up luggage easier when your hands are full.
Performance

The on-paper output figures aren't all that different but they do offer very distinct drive experiences. For starters, the Hyundai Verna's refinement levels and noise management are easily among the best in the class. Save for some tyre noise, there's barely a sound that creeps into the cabin and the engine is smooth enough that at idle, it makes you wonder if it's even running. In isolation, the City's i-VTEC engine is still very refined but a fair amount of engine and ambient noises do find their way inside. The Verna's simply taken the game ahead.
Even urban driving is a smoother experience in the Verna. The motor delivers good low-rev torque, so much so that you can pull up from 30kmph in 6th gear with absolutely no signs of protest from the engine. Contrarily, by nature the City petrol isn't an engine that manages high gear-low speed combinations very well. You do have to work the City's gearbox a bit more in the city.

The greater need for gear changes also showed in our efficiency tests, where Verna delivered 14.82kmpl compared to the City's 13.87kmpl. Additionally, the Verna's throttle response is very predictable no matter how high up in the rev band you're sitting. The City isn't a stark contrast in this aspect but at crawl speeds, the throttle feels marginally more snatchy. Not a deal breaker but the response is just a bit more fine tuned in the Verna.
On the highway, during inter-city trips, the finer differences become apparent. Both cars are capable of managing triple digit speeds round the clock but the Verna's engine feels calmer. Settle into a cruise and the City's engine feels a touch more vocal and high speed overtakes will require harder revving as well.
But the City's rev happy engine also gives it a performance advantage. Apart from the sense of drama you get while driving it fast, the City is actually the quicker car, managing 0-100kmph in 9.64 seconds, compared to the Verna's 11.3 seconds. Also, while the Verna does have better torque delivery, for sustaining performance in high gears, the City offers better in-gear acceleration. With the throttle pinned open, it manages 30-80kmph (third gear) over half a second quicker than the Verna.
Performance Table
| | | |
| --- | --- | --- |
| Model | Honda City | Hyundai Verna |
| 0-100 | 9.64 seconds | 11.31 seconds |
| Quarter Mile | 16.77 seconds @ 130.31kmph | 17.65 seconds @ 126.46kmph |
| 30-80 kmph | 9.69 seconds | 10.3 seconds |
| 40-100 kmph | 15.28 seconds | 16.92 seconds |
| Top Speed | 189kmph | NA |
In terms of highway efficiency, though, both cars are neck and neck, with the City delivering 19.21kmpl on open roads, compared to the more powerful Verna's 19.13kmpl.
FE table
| | | |
| --- | --- | --- |
| Model | Honda City | Hyundai Verna |
| City | 13.86kmpl | 14.82kmpl |
| Highway | 19.21kmpl | 19.12kmpl |
Overall, the Verna is the tamer, more relaxed and smoother drive of the two, while the City offers more excitement.
Ride and Handling

The Hyundai Verna has truly matured in this department. The old car had a fussy ride as the speeds climbed, with the suspension becoming too bouncy at highway speeds. Now, however, the revised suspension enables not just a more stable ride but a more comfortable one too. Bad roads and potholes are dealt with gracefully and while it's not going to pummel through the rough stuff like an SUV, passengers won't be thrown about or given a jolt when the municipality showcases its incompetence. That said, with the same 165mm ground clearance as the city, it's better to take those exceptionally large speed breakers with care if you have a full passenger load.
The City's ride, contrarily, is evidently on the stiffer side. It rides quite flat at high speeds but smaller bumps and expansion joints can be felt quite easily. The stiff setup will please enthusiasts, especially since it helps make the City a decent handler, but in everyday conditions a more supple ride would work better. That said, the Honda's steering is a little more communicative and responsive, so it's a sliver more fun to drive around corners.
Braking table
| | | |
| --- | --- | --- |
| Model | Honda City | Hyundai Verna |
| 100-0kmph | 3.26 seconds/ 43.11m | 3.29 seconds/ 41.67m |
| 80-0 kmph | 2.61 seconds/ 26.97m | 2.67 seconds/ 26.26m |
They both get a decent set of brakes too and come to a dead halt from 100kmph in a similar distance i.e. 43.11 metres in the City and 44.68 metres in the Verna.
Safety
Anti-lock brakes and dual front airbags come as standard on all variants, as do ISOFIX child seat mounts. Both get the option of 6 airbags but since the Honda City petrol manual isn't offered in the top-end ZX variant, it misses out on the choice. The City does get a rear camera with multi-view angles, but unlike the Verna, doesn't get dynamic guidelines or parking sensors.
Verdict

With the number of punches these two rivals trade, you'd think there would be no clear winner. But there is. The Hyundai Verna doesn't have the X-factor of the City, since the latter has some snazzy design elements and offers a more exciting drive. It also can't match the Honda when it comes to cabin space. If you're looking for a car that's better at accommodating your big family or is more focused on the chauffeur-driven, get the Honda City.
However, if you can live with the relatively lower cabin space, it's the Verna that wins this comparison. It offers better and more consistent overall quality, it packs in a better feature list, has the more mature drive, ride and handling mannerisms and does all of this while being more affordable too. It is the obvious choice if you're looking to make a head over heart purchase.