Toyota to steal the show with Innova, Fortuner and Camry facelifts at Auto Expo
Published On Dec 20, 2011 03:12 PM By Ritesh for Toyota Innova
Toyota India has not just one but three trump cards to play this time. It is true to say trump cards as all the three cars, Toyota Innova, Toyota Fortuner and Toyota Camry have always been the best-selling cars for the auto major. Except for the new Toyota Camry, the Toyota Innova and Fortuner facelifts are more of an external makeover and to fill in the gaps along the missing points.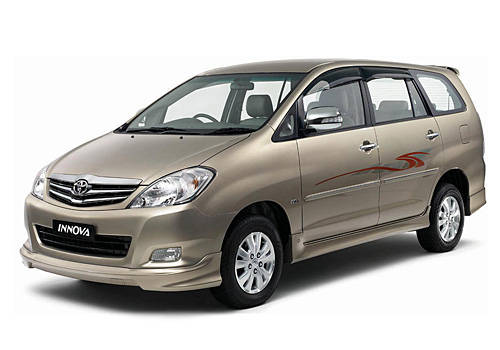 See More Toyota Innova Pictures Read More on Toyota Innova
Toyota Camry has garnered the growth the auto major has never thought possible even in its slightest imaginations. The premium sedan has set the local and the global markets on fire. But, the only pinch is the lack of diesel engine in the sedan during the rising demand for diesel cars especially in the country. Apart from the slight external makeover as expected from a facelift, the consumers are keeping their finger crossed hoping to see a diesel variant of the posh sedan.

See More Toyota Fortuner Pictures Read More on Toyota Fortuner
It becomes all the more important for the auto major to make this move to stiffen up the competition against the rivals Skoda Superb, and Honda Accord in the D –segment cars. Toyota India is all determined to ramp up the production of new Toyota Innova. The MPV goes synonymous with the term best-seller and the auto major does not intend to disappoint the Innova fans any further, now that the 2012 Toyota Innova is expected to bring in more sales than ever. The new Innova will come with the out and out makeover on the exteriors with the whole package on the front end up for a major change.

See More Toyota Camry Pictures Read More on Toyota Camry
The fresher look can be observed along the redesigned headlamps, grille and tail lamps at the rear end. The new Toyota innova will be powered bu the same 2.5 diesel powertrain along with the high performing petrol motor under its dazzling new hood. Toyota India intends to fill in the deficit of the automatic variant of the premium SUV Toyota Fortuner. Apart from the new look to the fascia, the new Toyota Fortuner is expected to come in more variants which is sadly available as a singleton without another alternative.
Read More on : know more on Toyota Innova
This Car Model has expired.
Petrol11.4 kmpl
Diesel12.99 kmpl